How To Choose A Dog Bed: A Step By Step Guide
How To Choose A Dog Bed: A Step By Step Guide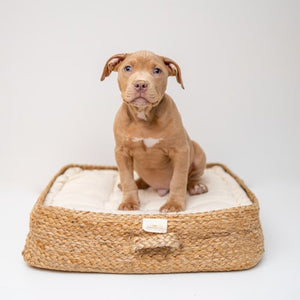 How To Choose A Dog Bed: A Step By Step Guide
They eat, play, cuddle, and sleep. Dogs are a vital part of our life, with unique qualities and personalities. What makes them most lovable is their innocence, mischief, companionship, dependability, and die-hard loyalty. Their sniffing power is tremendous, their energy levels are impressive, their appetite is sometimes fussy like humans, but their peaceful sleep may be one of the most relaxing things to you. Having a fur baby at home is like having a family member who loves and cares for you selflessly.
However, some dog owners can feel uncomfortable with their wet-nosed companions sharing bedroom space. Messy situations at home like pet hair and muddy paws may not go down well with every dog owner. While a dog bed is essential for the comfort and sense of security, it brings to your fur baby, making space for it and maintenance needs total effort and attention.
Many things add up to a dog's comfort zone, such as bed size, fabric quality, airflow, cooling capacity. Pet moods vary, so Fido may take some time to accept and adjust to his new bed. Some dogs may take more time sleeping on a bed than against the carpet. 
Read on to find out most things about dogs and dog beds you never knew when shopping for one. This article will also help new pet parents upgrade their knowledge of quality dog beds and help them make informed decisions.
What Makes Dog Bed A Prime Necessity?  
Image Source: Unsplash
When you go shopping for dog sleeping essentials, you may find dog mats an option to explore. While dogs can sleep on your living room mat or at the end of your bed, they also need a place of their own, like any other family member. Your dogs' comfort level can make them happier and responsive to your love.
A dog bed is your pets' personal space to nap around and relax leisurely. The floor can be hard on your pet, whereas a bed will keep your dog secure to park himself on. Also, a dog bed is the safest place for your pet to relax and heal in case of an injury or discomfort. 
How To Measure Dog Size and Weight For The Right Bed?
Image Source: Unsplash
Dogs come in different shapes and sizes and address specific needs like camping dog beds, to name a few. Just like your body weight affects the bed size you choose for yourself, a dog's weight measurement shows the best size for your dog bed. Here are the go-to bed sizes corresponding to your dog's body mass.     
Small beds for dogs weighing up to 40 lbs.
Medium beds for dogs weighing up to 60 lbs.
Large beds for dog weight up to 120 lbs
Extra-large beds for dogs weighing 120 lbs. or more.
Aside from dog bed measurement, also assess your dog's dimensions to know the surface area they need. When your dog is sleeping, measure from his nose tip to buttocks and from occiput (head crown) to pads. You can also get the measurements while your dog is standing if your dog is a back sleeper, measure from crown to tail tip. In case your dog prefers to sleep in a donut position (curled up in a ball), measure from top to bottom and side to side. 
To get the right size dog bed, measure your pet from nose tip to tail end. Then add 6 to 12 inches to the arrived figure to get comfortable leg space for your dog. It is a sound technique to give your dog the required room to sleep and stretch out without feeling restricted.  
A dog bed for frequent car trips may stress on a smaller dog bed. Your rented living apartment or a palatial villa could also influence your mind to buy small or large dog beds. Work out your dog bed size after considering your pet's weight and dimensions. Take the help of experts to help you identify the right bed size and upholstery choices for Fido. Focus on buying washable dog beds for your ease and convenience.    
What Are Dog Bed Types And Styles?
Image Source: Unsplash
Your playful dog needs a comfortable bed and sound sleep. So, the bed shape and trappings can either make your dog sit in delight or sulk in an isolated corner. Choosing a dog bed is not for the faint-hearted. There are designer dog beds and many other options to pamper your pooch. Let us look and see what your enthusiastic dog deserves the most between a cuddler, a bolster, a beanbag, and other options. 
Standard Dog Beds: 
With no edges or rims, standard dog beds come in any shape. Choose a round, square, or rectangle contour for your dog bed. There is no limit to the size, color, or material. Most average dog beds have flannel, fleece, faux suede, or microfiber material lining. 
While foam padding is a must, some dog beds also contain cedar chips to discourage pests and odors. Regular dog beds are economically priced with designer options. However, standard dog beds may not be appropriate for dogs struggling with orthopedic health issues or age-related problems.  
Donut Dog Beds: 
Circular-shaped, the donut dog bed has a comfortably raised edge offering extreme comfort and security to your fur baby. The soft bolster look lets your pet sink in the bed. A donut bed is typically round and is highly plush with a removable center pillow option. 
Side note—small, old, and weak dogs may feel uncomfortable hopping onto donut beds, so buy it after considering your dog's size, age, and physical condition. 
Casper Dog Beds: 
This unique "bed-in-a-box" has two memory foam layers of Visco-elastic and polyurethane, and bolstered edges to make it compact and safe. A Casper bed is sturdy and comfortable for your tail-wagging friends. The supportive foam technology of the Casper dog bed makes it stand out. The experiential look of foam bolsters and supportive pillows makes it ideal for design value. Incidentally, a Casper bed has a strong build and staying power and can withstand dog scratching and pawing. 
Elevated Dog Beds: 
Your dog's hiking adventures ask for a chew-resistant elevated bed that isn't just waterproof but made for the journey. A high bed is more like a hammock, with air circulation underneath and an optional roof. Think of camping dog beds to make Fido's nature exploration safe, easy, and manageable. A removable canopy gives your dog the double advantage of traveling under shaded and open spaces. Before tagging your dog for your country road trips, pack in these in your 4X4.   
Snuggle Beds: 
Designer dog beds get a new definition with snuggle beds. It is an ultra-comfy den and security blanket for your pooch to cuddle in. They offer supreme comfort and a versatile experience. Expect luxury upholstery (faux fur), a wider sleeping area, and hood coverage in this reversible dirt-resistant bed. 
You can comfortably mold a snuggle bed into several shapes and uses to match your dog's lifestyle needs. The canvas layer provides a cool effect, while faux fur keeps your pets warm and snuggly. That's why it is a blissful haven echoing furniture-grade craftsmanship. A snuggle bed is washing machine-friendly with refined and graceful looks.  
Bolster Dog Beds: 
This rectangular-shaped dog bed has a lower side for easy entry and impressive back support for your big dog to sit, settle in and sleep. Cushioned on the inside, a bolster bed has a fluffy polyester filling providing all-out comfort for just lounging and napping. A fashionable and comfortable bolster dog bed complements your room decor. Your furry friend will love the stuffed bolster edges, headrest, and deep sides. A bolster cot is a better way to care for your pet as it gives ultimate comfort and security. It is also machine washable, so you can easily clean off the muddy and wet stains. A bolster bed is a dependable snuggle-and-sleep bed for your playful dog. It also appeals to a dog's "den-like" ancestral-inherited inclinations.     
Waterproof Dog Beds: 
Your pup's mischievous attitude may not hold it from playing in the rain or doing pool splash. Your old dog's bladder problems may also wet the room more often. Aging dogs suffer from incontinence, hence the need for waterproof dog beds. There are two kinds of waterproof dog beds. The first option has a waterproof lining to prevent your dog's pee from wetting the bed's filling. A waterproof base is another feature in a dog bed that stops bed-wetting damaging the underneath flooring. 
Aside from their functional role, waterproof beds come with weather-resistant canvas covers serving as camping dog beds. Waterproof dog beds fit a variety of reasons. Keep your dog's age, toilet, and social habits in mind before buying a waterproof bed.     
Organic Dog Beds: 
Pet beds made of natural and eco-friendly materials protect your pups from harsh and synthetic chemicals and other dangerous factors. Let your lovable four-legged companion curl up into earth-friendly, breathable and washable cotton dog beds that are free from adhesives. It will help your summer-hating anxious pet calm down and also respect the planet. Organic cotton fabrics ease laundering, are durable and provide an aesthetic benefit. Pawprints and bone cutout beautification will give your dog beds a planet-friendly approach. 
Are There Any Dog Beds For Pets With Special Needs?
Image Source: Unsplash
No two dogs have similar needs and cravings. Your dog's profile, external environment, social interaction, and outdoor influence may make it ask more than the usual stuff. Let us see what these unique needs are. 
Orthopedic Dog Beds: Older dogs are prone to arthritis and other orthopedic problems. Professionally made orthopedic beds come with superior quality foam to provide extra padding to suffering dogs. They put less stress on dog's joints and are much more compatible with thin and bony dogs. You could try orthopedic beds with cooling memory foam for maximum dog recuperation.  
Chew-Proof Dog Beds: Our canine friends are not always obedient. Their playtime can also include less-compliant activities like mattress chewing and scattering things. Get indestructible dog beds to withstand your dogs' toughest chews. Such beds are well-liked in animal shelters and veterinary clinics and help reduce your animal companion's chewing, scratching, and digging habits.
Travel-Friendly Dog Beds: If your dog likes to be your traveling companion, get him a travel-friendly dog bed. Besides providing pet security for on-road travel, it is also suitable for anxious dogs seeking outdoor travel and freedom for health. A water-resistant and non-slip bottom fabric positioned in the car trunk will keep the bed secure.           
DIY Dog Beds: Homemade dog beds are suitable for pet owners having a creative bent of mind. They are super cute and cuddly, depending on the materials you use, and inexpensive to make. Tap your recycled tire for a dog bed. The tire's hard rubber edges are an excellent head-support system for your dog. Get some spray paint to give your old and exhausted tire a neon freshness, and put in some sticky felt pads inside the tire for body support. There is nothing more exciting and thoughtful than a repurposed bed using an old drawer, suitcase, picnic basket, TV console, or a wine crate. 
You can also brighten up a small round table with a fresh coat of paint and dress up the inside with a country-shade cottage feel for your Mastiff. Browse the internet for creative options in customized dog beds. Use safe, earth-friendly, and non-toxic materials considering your dog's chewing habit.  
Are There Any New And Upcoming Trends In Dog Beds? 
Image Source: Unsplash
Dogs don't just need a carpenter-made or internet-shopped well-fitting bed. They need more than a basic bed to sit and sleep, roll up on, stretch limbs, and get into playful moods. Dogs pictured in Hollywood movies and animal cartoons reflect the fast-growing and entertaining status of this animal breed. No wonder their clothes, toys, accessories, dressing and grooming tools, and health and wellness kits have seen phenomenal purchases.         
The pet industry in the United States is witnessing increased spending. According to Grand View Research, the dog segment in 2018 accounted for over 40% share in the pet furniture market. Dog ownership, expenditure, and insurance have grown tremendously in the United States. Domestic dogs' boarding and upkeep is attracting more investment. So, also is dogs' fashion and dress sense.
All this signals the importance of quality dog beds in households. Chemical-free cane and wicker dog beds are gaining preference. Hot and cold dog beds, eco-friendly and anti-microbial pet care products are the new normal. Couture ped beds are redefining pup time with rich colors, cashmere fabrics, and innovative patterns. Pandemic blues is making pet keepers and adopters embrace new things in dog furniture and accessories. Pets' welfare is now a business occupation that is fruitful and endearing at the same time. 
Frequently Asked Questions On Dog Beds
Image Source: Unsplash
Finding an accurate dog bed needs knowledge, precision, and some experience. Here are some common concerns to remember when shopping for an appropriate dog bed. You may also consult pet owners in your social network for the right tips and guidance.  
When is the right time to invest in a decent dog bed?
When your lapdog has finished teething and has matured, that is the time to consider a dog bed. Remember, different dog breeds may have distinct chewing phases. Dog's temperament and anxiety levels are also not the same in all dog breeds. Keep in mind a minimum gestation period of 6-18 months in your puppy before thinking of buying a proper dog bed.         
Should you attempt keeping a dog bed in every room, or is one enough?
Most dogs stroll around the house and mix with family members. Chances are they might like to play and cuddle with kids or the elderly in their respective rooms. So, you may have to keep more than a single dog bed in your home, keeping in mind space constraints. However, with age, dogs like to stay reserved in their den and may not be keen on another bed. Assess the social compatibility of your dog before planning another bed. Keep dog beds in the rooms you stay in most for better supervision.
Can a disproportionate bed size harm your pup's health?   
How well your dog sleeps depends on the bed size. You may think of buying a small-size dog bed after analyzing the cost and space-saving benefits. However, a wrong size bed may cause your dog minor to acute health problems such as sore joints, cramped muscles, hip and spine problems (particularly in large dog breeds), and sleep deficiency. Whether you have healthy pups or old dogs with orthopedic issues, find the right size for your dog bed. A little care goes a long way. 
Rectangular or round—which dog bed is more comfortable?
Dogs don't sleep still; they move around in their bed space, changing positions. Your dog's shoulders, hips, and legs need full coverage when in sleep. While rectangle beds provide open space to your dog, round beds can restrict its free movement and provide disproportionate support. However, your dog's size, breed, and sleeping posture can help you make the last call.      
How can one drive the smell away from a dog bed?  
Ensure these three things for keeping your dog bed feeling fresh and smell-proof. First, the bed stuffing (ideally virgin polyester) must be moisture-proof to avoid bacteria growth. Second, the stuffing in the fabric/foam should be breathable, water-resistant, and easy to wipe to prevent any smell. Last, look for removable dog bed covers made from natural fabrics, wash them gently and air-dry them to restore their freshness.   
What are the cleaning and maintenance tips?
Shake and vacuum clean your dog bed each day to make it spotlessly clean and breathable. Wash the covers once a week in summers and less frequently in winters. Clean the inner side of the bed at the time of wash. Use tepid water when washing your dog's bed. That's the only way to kill parasites and bacteria thriving on Fido's bed. Spray a deodorizer on the bed to help your dog like his sleeping territory.  
How do you pick the best dog bed?
There are several factors for consideration: a good fit, stuffing, safety, absorbency, and washability. Your dog's head and limbs should comfortably fit in the bed. Some dogs might eat and relieve themselves on the same bed. A machine-washable bed cloth will lift your worries. Think foam filling for junior dogs, thick foam-filled orthopedic bed for elderly dogs, and cedar chips to keep pests at bay. Get disposable absorbent pads for your bed-wetting and sick dogs. Consult a veterinarian while tackling your dogs' needs. 
How to stop your dog from bed-chewing?
This is something most dog owners come across. Dogs' chewing habits are natural and happen because of anxiety or boredom. This happens most when the owner is out of the house for an extended period. Give toys to your anxious dog or extend their morning walk duration by ten minutes. The more tired they feel, the more they would like to rest or sleep. Visit your local pet store with your pets to find out the things that excite them the most. This technique will make your pet happy and more cooperative. 
Final Thoughts
Thousands of dog beds exist—one for each species, perhaps. Choosing the right bed for your dog breed is cumbersome. Observe your dog's likes and dislikes. Introduce your domestic canine to the bed range, colors, fabrics, size, shape, and embellishments. Some dog breeds are choosy. Others may be docile and give in. Know your dog's psychological habits and cravings to lure them onto their beds with their favorite chew or toy.
Change your dog beds if you see your dog showing any discomfort signs. Keep adding some extras to your dog bed with the season change and aging. Dogs can't hide their emotions, so spend time with them in their wake-up time to make them feel loved, pampered, and looked after. Shop for dye-free dog beds for health benefits and replace the beds and cushions at least once a year.