10 Best Washable Dog Beds & Mats
10 Best Washable Dog Beds & Mats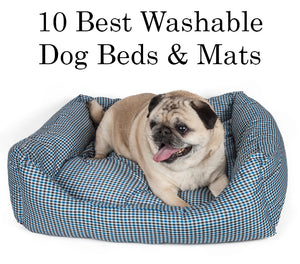 Your dog spends as much time in their bed as you do. The difference is that you can machine wash your dog beds. Since you don't give a bath to your dog daily (which you shouldn't) their beds get dirty and smelly.
When you notice that your dog bed has a funk, most owners will throw out their dog beds because they aren't washable.
The best dog beds on the market are ones that are washable, durable, and the colors wont fade overtime. The sizing, shape, and how comfy it is has a large impact when it comes to choosing the best dog bed on the market. With so many options to choose from it can be difficult to single out just one bed.
While there are a lot of options to choose from here are our top quick picks.
Best Washable Dog Beds & Mats: Quick Picks
The Pet Life Eco-Paw Reversible Dog Mat is top on our list for a dog bed because of its versatility. This bed can be placed in a dog crate, dog cage, and can even be used outside. It also comes in a wide variety of colors to suit your style at an affordable price.
 
If you are looking for a dog bed that will last the Touchdog Performance-Max Dog Bed is the one you are looking for. The high-quality stitching and padding along with a removable pillow makes cleaning the bed a breeze. This bed is also available in 6 different colors to fit your décor.
The Touchdog Sporty Vintage Dog Bed is a great dog bed if you are looking for something sporty. It is made with a thicker poly-fill interior for added comfort. This bed also comes with a side bar carrying handle when you need to move the bed.
For a more in-depth review continue reading!
Does My Dog Need a Dog Bed?
The answer to the question is yes, they do.
Reasons Your Dog Needs a Dog Bed & Mat
Safety and Comfort: Having a comfortable spot for your dog that is their own is important because they will treat that area as a safe space. It is a spot that they can relax and feel at ease. In our article about the truth about dog crates, we went over how dogs ancestors when anxious or scared had a den in the wild which is an aspect that most dog owners neglect. Dogs need a space for them to feel safe and secure which is a survival trait.
Warmth: Since most dog beds are made of a soft cushion like material it also acts as an insulator in the winter months. Most homeowners now tend to stay away from carpeted floors which makes it even more apparent that you need a warm area for your dog in your home.
Health Reasons: If you own an older dog, they can develop arthritis, hip dysplasia and more. Reducing the pressure on their joints is needed to prevent further damage and stress on their bodies. Plus, it also helps keep them warm which older dogs can have trouble raising their body temperature.    
Now that you know all the reasons to own a dog bed its time to pick the right size for you pup.
How To Choose The Right Sized Dog Bed & Mat?
Choosing the right size isn't an easy task you will need to consider their sleeping habits and if they sprawl out or like to be tucked in. Touchdog has a great breakdown on their bed sizes from small to extra-large and we are going to further expand on their article.
You would think that you need a small dog bed for a small dog but that isn't always the case. Let's say you have a Chihuahua, but they like to sprawl out when they sleep, they will need a bed that is almost two times larger than a small sized bed.
The opposite is also true while you may have a large dog if they sleep tucked in, they will feel more comfortable in a smaller bed. Therefore, you will sometimes see when a person owns a large and a small dog, they will often switch beds.
The same can be said for us. You would think that a person with a smaller stature would need a smaller bed but, in reality it's based on how the person sleeps. If they are a restless sleeper, they will need a much larger bed than what is assumed.
Once you figure out how they sleep you can use this guide to help make your decision.
| | | |
| --- | --- | --- |
| Dog Size | Dog Weight | Size Of Bed |
| X-Small Dogs | 1-10 lbs | 18"L x 13"W |
| Small Dogs | 11-25 lbs | 24"L x 18"W |
| Medium Dogs | 26-40 lbs | 30"L x 20"W |
| Large Dogs | 41-70 lbs | 36"L x 23"W |
| X-Large Dogs | 71-90 lbs | 42"L x 28"W |
| XXL Dogs | 90-110 lbs | 48"L x 30"W |
These measurements aren't to be taken too literally. If you have a large dog crate for traveling and you are looking for a bed for your dog crate. A medium sized dog bed would most likely fit the crate better than a larger one.
Now we know what size bed will work best for your dog now onto the different styles.
What Kinds of Dog Beds & Mats Are Out There?
We are going to go over the most common types of dog beds. Since there are new types of beds coming to the market daily it will be more accurate to go over the most popular types.
Square Beds: These are mostly use for extra small and small dogs since the shape isn't optimal for larger dogs. With this shape it takes up less space than a tradition rectangular bed. Since these are smaller storing them is easier but not as easy as a traditional dog mat.
Rectangular Beds: These are the tried and true dog beds and mats that have been around for ages. The shape is perfect for dogs who like to sprawl out and it's the best shape for larger dogs. The only downside is that if you live in a small apartment the large mat will take up more floor space.
Rounded Beds: These types of beds have been showing up lately and its for dogs who like to curl up when they sleep. This is a more natural shape for your dog to sleep on and the raised sides is a comfortable place for your dog to rest its head. 
Collapsible Beds: These are fairly new to the dog beds scene which the bed can convert from an enclosed dog bed to an open style dog bed. These are great for owners with small dogs as the shape is commonly square.
Elevated Beds: These are great for pooches who have joint related issues as the extra padding can relieve pressure on their joints. These also are used when camping and some are even inflatable.
Pillow Beds: These are what they sound like a pillow shaped bed. Dogs sometimes prefer to sleep on a pillow rather than a bed. If you notice your dog is sleeping on a pillow more often than their bed a pillow bed is a great option.
Orthopedic Beds: Orthopedic beds are specifically made for older dogs and dogs with injuries. These beds can also be made of memory foam to release tension on their muscles and joints.
Heating & Cooling Beds: These are also fairly new to the market and while we don't have cooling beds yet, we are currently researching the effects and benefits a cooling bed can have.
What is Your Budget?
Since we will be listing 10+ dog beds and mats chances are you will find one on this list that fits your budget. We are currently running a 15% off sale on all dog beds and cat beds which is running for a limited time.
Budget is one of the most important steps when picking a dog bed our range starts from $25 - $90 for our premium dog beds.
The differences in costs comes down to the size and materials used. While our top of the line dog bed covers most categories when searching for the perfect dog bed, we know it's not for everyone.
Once you decide on the price range for your budget you are ready to go.  
Can You Make a DIY Dog Bed?
We understand that for some a dog bed is a luxury that they can't afford but, we wanted to offer an alternative in the meantime.
Drawer Dog Bed: If you have an old dresser that you are throwing away you can use one of the draws as a base and place a throw cover on top of the wood and add a pillow inside. This is a great way to reuse your old furniture and turn it into something useful.
Suitcase Dog Bed: That old suitcase can be used as a great dog bed. By removing the zippered area, you can fill the suitcase with pillows, old clothes or anything that can be used to cushion the suitcase. It's a great alternative if you are on a budget.
Pillow Dog Bed: If you know how to sow this is great. Sowing 4 pillows together will create a bed large enough for large sized dogs and it is a good way to reuse old pillows.
Why Cheap Quality Beds Are Bad?
The main reason why these are bad is that the manufacturers cut costs anyway they can. This can mean that their beds might have choking hazards, flimsy materials, and lacking in general quality.
The risk of putting your dog in danger isn't worth the medical bills that might be associated with it. Reputable companies will list the materials used in their beds to ensure that quality standards are met.
We stand by out products and if you are unhappy for any reason with the quality of our products, we offer a 30-day money back guarantee on all our dog beds.
Now its time for the good part here are our favorite dog beds and mats!
10 Best Washable Dog Beds & Mats
The Pet Life Wick-Away Rectangular Dog Bed is the best machine washable dog bed for the price. It also has a water-resistant coating to repel light spills. Price $26.99
Pros
Cheap
Comes in multiple sizes
Classic plaid pattern to fit in any home
Can be used outside
Anti-skid rubber bottom
Cons
Not waterproof
Not for XL+ dogs
The Pet Life Wick Away Rounded Dog Bed is the best round bed for the price. The bottom of this dog bed is waterproof and is suited for medium sized dogs. Price $26.99 
Pros
Best for medium sized dogs
Cheapest Round Bed
Classic pattern
Can be used outside
Anti-skid rubber bottom
Natural Shape
Cons
Not waterproof
Not for XL+ dogs
Lacking premium features
The Pet Life Neutral Carpentry Dog Mat is a large sized mat that comes with a one size fits all approach. Price $26.99
Pros
Great for even XL Dogs
Cheap large dog mat
One size fits all
Great for indoor use
Cons
Not waterproof
Not for XXL+ dogs
Lacking premium features
Only one color
Not for outdoor use
The Pet Life Slip-On Dog Bed is a slipper shaped bed that is great for extra small to medium sized dogs. Its interesting design and Eco friendly materials make this a must have. Price $34.99
Pros
Made with recyclable materials
Moderately priced
Interesting shape
Modern design
Cons
Not waterproof
Not for XL+ dogs
Lacking premium features
No removable Pillow
The Pet Life Roar Bear Dog Bed is our most fun inspired dog bed we have. While this is meant for small dogs and cats its interesting design will keep you and your dog entertained. Price $39.99
Pros
Polar fleece outer shell for increased warmth
Fun design elements making this bed one of a kind
Reliable materials even for strong chewers
Removable tongue dog mat included
Doubles as a mini doghouse
Modern design
Cons
Not waterproof
Only for small sized dogs and cats
The Touchdog Classical Denim Pillow Bed is meant for dogs who like sleeping sprawled out or on a pillow type bed instead of a traditional one. Price $54.99
Pros
Composed of denim for added durability
Great for Large and XL Dogs
Insertable cushion
Perfect for all size dogs
Handle for ease of travel
Cons
Not waterproof
Might be too large for small apartments
Doesn't have plush siding for increased head support
The Touchdog Vintage Squared Collapsible Dog Bed is perfect for a new pup or a small dog. It is durable and doubles as a mini doghouse. Price $59.99
Pros
Removable pillow for easy washing
Great for small dogs
Collapsible design
6 color variations
Removable pillow
Cons
Not waterproof
Only for extra small and small dogs
The Touchdog Shock-Stitched Dog Mat is our largest dog mat with a thicker grade poly fill for the pampered pup. Price $59.99
Pros
Dual sided colors
Great for Large and XL Dogs
Great for indoor and outdoor use
6 color variations
High quality materials and stitching
Cons
Can be too large for small apartments
While machine washable it might be too large for some washing machines
The Touchdog Bark-Royale Raised Dog Bed is made for dogs that need the extra padding. Since this is a round bed it has a natural shape for a sleeping dog. Price $59.99
Pros
Raised bed
Extra padding
Can help dogs with joint and muscle issues
Exquisite design elements
Reversible
Cons
Best used for small to medium sized dogs
Not good for dogs who sprawl on the floor
Dogs over 40+ lbs with arthritis shouldn't choose this
The Touchdog Surface-Control Dog Mat is our most premium dog bed with the highest-grade poly fill dog bed on our list. Price $74.99
Pros
Heavy stitching & materials for extreme durability
Great for indoor and outdoor use
6 colors options
Reversible design
Extra padding can help dogs with joint and muscle issues
Great for large and extra-large dogs
Cons
Large mat that might not fit in some washing machines
Might be too big for small apartments
This is out heaviest dog bed as well as the largest which is a con and pro