The Truth About Dog Crates
The Truth About Dog Crates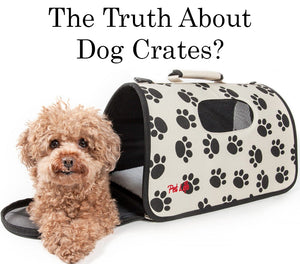 Many people refuse to crate or kennel their dogs, but do they know the truth about dog crates. With everything there is a good side and a bad side to using a dog kennel. Owning a dog crate and with proper dog crate training is a highly effective way to prevent destructive behaviors in dogs and provides your dog with a safe space to relax.
Dog Cages Aren't Prisons
Having an image of a dog behind metal bars sets a bad precedent. When your dog is anxious or scared having a den similar to what their ancestors had in the wild is an important aspect that most owners neglect. If you notice your dog hiding behind the couch or under your bed having a crate will give them a safe space for them to hide if need be. Remember dog cages shouldn't be view as prisons having an occasional time out in their crate is fine, but if you are doing it frequently you will build up a negative association with their kennel. Treat your dogs cage as you would a bedroom give them a bed for their carrier and make sure it is clean.
Crate Training
When receiving a new puppy training is the first thing all new owners should look into. This is especially true when crate training. Encouraging crate training has its benefits for instance a dog instinct is to not use the bathroom where they sleep. When you train your dog to view its kennel as its bedroom can teach your dog bowel control. Placing your dog in a crate at night, or when you can't supervise your dog, or busy cooking are just a few more benefits of crate training your dog. Crate training 101 from the humane society has a great breakdown to crate train your pets.
Duration
The heart of the problem with dog cages, kennels and dog carriers is the amount of time that people place their dogs in them. So how long is too long to leave a dog alone? Once your dog has been crate trained fully you can leave them for up to 8 hours. This only should be done at night or after a good exercise since your dog will spend most of that time sleeping. For long periods of time try adding a toy in there to safely occupy your dog's attention.
Leaving a dog in a cage when you leave to work shouldn't be done. When leaving the house for long periods of time its best to put them in a small room preferably with a window, but not in direct sunlight. Make sure your dog has plenty of food, water, toys to play with and a bed to sleep if need be. Keeping a dog in a cage for more than 8 hours is cruel and shouldn't be done.
Dog Crate Sizes
There are a wide variety of dog crate sizes but choosing the right size for your dog is important. The most common dog crates sizes that are being purchased are large dog crates and small dog crates. Bigger is often viewed as better but a medium dog crate might be the right choice when choosing a dog kennel. How do you know which one is the right size for your dog? Here is a quick breakdown of what size dog crate you should purchase for your dog.
Extra Small Dog Crate
These crates are for dogs between 1-10 pounds they are often used for smaller breeds like the Chihuahua, Maltese, and Pomeranian. Most dogs will outgrow this size of dog crate and there isn't much difference in sizing between a small dog crate and an extra small one. If you are traveling with your dog having a dog crate for travel in this size range will make traveling easy especially a wheeled dog crate.  
Small Dog Crate
When choosing a small dog crate know that they are for dogs in the 11-25 pounds range. These dog crates are used for small breeds as well like Pugs, Jack Russel Terrier, Tibetan Spaniel. These dog cages are 24L"x18W" and a varying height where are some extra small dog crates and go under 18" x 11W" so it is important to know the weight of your dog to gauge the proper sizing for your dog crate.
Medium Dog Crate
Most people at this point opt in to purchasing a large dog crate rather than purchasing a medium dog crate. However, having a medium dog crate is a better option for most its smaller size means it takes up less room and your dog will be more comfortable in this size rather than a large one. To feel safe most dogs like a confined place when needing to retreat. The most common occurrence of this is when they hide under the bed.
Having a medium sized dog crate would be more beneficial to dogs within the 25-40 pounds range. Breeds include Pit bulls, French Bulldogs, and Cocker Spaniels. If you notice these breeds have vastly different body type but they all should use a medium dog crate. The size of a medium dog crate is 30L" x 21W" with varying heights. When purchasing a medium dog crate measure the size of your dog. Every company has different sizing charts for crates, and you don't want to purchase one that is too small.
Large Dog Crate
Having a large dog crate takes the worry out of most dog owners wondering if their dog will fit. That is why large dog crates are so popular. These dog crates are meant to fit larger dogs between 40-70 pounds the sizing is 36L" x 24W" and has varying heights. The reason we put in varying heights is that an American Bulldog for instance is shorter than a Schnauzer, but both can use the same size dog crate. If you own a larger breed you should still measure your dog before you purchase any dog crate, kennel, or cage.   
Extra Large Dog Crate
Golden Retrievers, Border Collies, Siberian Huskies are the types of dogs that you start looking for an extra-large dog crate. The sizing for this dog crate is 42L" x 28W" x 30H most dogs in this size range need their height of their kennel to be 30 inches high to make sure that they have ample room to maneuver. These crates are for extra large dogs weighing 70-90 pounds.  Having a transitional puppy dog crate can be used until your puppy reaches this size.
XXL Dog Crate
These dog crates are for giant sized dogs weighing over 90-100 pounds. The sizing for this crate is 46L" x 30w" breeds include the Bloodhound, Great Dane, and Greyhound. If your dog is larger than this finding a crate will become difficult. For the most part anything larger than this will be a metal collapsible folding crate. We have seen some fantastic DIY content creators make larger cages out of wood, but this is few and far between for the average consumer and average dog.
Here are more sizes and further breakdowns for choosing the right crate size.
Now that we have broken down the correct dog crate sizes, we are going to go over the materials that can be used for dogs crates and which of the different types of dog crates are for you.
Types of Dog Crate
There are a few different types of dog crates, kennels, cages that are available. Choosing the right one for your specific needs are important. Traveling long distance you need a travel pet carrier. Staying at home a large kennel or cage would be right for you. The are plenty of different dog carriers that are available and making an informed decision can be hard. Here is a breakdown of each type of dog crate.
Metal Dog Crate
Metal dog crates are great when it comes to setting up a safe place for your dog to sleep. Most of these metal dog crates are collapsible and transportable. While metal dog cages are cheap alternative to the standard dog crate you are trying to create a relaxed environment for your dog. If you are noticing that when someone new walks into your home and your dog keeps barking it doesn't feel safe. Having a wood dog crate where it is more closed off will make your dog feel safe.
Wood Dog Crate
Wood dog crates are fashionable and can blend in with your existing furniture. These dog kennels are great at blending in and can be used as a shelf. I personally have a wooden dog kennel inside my home, and we use the top shelf to hold up the cable box and gaming consoles. Wood cages are nice enough that they can be used as a centerpiece but lack the travel aspect of a metal cage.
Plastic Dog Crate
Plastic dog crates are commonly used on small dog cages and travel dog crates. These dog crates are made to be lighter than their metal cousin and having little to know prep time setting up their kennel. One of the downsides to owning as plastic dog crate is when you own a hyperactive dog because it can roll over. These dog crates covers your dog from direct sunlight when on a beach or traveling.
Travel Dog Crate
These are very specific dog crates for travel that need to follow federal and state aviation regulations. These travel dog crates come in different size some of which can be brought into the main cabin area. A good travel dog crate has a hard-outer shell and breathable mesh siding. There are some pet carriers that even have wheels making travel a breeze. These can also be used as dog crates for cars preventing fur from spreading in your car.  
Dog Play Pens
While dog playpens aren't dog crates, they do provide the same functions as one. These are open top pens that you can place dog toys in, and it has a larger enough area for them to play in. Dog playpens give you the ability to play with your dog while they are in it whereas a regular plastic dog crate won't give you that ability.