5 Cat Brushes For An Effective Grooming Of Your Furry Friend
5 Cat Brushes For An Effective Grooming Of Your Furry Friend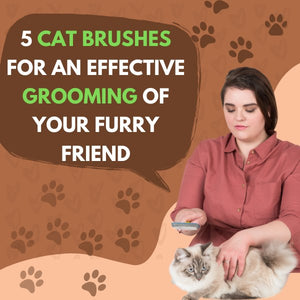 Our meowy friends bring us oodles of joy. In return, we must give them whole-hearted affection and care. Most pet owners look forward to keeping well-turned-out feline companions who can smell fresh every day. However, cat grooming can get time-consuming with increasing workload and social engagements. We usually rely on professional groomers or pet salons to groom our furry friends. But it may seem expensive in the long run.
You can make your feline grooming easier with quality-approved cat brushes. Different bristles are ideal for short- and long-haired cats. While shopping for the best cat brush, you may have to consider the brush shape in cat grooming tools. Here are five stylish cat brushes to keep your kitten grooming flawlessly and spot-on.
1. Shampoo Dispensing 
And
 Bathing Brush
A pet brush that releases shampoo while bathing takes Cat Combs to the next level. The Pet Life  Swasher Shampoo Dispensing Massage and Bathing Brush is a 2-in-1 grooming device. It has an inner shampoo storage container. Untwist the inside valve and pour the shampoo. Now gently press the shampoo dispenser to give your feline companion a truly hygienic bathing experience.
The flexible massage bristles of this cat bathing brush are soft in handling and manipulation. The bristles help remove knots and tangles on your feline coat, providing your cat pleasing soapsuds feel. The dual-sided contoured grip of the bathing brush gives you firm control and handling. The perfect length of the bristles is ideal for your pets' topcoat and suitably penetrates the bottom fibers on the pet bottom coat for enhanced cleansing.
2.  Pet 
Deshedder
 Comb
Deshedding is an essential part of pet grooming to help remove any fur trapped in the cat's coat. The Concepto cat deshedder effortlessly removes shredded hair while smoothening hair coat. The unique and sleek pet comb has an oval-shaped hair ejection button on the comb's reverse side and pin-like stainless steel bristles to detangle the topcoat and undercoat.
This cat comb handle has a rubberized ABS traction grip to give you premium control and precision in pet combing. It is available in three eye-catching colors–pink, green and blue to make your moggy combing modern. Get these cat grooming tools if you have long-haired cats, as they may need a comb to dig into dreadlock hair. Pick the right deshed brush to match the length and density of your cat's fur. It will help you avoid pulling the fur unnecessarily or make the experience unpleasant for your cat.
3. Grooming Brush 
And
 Comb
Pets like to travel and not stay home-bound. Regular pet hygiene and grooming can get narrowed with challenging travel routes. Shop Cat Brushes to ace up your cat's dolled-up look. The small, compact, and lightweight 'Bravel' is a pocket-friendly grooming brush and pet comb perfect for on-the-go travel. This space-saver brush and comb open and close like a clamshell. The dual-sided soft comb grooms your pet hair in all weather.
The soft bristles of this 3-in-1 pet grooming product smoothly lather your kitten during bathing, whereas the stiff bristles are great for post-bath brushing and tangle removal. The handle-held tooth comb pops out of the interior shell to deliver a great hair smoothening experience. Use the orange and gray color grooming brush and comb for different occasions or to your kitten's choice.
4. Interchangeable 
Dematting
 and 
Deshedding
 Comb
Imagine pet grooming tools with five interchangeable grooming tool features. The Conversion Interchangeable Dematting and Deshedding Pet Comb is a grooming product for cats and dogs. It comprises Bristle, Pin, and Silicone Massage brush snap onto the device's front, whereas the Dematter and Deshatter pop out of the brush back like a handheld razor. The high-quality stainless-steel blades and the soft silicone bristles add ergonomic comfort.
This all-in-one grooming tool aims to smoothen the pet's top and inner coat, remove tangles and mats, and handle coat massage and lather in-bath. The TPR rubber-like contoured handle provides an easy grip, control, and comfort. The 'Conversion' comb universally designed for the entire cat and dog breeds and hair types is easy to assemble and disassemble. Pick the color of your feline choice between pink, green, and blue to support smart pet grooming.
5. Pet Dryer 
And
 Pin Brush
This cohesively designed high-powered and quiet dryer brushes and dries your pet hair simultaneously. That's why Aero Groom is a perfect professional grooming experience for your pussy cat. The Pin Brush has an air-pocketed cushion that is gentle on the hair follicles. The dual-heating intensity of the hairdryer matches any automatic heating mechanism with complete safety.
The replaceable brush head and 6.6-foot length attachable connecting cord enhance the design and usefulness of this cat grooming tool. The ABS/stainless steel adds ergonomic quality to the pet dryer. 'Aero Groom' is ideal for short and long hair cat and dog breeds.
Tips In Cat Grooming
All cats are not the same. Their skin coat and thickness vary with breed. Brushing is the best way to remove your cat's dead hairs, dirt, and dandruff.
Brush your kitty from the head and gradually move towards the tail. Always brush your cat in the fur's direction for your cat's comfort. A cat with long fur needs daily brushing. However, you can brush cats with short fur twice a week.
Wear your gloves before working through your cat's hair. You will pick up a significant amount of loose hair, and it will be hygienic for both of you.
Before starting cat grooming with brushes and combs, keep treats and toys with you to help offset the discomfort of the grooming session. Treating your kitten with little rewards throughout the grooming process will make them less fussy throughout the grooming process.
When shopping for cat grooming tools for the first time or when repurchasing, keep in mind your pet's practical comfort and preferences. It will benefit both of you in the long run. If your cat is not in the mood to get brushed, don't force them. Try after some time. Within a couple of days, your kitten will accept the grooming with no fuss.
The Bottom Line
Different cat breeds have additional grooming requirements. As a caring pet owner, try to pay individual attention to your cat's grooming products and accessories to maintain their overall health. Make their grooming period full of fun and make them enjoy it.