Why Do Dogs Tilt Their Heads?
Why Do Dogs Tilt Their Heads?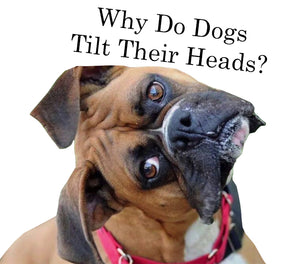 Dogs are known to do a lot of weird quirky things, but why do they tilt their heads? Most dog owners know that when a dog is tilting their head it means that they are interested in what they are hearing or seeing. We know that they do it when something intriguing happens but why are they tilting their heads when they show interest in something. Here are a few reasons why!
Trying To Hear You
Dogs might have a higher range of frequencies that they can hear, but their depth perception of where the sounds origin isn't as good as ours. This is one of the main reasons that they tilt their heads to better associate where the sound is coming from. So, when you are making a weird noise chances are your dog is trying to find out if the sound is coming from its human.
Trying To See You Better
If you are noticing that your dog is tilting its head even with the absence of any weird sounds, chances are your dog is trying to see you better. Dogs with larger muzzles often tilt their heads to get a better view of what is in front of it. The difference in a large dog's vision vs a small one isn't large enough to account for all head tilts. Just know that if you have a larger dog with a prominent snoot the head tilt means it is trying to get a better view of you.
Water In The Ear
If your puppy went into some water recently and you are seeing head tilts along with scratching their ears this is a problem. They can have water stuck in the ear luckily there are treatments that can help remove the excess water.
Have any interesting news or articles we are glad to hear it feel free to contact us or comment!