When should I start buying dog clothes?
When should I start buying dog clothes?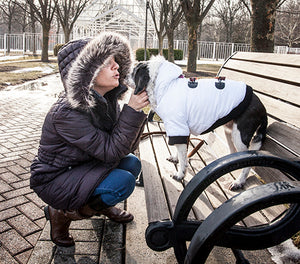 When should I start buying dog clothes?
So many of use can't wait to buy our dogs the latest and greatest gadgets and accessories such as the top rated toys and leashes but what about dog clothes? should I start preparing my dogs wardrobe before I adopt or buy my dog? well, while many say it's up to you it depends on whether or not you're looking for something that'll last or something they'll grow out of in a matter of months? Well, the first and most important step to take is to first find out what kind of dog you're looking to buy and whether or not there's a need depending on your budget. Hey, if you have the budget and you're looking for style than by all means go for it! but if you're more budget conscious and you're looking to stretch the dollar than it might be better to look for something more purposeful. 
Let's first start with the type of clothes that are most popular, dog coats. Yes, we said it right here, jackets for dogs are not only beneficial (depending on where you live) but they're also protect your dogs fur and body temperatures from the extreme cold whether climates or any levels below freezing for that matter that might cause issues that could lead to shivering, fever etc. the same symptoms humans experience when being left out in the cold too long. Frostbite is known to be prevalent among both humans and dogs and excessive exposure to cold can cause extreme hypothermia especially dogs with less hair.
But if you're a guy or girl looking to create a fun fashion statement it's important to find something that your pet will grow into a bit more, so try to look for something that offers expandable options or something that'll grow a bit more with your dog. Odds are if you bought a puppy as opposed to a puppy in their teenage days in dog years, that they'll grow out of their wardrobe sooner, unless you have hand-me-downs for other puppies you intend to buy. The younger dogs are in-age the faster they'll grow out of them so try to find something a bit larger that'll give you more usage. If you're living in hotter climate areas try buying your dog a T-shirt or maybe perhaps one of these cool awesome dog yoga T-s, Tanks and even Track-suits that contain hairs that shed and further provide UV protection from the suns harmful rays.
Whatever you buy, it never hurts to shop for something that adds appeal. Everyone will turn their heads when they see your dog is wearing the baddest and best gear out there. Show your fido how much you love him and I'm sure he or she will surely lick you back in affection.