What You Need For Your New Puppy: The Ultimate Checklist
What You Need For Your New Puppy: The Ultimate Checklist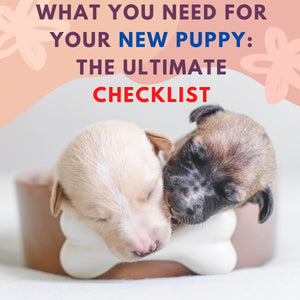 Good for deciding to add a dog to your home. New puppies are bundles of joy. They are naughty animals, full of pranks, and give you unconditional love as they settle in. So, you need to prepare everything to welcome your new furry family member.
Puppy raising is like raising a child. They need patience, dedication, and a lot of time to lick your face in gratitude. Before you bring your pooch home, you need to plan on plenty of things like dog clothes, food, hygiene, grooming accessories, and other essentials. Here is an essential checklist of your items to bring home your new puppy.
Feeding Bowls
Any idea what your new pups are going to have their food and beverage in? Well, they need separate food and water containers. There are bowls of varying sizes, shapes, materials, colors, and price ranges. Start training your new puppy companions to healthy and hygienic materials over cheap ones.
Plastic bowls seem a convenient option. Over time, plastic bowls are prone to getting multiple scratches and become a breeding ground for bacteria, causing difficulty in cleaning. Discard the plastic bowl after wear and tear to avoid the risk of foreign particles and pieces entering your new puppy's mouth.
Stainless steel bowls are dishwasher safe, easy to clean, sturdier, and durable. They have long-term use and are a secure option for your month's old puppy. Look for a non-skid rubber bottom in the pup's stainless-steel bowls to help prevent the bowl from sliding around.
You may try heavier food bowl options like ceramic for their better stability. If your puppy inhales food too quickly, consider getting a slow-feeding bowl with maze-like ridges that will help slow down your puppy's speed in picking food from the bowl. For larger breed puppies, think of getting a raised feeder to help reduce their neck and back stress when leaning down to feed.
Food Items
Picking the best food for your puppy is an exploratory exercise. You may like to visit a pet store or a supermarket to pick the best dog food or shop for fashionable dog hats, but there are several things you need to consider when buying puppy-specific eats.
Stock pet food for puppies, not adults. Breed-specific food is a bonus. Stay away from puppy treats promoted as suitable for all breeds and life stages.
Go for nutritionally complete and balanced food. Check with new pet parents in your social circle about the diets they are adopting for their new furry companions.
Find out about the compliance of your puppy food with the Association of American Feed Control Official (AAFCO) nutritional standards.
New puppies may not develop an immediate taste for food. Check your puppy's palatability standards before serving food.
Keep supervising your puppy's chewing habits as they may eat too quickly or swallow sizable pieces whole. Avoid feeding them with raw bones and deer antlers, as they may be too hard for their digestion.
Sleeping Spot
 Grown-up dogs love to snuggle up with their masters to get cozy moments. Sleeping with your puppy may disturb their sleep hours and annoy them. It's essential to choose the right bed for your new pup. There are a few factors to remember.
Shop the right bed size for your puppy. The bed dimensions should be such that the puppy can lie flat and completely stretch out without hanging over the edge. Since your puppy is in a growing stage, consider buying a bed of adult size so that your pup never runs out of bed space.
Cleanliness is necessary for bed linen. Choose a puppy bed with a removable and washable cover to overcome the puppy's bad habit of dirtying the bed quickly.
Consider a bolster bed with raised sides for your puppy's safety. It will keep new puppies in their defined bed space and reduce their chances of tripping from bed. Go for a mattress-like bed for large-breed puppies that like to stretch out.
Puppies love cuddling in soft beds, but they are prone to wear and tear after repeated use. Choose dog beds safe for washers and dryers. Make sure the puppy bed fabric is abrasion-resistant.
Toilet Training
New puppies may have a tough time holding their bladder for long. Their toilet training needs to be started soon to familiarize them with hygiene practices. Stash puppy pee pads to keep your home germ-free and teach toilet training to your puppy. It provides them a targeted toilet area separate from its sleeping zone and play area.
Avoid relying on pee pads as it may make your puppy get into the bad habit of relieving themselves inside. Start moving the pee pads to outdoors or garden space to help your puppy's mindful transition to toileting outdoors. Emphasize using positive reinforcement and rewards to make your puppy gradually accept good toilet habits.
Alternatively, you may use artificial grass potty boxes instead of pee pads. They give your playful puppy a specified toileting area indoors. Try to reduce your dependency on grass potty boxes as it may teach your puppy to use flat artificial surfaces in the house to relieve oneself. Consider using a real grass dog toilet for small urban dogs, where you can toilet train your apartment puppy in a few days with no mess, no smell. Puppies will quickly adapt to the new potty setting and save you the time to change over your puppy from pee pad to this environment-friendly option. It is also one of the Best Dog Accessories in modern times, where maintaining sanitation is foremost.
Bathing & Grooming Supplies
 Puppies get dirty and smelly as they grow, explore the world and make friends. Avoid bathing your puppy daily. Bathe your long-haired breeds once a week and short-haired breeds every fortnight. When buying pet shampoo and conditioner, ensure it is dog-appropriate and has the required skin pH. Pick a puppy-friendly shampoo with aloe vera and colloidal oatmeal to impart gentle skin. Refrain from using baby wipes for your puppies.
A puppy may be too new to statement collars and dog bandanas. But every puppy requires basic grooming and essential hygiene to maintain healthy skin. Depending on your puppy's coat and grooming needs, you need to invest in the right brush(es).
Aim to get a bristle brush. It is suitable for most pooch breeds and is reliable in giving your puppy a shiny coat. For long-haired puppy breeds, consider getting a wide-toothed metal comb. For short-haired breeds, aim to get a rubber currycomb. Don't forget to buy a flea comb for your outdoor-loving puppy.
Nail trimming is one more vital in puppy grooming. Slowly introduce the nail clippers to your puppy's nail health. Scissor nail clippers are suitable for large-breed puppies with thicker nails. If your new puppy is intolerant to nail clippers, consider getting grinding tools to grind your puppy's nails in quick spurts.
Dental health is essential. Get your puppy on a daily brushing routine. Keep a stock of grooming wipes at your disposal to handle your puppy's poop messes.
Walking Gear
 Leaving your puppy out in the open can be risky, especially if it is an unknown place or destination. A dog collar and name tag are crucial to get immediate visual identification. Go for a standard flat collar with an easy-to-fasten buckle or clip. Shop for a collar of an appropriate length so that it can sit comfortably around your puppy's neck with enough space to slip in your two fingers. Keep adjusting your puppy's collar regularly to match its physical growth.
Get a harness for your puppy that likes to pull. Find a front-attaching harness for simple spotting of the leash hooks on the puppy.
A dog leash helps to control your puppy and prevent them from unnecessary wandering. Explore leashes of different lengths and materials suitable for your puppy. Find a proper leash for your puppy's training and personality level. Think thoroughly before choosing a retractable leash, as it may not offer you adequate control of your roaming puppy. The leash cord can also cause choking if handled inappropriately.
Consider enrolling your puppy in a preschool. It will help build self-confidence in them on walking, socializing, and picking up basic commands such as sit, stay, heel, come. These instructional techniques will teach your puppy impulse control and make them easier to respond to you. Get inputs from pet club members and friends for puppy schools and off-school mind-training exercises.
Protective Crates
 Any new experience can be a little frightening for new puppies. A crate acts as a small enclosed space, in fact, a haven for your scared pup. When picking out a crate and setting a play area, look into these finer points:
Make sure you have chosen the correct crate size so that your puppy can stand up and lie down comfortably. Keep in mind your puppy's future adult size. Look for a larger crate with a divider panel provision so that you can comfortably increase the crate size as your puppy grows.
There are a variety of materials and portable options in crates. A wired crate offers better visibility and is suitable for home or travel purposes. You may cover the open crate top with a towel or a blanket as per the need and movement.
Plastic crates are easy to handle and lightweight, and a suitable option for travel. Choose plastic crates with a removable top for your puppy's better access and comfort. Adding cushions to the crate bottom can convert it into a temporary bed.
Fabric crates are suitable for temporary use if you decide to carry your puppy to work to look after it. However, they take more time to clean.
Explore puppy crates for the safety benefit. They provide a safe, enclosed, open area for play. Make sure they are sturdy enough and adequately tall so your puppy can't jump over them.
Playthings
 Most puppies are a bundle of energy. They need toys for their teething years and playtime as much as a dog scarf for their fashion outings. That's why you need to look for age-appropriate and size-specific toys for their growing phase. Puppy toys come in various sizes. Look for small, medium, large and extra-large sizes to address your puppy's changing needs with age. Make sure your puppy toys aren't too small as they can get easily swallowed and choke your four-legged friend.
Provide multiple toys to your puppy for chewing, pulling, or chasing needs. Keep cleaning your puppy's toys regularly. Choose toys that are dishwasher or washing machine safe. Avoid getting soft toys for your overactive puppy. There is a high risk of feeding on the toy stuffing, which can harm your puppy.
Keep your puppy's age and interactive nature in mind while shopping for rubber and rope toys. Rubber toys are for high-energy puppies fond of chewing softer materials in their rough play. Rope toys increase bonding with your puppy through a tug-of-war. Do not leave your playful puppy unsupervised in its indoor and outdoor sports engagement.
Additional Considerations
Pet parents have a lot of planning to add a new furry animal to the family. Consider pet insurance to help cover your veterinary visits or meet your pet's unexpected medical expenses. Pet insurance prices can vary with pet coverage options and add-ons.
Think of hiring a daycare provider or a pet sitter to watch and interact with your new puppy in your absence. It will make your puppy learn and imbibe new things at work.
The Bottom Line
Dressing your puppy can be challenging because they like to chew on unnecessary things. Opt for budget-friendly attire and accessories, keeping this in mind. Before heading outdoors, cover your puppy with vaccinations for ticks, fleas, and other parasites. Check the relevant preventative for their age and weight and its frequency.
Microchip your pet to reduce the chances of your puppy getting lost. Welcoming a new puppy into the family is a mentally rewarding experience. Talk to your veterinary doctors or specialists to get the right inputs for your puppy's overall health and wellbeing.