What is DOGA or Yoga For Dogs? Should I buy Dog Yoga Clothes?
What is DOGA or Yoga For Dogs? Should I buy Dog Yoga Clothes?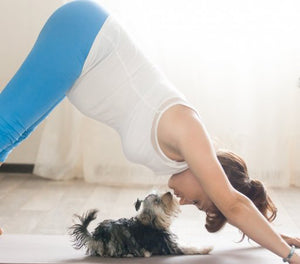 What is DOGA or Yoga For Dogs?
Dogs love to imitate humans; this is particularly obvious when humans perform any type of exercise activity. For example, when the owner runs, the dog will also run. If the owner jumps, the dog will do the same and so on. Thus, today, dog owners are considering teaching yoga (also known as doga) to their pets. However, here are some facts that you need to know about DOGA or yoga for dogs.
It takes time: The first thing to know about doga is that it is not something that occurs immediately. When the owner practices yoga, the dog should be in the same room and slowly he or she will start to mimic the same movements. For some dogs, it may take a few weeks to start participating and in others, it may occur over a few days. If your dog just sleeps through the session, then maybe yoga with dogs isn't for your pet.
Do not aim for perfection: Unlike a human, a dog will imitate the various yoga positions, but its body motions and positions may not always be perfect. Do not worry, as long as the dog is having fun doing some type of body movements,  just accept it and move on.
Never scold the dog: If you want your dog to continue performing doga, never scold the animal. He or she has no idea about the philosophy or the spiritual meaning behind yoga- the pet is doing the activity because it is fun and wants to please you. Never force Doga on a dog; just like humans, some dogs like it and some do not.
Doga is all about fun: No matter what your beliefs are about Yoga, for the dog, it is all pleasing the owner and having fun at the same time. The dog may also not be able to perform Doga for as long as the owner; that is perfectly fine. In most cases, the bigger agile breeds are more likely to perform Doga compared to the smaller breeds. 
Where can you learn about Doga? if you are a newbie and would like your dog to perform Dog Yoga with you, there are Doga classes for pets in many cities. If you live in a small town, then you can read all about Doga on the internet. However, do be aware that many of these Dog Yoga studios have their own rules; your dog will have to be a certain size or a certain breed (in general aggressive dog breeds are usually not permitted in Doggy yoga classes). In addition, your dog will need to have the right temperament to join the class.
So how do you start with Doga?
Have a quiet place or room  to minimize the distraction. Dogs easily get distracted, so it is essential you start the practice in a quiet room. If you perform yoga outside the home, make sure it is under a shady area; the reason is that Dogs can generate heat and this can lead to overheating. Otherwise, if you're looking to conduct these classes in the sun we recommend purchasing an elastic Dog Yoga T-shirt or even a full-body fitness dog yoga tracksuit, these will provide UV protection no matter where you practice.

Get a mat: Yoga can be hard on the joints and bones and the same applies to Doga. So get the dog a soft, comfortable mat that is padded. Dog Mats might are found in all pet stores. Choose a fabric that is durable and something the dog will not chew on. 
Start Doga at home: To get your dog acquainted with Yoga, start slowly at home. Make the activity fun for the animal. You should always start with simple body positions that are not too hard for the dog to participate. The best activities are those that involve stretching. Take a break every now and then. When the dog does Doga, provide him or her with a treat, and this will keep the animal motivated. Some dogs will prefer a chewy dog toy.
Combine Doga with other activities: In order to keep the dog interested search activities that the dog likes. This may involve playing with a fetch frisbee, going for a short walk or playing in a water bath.

What if your dog does not cooperate: Well, there are some dogs that will just lie down no matter how much you push them. In such cases, leave the dog alone. Just like humans, not all dogs like Doga. If you continue to force the dog, he/she will always resist it.
What are the benefits of DOGA?
Just like yoga has physical and mental benefits for humans, the same applies to dogs. If your dog practices Doga regularly, you will soon note that he is calmer, more affectionate and content. Further, conducing dog yoga activities will help improve sleep quality and keep him or her healthy. There are many natural benefits to conducting yoga for dogs that also includes Joint and Hip care and more. Moving around in ways dogs aren't necessary attuned to is a good thing, it releases feel-good toxins in the body. It's also a great way for both the owner and dog to stay in tip-top shape. 

Do you need special apparel for DOGA?
In general, if your dog performs DOGA indoors, then you need a comfortable mat however dogs tend to heat up and they do smell therefore we do recommend buying one of our shorter sleeves or sleeveless Anti-Odor and Quick Drying Dog Yoga Clothes like our Tank Tops or T-Shirts.They provide 4-Way-Stretch construction the same as the yoga clothes we buy. Anything short sleeves are great in the Spring and Summer however, if you practice outdoors or if you practice in the evening during Spring and Summer when temperatures begin dropping or Fall and Winter time of year than you'll definitely want something that'll cover the body like our Pet Life Full-Body Dog Yoga Tracksuits that provide the same benefits as our T-shirts except more coverage with hoods.

Aside for buying yoga clothing for dogs you'll also need a mat and a dog treat or dog toys, a chewy toy. We don't recommend buying dog jackets since dog coats aren't flexible, stick to our Tracksuits they're definitely worth the few extra bucks as they last a while and are breathable and impermeable and flexible.

How often should Doga per performed?
Like yoga, to derive the health benefits, the activity should be performed regularly. Dogs are creatures of routine and so you should set a time for DOGA. Anywhere from 2-5 times a week is sufficient. The duration of each session depends on how well the dog is doing but at least 15 minutes, to begin with. Over the ensuing weeks, gradually increase the duration to 30 minis. To maintain enthusiasm in the dog, change the type of activity regularly, incorporate fun time and always reward the dog. In the end, DOGA is all about creating that special bond between you and your pet.
We'd love to gather your comments on our article. We love our awesome readers!