What are dog diapers?
What are dog diapers?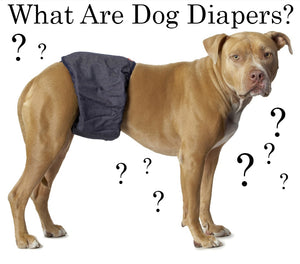 What Are Dog Diapers?
Do you need dog diapers? In the booming tech industry, we tend to overlook the simplistic innovations for the flashy ones. Dog Diapers are a necessity just like there are adult diapers when we get older there is also a need for your furry companion to have them as well. In this article we are going to go over the many reasons why you would need dog diapers for your pets and which ones are the right choice for you.
Reasons You Need Dog Diapers
As your pets gets older it can have trouble passing bowel movements. Usually this is cause by a hip problem or poor diet. As your dog gets older the chances of having a leaky bladder skyrocket. If you have an older dog and you are noticing small puddles of urine on the floor or small spots of fecal matter that is an issue. Sadly, there are people who put down their pets due to bowl incontinence. When the control over their bladder deteriorates it is time to purchase a dog diaper which will help keep your home clean. Another reason why you should purchase dog diapers is during menstruation. I don't think I need to tell you why blood on a new pair of shoes or clothing is reason enough to buy diapers but I digress. These are just two reasons why diapers are a necessity in your dog's life.
Reusable Vs Throwaways
If you are reading this part of the article great! You know how important it is for your pets to have dog diapers so what do you buy? If you have a puppy and are looking to teach it potty training the throwaway diapers work great. Puppies don't know at first what they can and can't pee on so this is a great way to keeping urine off your couch. For dogs going though menstruation reusable ones are the way to go. They aren't being used year-round so why spend the money on throwaways when you can re-use the same all you need to do is wash it.
Have any interesting news or articles we are glad to hear from you.