Traveling with Pets: Holiday Season Guide
Traveling with Pets: Holiday Season Guide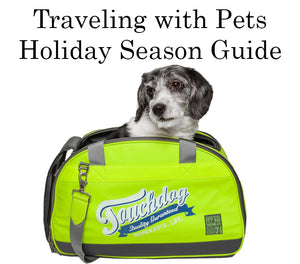 Since the holidays are coming up while making travel plans make sure to include your pup. If you are thinking of bringing your pets with you or if you are leaving them at home with loved ones, you want to make sure that they are taken care of.
Thousands of pets travel by land, sea, and air this holiday season and each form of travel requires different needs. However, these three things should be done before you travel with your pets.
Talk with your veterinarian
Make sure your dog's vaccines are up to date
Make sure that your destination is pet approved
Talk With Your Vet: This needs to be done before you travel with your pet to keep them immunized when traveling to your destination. You veterinarian may prescribe anxiety medication during this time since traveling with your pet is stressful. Your vet understands your pet and their conditions and will give you additional advice.
Vaccinations Up To Date: This is one of the most important parts when traveling with your pets overseas. The U.S department of agriculture requires all pets to have a rabies immunization and health certificates issued by a veterinarian 30 days prior to travel. If you pet is traveling as cargo (which we don't advise) the health certificate needs to be issues 10 days before you leave.
Pet Approved Destinations: Spending the time and the money to get your dog your destination is great but if your hotel doesn't accept pets that time and money will be wasted. Research your destinations before hand and if they are pet approved. We recommend calling in advance to make sure don't just research it online.
Traveling By Car
If you are planning a road trip this holiday season there are a few steps, you should take.
Take your pets on an extended drive before the journey. This will help get them use to traveling in your car. We advise around 30 minutes is a good test for you to notice their patterns when traveling in a car. It is also advised that you have a car seat harness when you are traveling with your dog to keep them securely fastened.
Cats should be kept in a cat carrier instead of a harness. A cat will feel safer in a carrier and they will be less skittish traveling in the car.
Schedule breaks along the way! This is one of the most important steps pet owners forget. Taking breaks is required for your dogs and cats to feel safe enough to relieve themselves. If you are bringing food and water with you let the food settle for at least 15 minutes to avoid any unwanted accidents.
Traveling By Sea
Traveling by sea can be done by pet friendly cruises. Most pets aren't allowed on cruises to uphold there are regulations and codes however service animals can accompany you on some cruises. You will need to check each cruise line to see which are pet friendly. For the most part they will be left in a kennel during the trip, so we don't advise taking your pet on a cruise.
Traveling By Air
Traveling by air should only be done when necessary and during the holiday's airports are busier than ever. Each airline also has different policies regarding pets. Recently Delta Airlines will continue to prohibit pit-bull type dogs on their flights while discontinuing their ban on emotions support animals on flights longer than 8 hours. You will need to research your airline policies beforehand.
In most cases pets under 20 pounds can ride in the cabin and must say in the seat underneath them. You will also need an airline approved dog carrier when traveling with your pets. There is also a list of service animals that aren't allowed on flights. There was a case where United Airlines denied an emotional support peacock on their flight.
There are also costs to consider when bringing your pet on a plane. Depending on the airline it can range anywhere from $50 - $200 some include round trip with other airlines charge each way. With the differences in commercial airlines its more important that ever to look at their policies 30+ days before you fly.