Top 3 Dog Toys for 2019
Top 3 Dog Toys for 2019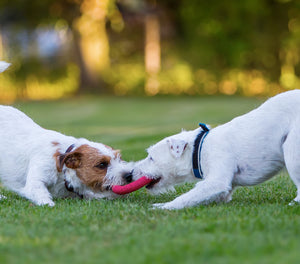 Top 3 Dog Toys for 2019
Being an owner of two dogs going to my local pet store and seeing all the options can be daunting. Looking at over a hundred different toys I never know which one to pick and end up shopping online so I can see the reviews. I own a Pit bull and a Pug, and each toy needs to be specific to your dog. I have compiled a list of great toys to have no matter the size.
The Pet Life Rope Squeak Chew pet dog toy is a great product to own its made out of recycled materials and it gives you two ends to tug on. I personally own two of them which is great for when both dogs want to play. One is attached to a tree outside so my Pit bull can tug away without my arm getting tired. The other one is for when my Pug and Pit bull want to play tug of war. The squeaking is a bonus to get both of their attention knowing that its time to play. I think this is a well-rounded toy and gets the job done.
The chuckit ultra ball is next on the list. I have to keep both dogs in mind when purchasing toys and the chuckit has multiple sizes a smaller one for my Pug and a larger one for the Pitbull. If you're looking to buy a tennis ball it would end up being more expensive in the long run. These are inexpensive high-quality balls that you can quite literally chuck it and have no worries.
This one is one of my personal favorites the dogs aren't allowed to touch this one It's the multipet pig latex toy. The squeak in this toy for some reason gets both dogs to howl and I haven't found another toy to do so. The only reason why I don't want them to play with the toy is that I have too much fun making them howl to a little yellow pig. The reviews on this toy are spectacular as well.
Each one of these dog toys are chosen based on my interactions with my pets. All these toys created lasting memories with my pets throughout the years and they have been chosen based off the reliability and craftsmanship and reviews based around the toys.