Tips for Introducing a New Pet to Your Home
Tips for Introducing a New Pet to Your Home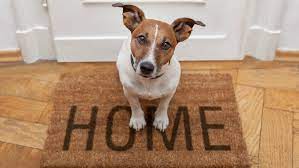 Having a new pet in your home can be an exciting and challenging experience. With good planning and preparation, you can ensure a smooth transition and help your new furry friend feel at home. I will review some tips to make the process easier for you and your pet.
Prepare Your Home
Before bringing your new pet home, it's essential to pet-proof your living space. This includes removing any hazardous objects, such as wires, toxic plants, and small items that can be swallowed. Secure any loose cords and cover electrical outlets to prevent accidents. In addition, create designated spaces for your pet's belongings, such as food and water bowls, a bed, and toys.
Gather Essential Supplies
Stock up on necessary pet supplies, including food, treats, grooming tools, and toys. If you're adopting a dog, purchase a leash, collar, and ID tag. You'll need a litter box, litter, and a scratching post for cats. These items will help your pet feel more comfortable and secure in their new environment.
Create a Safe Space
Set up a separate area for your new pet to retreat and feel safe. This space should have a comfortable bed, food and water bowls, and toys. For dogs, a crate or playpen can provide a sense of security. Cats may appreciate a cozy nook or hiding spot. Encourage your pet to use this space, and respect their privacy needs, especially during the initial adjustment period.
Gradual Introduction
If you have other pets in the house, gradually introducing them to the new pet is crucial. Keep the pets separate first, allowing them to sniff each other's scent through a closed door or barrier. Over time, you can increase their interactions, always supervised and with plenty of space for retreat. Be patient, as it may take several days or weeks for your pets to become comfortable with one another.
Maintain a Consistent Routine
Animals thrive on routine, so establish a consistent daily schedule for feeding, playtime, and bathroom breaks. This will help your new pet adjust more quickly and reduce anxiety. Be mindful of your pet's energy levels and adapt your routine accordingly, allowing time for rest.
Positive Reinforcement
Use positive reinforcement techniques, such as praise, petting, and treats, to encourage desired behaviors and help your pet feel more at ease. Avoid punishment or negative reinforcement, which can cause fear and stress. Be patient and consistent with your training, remembering that it may take time for your pet to understand what is expected of them.
Socialization
Expose your new pet to various environments, people, and other animals to help them become well-rounded and confident. Socialization is particularly important for puppies and kittens, as it can prevent fear and aggression later in life. Start slowly to increase the difficulty level, always being mindful of your pet's comfort and body language.
Veterinary Care
Schedule a visit to your veterinarian shortly after bringing your new pet home. This will help establish a relationship between your pet and the vet and allow for a thorough health examination. You must ensure your pet is up-to-date on vaccinations and discuss necessary preventive care, such as flea and tick prevention and dental care.
Monitor Behavior and Health
Monitor your pet's behavior and health closely, especially during the first few weeks. Look for signs of stress, such as hiding or loss of appetite. Consult your veterinarian for guidance if you notice any concerning behaviors or health issues.
Be Patient and Supportive
The most important tip for introducing a new pet to your home is to be
patient and supportive. It's normal for your pet to experience anxiety or fear during this transition period. Give your new companion time to adjust and acclimate to their surroundings. Offer reassurance, love, and understanding, and try not to overwhelm them with too much attention or activity.
Encourage Play and Exercise
Regular play and exercise are essential for your pet's physical and mental well-being. Engage in interactive play sessions to strengthen your bond and help your pet expend excess energy. Daily walks and outdoor playtime are important for dogs, while cats benefit from games that stimulate their hunting instincts, such as chasing feather wands or laser pointers.
Observe and Respect Your Pet's Body Language
Please pay attention to your pet's body language and respect their boundaries. If your pet shows any signs of discomforting stress, such as flattened ears, tail tucking, or growling, give them space and time to relax. Gradually increase their exposure to new experiences and stimuli, always at their own pace.
Provide Mental Stimulation
Mental stimulation is very important as physical exercise. Provide your pet with puzzle toys, treat-dispensing toys, or new objects to explore, which can help keep their minds sharp and prevent boredom. Training sessions can also be an excellent way to challenge your pet mentally while reinforcing desired behaviors.
Establish House Rules
Determine and communicate house rules to all family members, ensuring consistency in training and expectations. For example, decide whether your pet is allowed on the furniture and ensure everyone enforces this rule. Consistency will help your pet understand boundaries and make the adjustment process smoother.
Seek Professional Help if Needed
If your new pet struggles to adjust or exhibits concerning behaviors, such as aggression or extreme fear, consult a professional trainer or behaviorist. They can provide guidance and support tailored to your pet's needs, helping you navigate this transition more effectively.
Having a new pet in your home can be a great and fulfilling experience for you and your furry friend. Following this guide can ensure a smooth transition and create a loving, supportive environment where your pet can thrive. Remember to be patient and understanding, allowing your new companion the time and space they need to adjust to their new surroundings.