The Complete Guide to Choosing with right Dog Collars
The Complete Guide to Choosing with right Dog Collars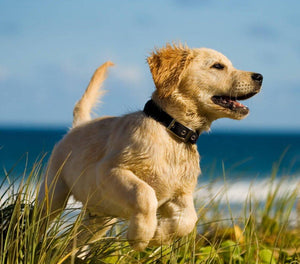 Choosing the Right Dog Collars: A COMPLETE GUIDE

If you are a dog owner, you must have come across a situation where you walked into a pet store or browed an online collection of pet accessories to buy a collar for your dog and got overwhelmed by all the options available. And then you ended up buying the one that was prettiest or looked good on your dog.
Unfortunately, most owners make crucial mistakes while buying the dog accessories, especially the dog collars and dog leashes. This is because they don't know which collar would suit their dog depending upon the type, material, and the needs of the dog.
This article is aimed to address the above issue and will give you a detailed insight to the world of dog collars and dog leashes to help you make an educated decision on which type of collar would suit your dog and how to use it in a proper way.
So here we go…
What are the types of Dog Collars as per the dog activities and need?
Before choosing a dog collar, you must consider your dog's daily activities and needs. You may be required to have more than one collar for your dog depending upon various uses.   
Regular Dog Collars - Standard Collars
As the name indicates the standard or the basic dog collars are the most common by use.  The standard dog collars are generally nylon or leather with a  plastic or metal buckles. They are easy to use for putting on and taking off of your dog. These collars come in simple and fashionable categories and are best used for the dogs who do not pull, can be left off leash and just need something to hold their ID tags or a sort of identification on them.
Training Dog Collars - Chain Collars and Martingales
Choke Chains are the controversial dog collars and have people for and against them. Some trainers advocate their use for stubborn dogs during walk and training. But they can be damaging to your dog even fatal. So, there are safer alternatives like
Martingale Dog Collar
Martingale Dog Collars are effective training collars. They are similar to choke chains but are safer and comfortable; also, they fit it with dog leashes in a much better way. These collars are half nylon and half chain (there is a version which has fabric instead of chain, suitable for long fur dogs) which cinch up to a certain level when the dogs pull or behave aggressively but not enough to damage the dog's esophagus.
LED Dog Collars
As the name shows, these dog collars have luminous stripes over them. The LED dog collars are handy if you want your dog early in the morning or at night when it is dark. The refractive material on the collar illuminates in the dark allowing the oncoming traffic and pedestrian to see your dog when he is out on a walk. An alternative to LED collars is the dog collar lights or reflectors that are attachable to almost all types of collars. 
Water Resistant Dog Collar
Water-resistant dog collars are ideal for dogs in wet climates and summer activities. Also, for the retrievers trained on hunting geese and for outdoor summer activities. These collars are not only waterproof but also resist bacteria and so the bad odor that develops with it.
Which material to choose for Dog Collars?
Once you have finalized the type of dog collar that would best suit your dog, the next decision is to choose the material that would best suit your dog. Here are various kind of materials used in Dog collars.
Neoprene
Neoprene is a soft rubber type material generally used in wet suits. Reinforced with nylon webbing neoprene makes sturdy and durable collars for the dogs that spend a lot of time in the water. Neoprene is easy to dry and is expensive material, thus increases the cost of collar.
Metal Chain 
Metal chains are incredibly effective with aggressive dogs but can be highly dangerous; therefore, these are not recommended to be used.  Chain collars, known as choke collar, can actually choke your dog to death. Chain collars are durable and easy to use but prone to rust if the metal is iron.
Nylon Material
Nylon is the most widely used material in dog collars. Durable, lightweight and comfortable nylon collars are ideal for dogs to wear around in the house, on walks and for attaching IDs. Nylon Dog collars come in a vast variety of colors, widths, patterns, and styles and are a top choice for fashion-forward dogs and dog owners. Nylon Dog collars are inexpensive but difficult to clean and may develop a bad odor.
Leather
Needless to say, leather is classic and so it makes classy and durable collars with great looks, comfort and practicality. These collars can be found in both rolled and flat designs to best suit your animal. Rolled leather dog collars are best suited for dogs who have thick hair that mats around their collar. Leather collars last long but are expensive and may fade in color.
Artificial / Faux Leather
Faux leather or Pleather is an inexpensive material that makes stylish and cheap do collars and dog leashes. Though quite fashionable and affordable, faux leather collars won't last long and start wearing very soon. These collars are not recommended for regular use and be kept limited to the fashion / funky pet events if you desire.
Biothane Dog Collars
Biothane is the most robust material for dog collars. It is made from polyester webbing that is powder-coated with 100% non-toxic substances like polyurethane or polyvinyl. Biothane dog collars are ideally suited for the dogs that love water. Also, for dogs that are aggressive and are rough with stuff, chew their collars and manage to break their dog leash if not dog collar. Biothane is an excellent alternative to neoprene and leather as they are softer, less expensive and more flexible. Biothane will not break down quickly like other materials. It is comfortable enough for everyday use and durable enough for any activity. In addition, there are lots of colors and patterns available in neoprene and suit the dog owners who are interested in combining durability with fashion and style.
Choosing the right buckle type for you're the Dog Collars and Dog Leashes
Buckle is an essential part of your dog's collar. The choice of buckle style would depend upon your dog requirements, his activities, the material of the collar and your personal preference. Here is what you must consider while choosing the buckle style for your dog's collar.
Plastic Buckles. They are easy to use, lock and unlock but not very secure. But wear out quickly. They get brittle in cold temperature and lose cohesion in hot weather, making them not an ideal choice for outdoor pets.
Metal Buckles. The metal buckles are stronger and more secure. They are better for the dogs who are more agile and are prone to chewing their collars, and the more energetic large breeds that pull their dog leashes with great strength. There are certain buckle designs available in the market that prevent the dog collars from coming off accidentally.
Matching the Dog Leashes with Dog Collars
Since there are extensive options for the dog leashes depending upon the style, type and material of the dog leashes, you must know that your choice for the dog collars might affect your options for the dog leashes.
The standard size for the dog leashes is 6 ft. The dog leashes are mostly designed to go with all types of dog collars made of variety of materials. There are several designs of dog leashes available in the market. Recall, retractable, and adjustable dog leashes are just a few to name out of many styles available. You must choose the leash that should first and foremost suit your dog's needs / daily activities, and then go with the modern looks, fashion, and style.
Key Takeaways of the Article
To put the bottom-line upfront, choosing the best dog collars and dog leashes boils down to five basic questions that you should answer before making a choice.
What is the primary use of your dog's collar; fashion, swimming, everyday wear, training, or walking at night? Depending upon the types of activities and needs of your dog, you may have to get different kinds of collars depending upon their usage.
Depending upon its function, your dog's well-being and your personal preference which material would be best for your dog's collar?
Are there any accessories or considerations that would enhance the functionality of your dog's collar?
Have you measured your dog for dog collar size?
What kind of leash would best match your dog's collar?
And that's it!
Now you are fully armed with the knowledge and necessary checklist to begin shopping dog collars and dog leashes for your pet. Knowing that what you and your dog need will give you the confidence to pick your thing out of thousands of options on dog collars and dog leashes out there in the market.