Pet Life ® Re-launches Consumer Ready E-commerce site of Dog and Cat Supplies
Pet Life ® Re-launches Consumer Ready E-commerce site of Dog and Cat Supplies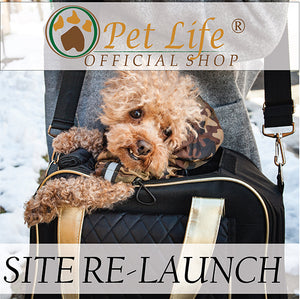 Pet Life has recently re-launched the grand opening of their Direct to Consumer Branded E-commerce website offering an array of manufactured and branded pet products directly to the consumer and its devoted brand loyalists. The highly anticipated relaunch took place in late September 2018 in preparation for busy season. Consumers benefit by purchasing branded direct with Free Return allowances and 1-Year Warranties on all purchases received and same day shipments for all orders received by 5:00 PM Eastern Standard Time and Free Ground Shipping on all orders, with exclusive coupons to our brand loyalist subscribers with periodical sale coupons displayed on their store and in addition to having access to our latest collections available.
Pet Life is the official exclusive manufacturer and / or Distributor of the Pet Life, Touchdog, Dog Helios and PETKIT Brands with manufactured fashion pet supplies ranging from Dog Coats and Crates; to travel related dog and cat supplies ranging from Airline Dog Carriers, Playpens and Travel Cat Houses. In addition to our Dog Fashion products and accessories we also offer our PETKIT collection of WIFI and Bluetooth smart dog and cat products ranging from Smart Cat Fountains to Feeders and more.
We carry the brands you trust and to our loving brand loyalists we'd like to offer our devoted fans the ability to shop direct.