Supplements And Vitamins For My Dog: Are They A Good Idea?
Supplements And Vitamins For My Dog: Are They A Good Idea?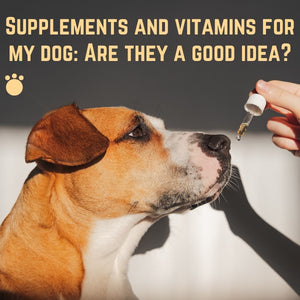 Pet owners want nothing more than their furry friends to live a long and happy life. After all, we consider dogs to be part of our families. For this to occur, you need to provide them with the best of healthcare, high-quality dog food, and living conditions. Some owners have even begun giving their pets vitamins and supplements to boost their health.
Due to the high numbers of pet owners, it is no surprise that several entrepreneurs have entered the market, claiming to offer the best products for your furry friend. But is there any truth to this, or is it just another money-grabbing fad that offers little to no benefits for your pet? The following article will examine just that.
Definition
Vitamins are organic substances that contain micronutrients necessary for proper metabolic functions. Manufacturers will consider what dogs need, including choline and vitamin A, B, C, D, E, and K. These foods also cater to different life stages and eating habits. For example, you may have noticed puppy, adult, or senior dog food on sale.
On the other hand, we have supplements that boost physical and mental health using functional ingredients. They include chamomile, CBD, glucosamine, mussel, and probiotics. This helps alleviate both physical and psychological health conditions, hence their popularity.
As such, we can say that dogs need vitamins and supplements, but there are some things you need to understand before purchasing them.
Why Dogs Need Them?
As you may know, vitamins are essential to health. However, our furry friends may lack sufficient nutrients due to parasites, poor quality canned or homemade food, age, illness, malabsorption, genetics, poor soil, water quality, or reaction to the medication.
Some pharmaceutical products deplete nutrients by speeding up the metabolic process. For example, antacids interfere with gut microorganisms and vitamin B12 absorption. Additionally, genetics can cause poor methylation where folate(B9) is not methylated, leading to miscarriages, detoxification issues, cancer, cardiovascular, reproductive, kidney, and digestive disease.
Malabsorption increases the risk of illnesses such as Colitis and Crohns, but stress is an additional trigger. Many commercial foods have a low nutritional count since they are cooked at overly high temperatures. At the same time, homemade meals may lack nutrients since the owner may be unaware of what a proper diet constitutes.
Once your dog falls victim to any of these causes, they become deficient and exhibit lethargy, excessive thirst, drooling, shedding, skin conditions, weight loss, and joint disease. You need to regularly keep tabs on your dog's diet and take them for vet visits to detect issues before they spiral out of hand. Deficiency can lead to adverse health effects which take the joy out of your pet's life and dent your wallet with additional medical expenses.
Supplements offer your dog several benefits that aid in their comfort. For example, many dogs get agitated and anxious when hearing loud sounds, suffer from joint injuries and discomfort, and have poor digestive systems. A caring pet owner would want them at ease and can provide supplements.
Benefits
Manufacturers formulate vitamins focusing on certain key ingredients to solve specific health problems. For this reason, it is necessary to understand the vitamin your dog requires and the brand quality. Once your dog receives a vitamin deficiency diagnosis, they will prescribe vitamins and supplements from various options. One is vitamin A which helps in growth, fetal development, immune and cell function, and proper vision.
B vitamins are essential for neural development, enzyme function, hormone regulation, metabolism, protein synthesis, and gene activation. Grandma Lucy's Pumpkin Pouch Bladder Dog and Cat Supplements are rich in vitamin B and will help your pet improve its metabolism.
For oxidation, you will need vitamin C and vitamin D for healthy bone growth, which brands such as Evanger's EVX Restricted Diet: Senior and Joint Health can provide.
Your pet could also benefit from vitamin E, which helps with cell function and fat metabolism, or vitamin K for blood clotting. Finally, we have choline, which supports healthy brain and liver function. For this, you could try Dave's Dog Food Bland Lamb Meal and Rice: Delicate Formula is rich in choline and vitamin C.
Concerning supplements, your pet can greatly benefit from consuming them. Your dog suffers from neuropathic pain, anxiety, and panic attacks. CBD-isolate dog treats can help alleviate all these and are free from any psychoactive elements which could make your dog high.
Moreover, chamomile biscuits provide calming effects and reduce itching and inflammation. You could also consider green-lipped mussels for joint support and probiotics for better digestion and immunity. Annamaet Impact Dog Supplements form an excellent source of probiotics, so be sure to try them.
All these vitamins come in different forms, ranging from fresh fruit and vegetables to commercial products, depending on what your vet recommends. Fresh foods are known for providing enzymes, antioxidants, fatty acids, and phytonutrients, so they remain significant for your dog's health. These include yogurt, cottage cheese, eggs, sardines, pumpkin, goat milk, bone broth, kefir, sweet potato, brown rice, broccoli, zucchini, peas, carrots, bananas, and many more.
Dry food options such as Essence Pet Foods Ocean and Freshwater Recipe also contain high fatty acid and mineral content for your pet's needs.
With such a wide selection, your dog will enjoy at least some of them, boosting their health tremendously.
Safety
It is understandable to have concerns about your dog's diet. After all, you may not be an expert on pet nutrition. Additionally, many pet food brands have come under scrutiny for their 4D meats (dead, dying, diseased, or down). This leads to many concerns about the safety of pet food.
Ensure you purchase brands that have commissioned clinical trials of their products to ascertain their safety. Always look for products with reasonable health claims and those with quality control checks on their products. It also helps to be aware of the ingredients and vitamins you are looking for to avoid carrying the wrong item home. Finally, consider how much of an element is in the food, and choose prescription doses that contain therapeutic levels of the supplement.
Conclusion
Your dog could live a long and healthy life if provided with all the essential nutrients for their health. This can be done using vitamins and supplements, which you can find in plants or commercial foods.
Vitamins and supplements offer numerous physical and mental health benefits and are widely available. However, it is necessary to exercise caution and only go for high-quality products with ingredients you are sure of. So, buy some today, and start your dog on the road to better health.