Smart Home For Pets: A Pet Owners Guide To Home Automation
Smart Home For Pets: A Pet Owners Guide To Home Automation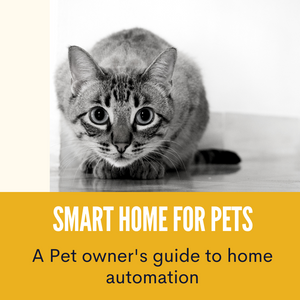 Smart homes are designed to make everyday house chores more manageable. With advanced automation features, smart homes allow you to control devices remotely using a mobile app. It's an excellent choice for people that don't have the time to do things manually.
All these modern technologies will not only make your life easier, but they will also improve the overall quality of living for your pets as well. Whether it's a smart food container or a remote-controlled air-conditioned pet house, there are many different devices designed to make caring for your pet easier. Stay with us, and we'll go over the best Bluetooth pet products on the market.
Making your smart home pet friendly
Today, you can install all kinds of smart devices designed to make your pet's life much more comfortable. Modern technologies have thought of everything from automatic water feeders, automatic dog feeders, to even odor eliminators.
Most of these devices are operated through a mobile app, and they can sync with the rest of your smart home, providing you with complete control at all times. Smart devices for pets are an excellent choice for people who spend a lot of time at work, but it's also helpful if you have to leave your home for a few days. You will still be able to remotely take care of your pet without having to give out your home keys to a neighbor. 
Let's look at the most popular pet-friendly smart home devices on the market. We'll explain how they work, why you need them, and how you can quickly incorporate everything into your existing smart home system. 
Getting started
If you've already set up a smart home hub, all you need to do to enable your pet-friendly devices is to connect them to the system. On the other hand, if these are your first smart home devices, you'll first have to create a hub. 
It will act as the brain of your smart home, allowing you to control every device from one single dashboard. Once you set it up, you can add as many smart devices as you like. When it comes to choosing the right hub, it all depends on your personal preference and smartphone device. You can opt for voice-controlled devices such as Amazon Alexa or Google Home, but you can also try Samsung's or Apple's versions of these products.
The best thing to do is get the smart home hub that complements your existing devices and services. So, if you have a Samsung smartphone, you should download Samsung's smart home hub. Even though you might control the devices through a different hub, you might experience connectivity and control issues. 
Automatic water fountain
Ensuring that your dog or cat has access to fresh water at all times is critical for the health of your pet. However, if you're away from home a lot, your pets could run out of water and be thirsty for hours until you get back. 
That's where an automatic water feeder comes in. It's designed to provide your dog with a constant supply of fresh, clean water throughout the day. Once you install an automatic water feeder, it will connect to your WIFI, providing you with complete control through a smartphone app. From there, you can set up the device using one of many available programs. You can either schedule automatic feeding features every few hours or simply tell the device to add water whenever the tray is empty.
Pet Life Moda Pure water fountain
The Pet Life Moda Pure water fountain is an excellent choice for dogs as well as cats. It's an advanced smart water feeder with a built-in filter that removes all impurities, including chemicals, heavy metals, and bacteria. It's got a modern design with a water level indicator and features such as an automatic shut-off, a sump pump, and a removable inner container for easy refilling. The tank can hold up to 84.6 ounces of water, and it's effortless to clean and maintain.
The filters are replaceable, and depending on usage, it lasts anywhere between 90 and 270 days. The Moda Pure pet fountain is available in multiple colors and has an ultra-quiet pump, so you can keep it in the bedroom if you want. 
Automatic pet feeder
Apart from ensuring that your dog has access to freshwater, ensuring that it's never hungry is equally essential. Luckily, there are a few different Bluetooth pet products designed to help you with that too. Some of them are designed to provide your dog with a few days of food; others come with a built-in digital scale that tracks the weight of food your dog consumes. 
The idea is to make sure that your pet always has access to fresh food, and you can control how much it eats by using a smartphone app. All dog automatic feeder options are straightforward to set up. Once you fill the container with food, the automatic features will take care of feeding your dog. 
Petkit Element pet food feeder
The PETKIT Element WIFI smart pet food feeder is one of the most popular choices available on the market. It's an excellent smart device with advanced features that allow you to take care of your dog's needs from anywhere in the world. It holds up to 6 liters of dry food and comes with a removable food storage unit with cover locks. 
Once it connects to your home WIFI, you can schedule automating feedings by time zones. The device will also record how much your dog eats, and you can check the status at any time using a smartphone app. The device also features a unique anti-jam mechanism that ensures that your pet always has access to fresh food. With a modern design, excellent controls, and plenty of different setups, it's just what you need to automate your pet feeding.
PETKIT Fresh Metal food feeder
The Fresh Metal pet food feeder is another excellent smart home pet device designed to help feed your dog automatically. Unlike the previous device, this one has a built-in weighing scale that makes sure that your dog is provided with the right amount of food every time. But that's not all. The device also comes with a microbial outer shell that eliminates germs and bacteria, keeping your pets healthy at the same time. 
It's 100% waterproof, so you can wash it under the sink without worrying about breaking it. The bowl needs only two AAA batteries to provide you with two years of automatic feeding. It has a total capacity of 2kg and a built-in LCD screen that tells you how much food is left.
Smart pet door
Having a pet door that provides your dogs and cats with easy access to the yard at all times has made owning pets much more straightforward. However, most traditional pet doors pose a serious threat to home safety. An unsecured pet door causes most home invasions. If the doors are designed for a large dog, a thief can get inside without a problem. Even smaller doors are a risk as they can be used to unlock the door from the inside. 
Intelligent pet doors come with built-in locks that ensure that no one can get inside your home when you're away. Moreover, these doors are also designed to keep pests out, and they feature a waterproof lining with a sealed flap that prevents water from getting inside the house.
Ani Mate lockable cat door
Initially designed for cats, this smart door can also accommodate smaller dogs. It's a highly affordable door that's super-easy to install. The Ani Mate lockable cat door is trendy among pet owners all over the globe because of its lock system. The automatic lock will allow only your pet to pass through, keeping all unwanted guests locked out. 
Another excellent choice is the Ani Mate 4-way locking cat flap that provides even more protection. The 4-way locking system will keep your home safe from all unwanted guests. The door features a weather-proof brush-sealed flap, and it's an excellent choice for panel doors and screens.
Smart pet houses and beds
Whether you stay in an apartment or a house, your dog needs a place to sleep and relax. While dog houses might not be the best choice if you live in a condo, if Fido spends most of its time outside in your yard, a dog house is a must. That's even more important if you live in an area with extreme temperatures. Too much heat can dehydrate your dog and even lead to a heat stroke. 
However, you can make sure that that never happens by getting a smart pet house or a dog bed. These devices come with built-in fans and air cooling systems that will keep your dog cool during hot summer days. They also have built-in heaters to make sure that your pet is warm enough during the winter months. Of course, you'll have complete control over the temperature settings at all times.
Pet Life Hush Puppy collapsible smart pet house 
The Pet Life Hush Puppy collapsible smart pet house is a genuinely revolutionary pet home that will keep your four-legged friend in optimal temperatures all year long. It's a collapsible pet home with a built-in intelligent heating and cooling system. The house features a large fan on the inside, which keeps your dog cool during the summer. The heating mode provides warmth from the bottom side during the winter.
The thermal control technology monitors the temperature inside the house constantly, managing the heating or cooling elements automatically. The pet house takes a minute to set up, and it's available in multiple colors and sizes. 
Pet Life Dream Smart dog bed
Even if your dog mostly stays indoors, it still needs a place to rest. The Pet Life Dream Smart electronic pet bed is another advanced smart device designed to keep your pet's bed temperature optimal at all times. It will ensure that your pet gets a good night's sleep through all four seasons with built-in cooling and heating modes. 
It shares the same technologies as the pet house above, but it doesn't have a roof. You can quickly set it up to cool or heat the bed before leaving your pet home alone. The bed will keep the temperature in optimal conditions until you get back. 
Smart pet dog leash
Every dog needs to stay active, and going for a walk is a perfect chance to help it get its daily dose of exercise while bonding with you. However, it can become a complete nightmare if your dog is a little bit more on the wild side. With a smart pet dog leash, you can record your dog's activities, set walking timers, use maps to review your walking history and many other valuable features. 
Most popular devices have built-in LED lights for better vision in the dark, durable nylon leashes, and strong buckles. They are an excellent choice as you'll have complete control over your dog's walks.
PETKIT Go smart pet dog leash
The Petkit Go smart pet dog leash brings walking your dog to the next level. It's designed to track your walks using a built-in GPS that connects to your smartphone. It's one of the most popular Bluetooth pet products on the market because it makes walking your dog much more effortless.
The handle is soft and offers a firm grip. The device is charged using a USB, and you can always see how much battery life it has left on the app. Once you connect it with your smartphone, it will vibrate every time you get a text, email, notification, or incoming call. The leash is sturdy, and it can cope with 1 ton of pulling pressure. Other features include bright LED lights that turn out automatically, distance tracker, health tracker, and so on.
Final Words
Smart home devices for pets have come a long way in the past few years. Today, you can find all kinds of Bluetooth pet products that will help improve your dog's quality of life. With an automatic dog feeder and a
dog automatic water dispenser
, you can care for your pets no matter how far you may be.