Should I buy a Dog Bed or a Mat?
Should I buy a Dog Bed or a Mat?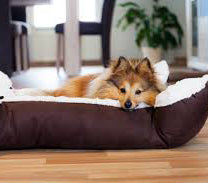 Should I buy a Dog Bed or a Mat? 
People start to wonder what would be the best option for my dog to sleep on? When going to the store, you get to the isle for dog sleeping essentials. You have a choice between dog beds and dog mats. 
People often think that dogs don't need beds, or dogs will sleep on my mat in the living room and sleep at the end of my bed. Oftentimes you'll notice a dog sleeping on a dusty old fireplace in an old movie. What many of us may not know is that dogs actually require a place of there own to rest more so than just a matter of comfort. As humans, it can be challenging for a human to sleep on a couch as it can become quite uncomfortable and cause many joint issues especially consistently over prolonged periods of time. While dogs are happy when humans treat them with love and support we just can't let them into our beds (For many hygienic and training purposes). Like the adorable loving children of our own when they first escape out of their cribs it's tempting to cuddle with them in our beds however doing so can create dependency issues later in life that we should try to avoid. Dogs and even Cats are no different. Therefore shopping for the right dog beds is just as important as shopping for anything else you might buy.

A Dog Bed is specifically designed to provide them with a nest of their own. A place they can call home within your house in order to properly recharge. Beds are typically raised off the ground providing high amount of comfort that is essential in providing a restful sleep which is detrimental to their health. Dog Mats on the other hand or slightly raised off the ground that are beneficial for traveling and camping  purposes for temporary rests throughout the day. While Mats can be used as beds, those that don't provide lots of cushion for instance those with memory foam or higher grades of inner density are typically not ideal for 6 to 12 hours of sleep throughout the night. The idea is to provide as much comfort as possible in the form of cushion to help create a better sleeping experience. A great option for quality or restful sleep is the Pet Life Nestler dog bed that's designed to help assist in bringing on a deeper and more restful sleep.

There are literally thousands of beds that exist and therefore could make the process of choosing what to purchase even more cumbersome. Therefore always make sure to get a feel for what your dog likes and doesn't like. It's important to always introduce them to various types of beds of shapes and sizes. Some Dogs like to cherry-pick what they like by seeing what they're more drawn to at-first. It doesn't hurt to lure them onto their beds with their favorite treat. What's most important is their comfort and periods of sleep.

There are beds that are Waterproof, designed for Camping and Travel to those that are even collapsible and enclosed in all shapes and sizes. So go ahead and test out a few shapes and get to know what your dog prefers.