Seven Best Dog Beds To Buy in 2021
Seven Best Dog Beds To Buy in 2021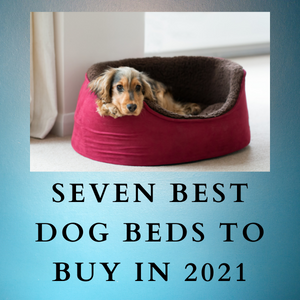 The advantages of good sleep hygiene cannot be overstated. Imagine how waking up fresh and relaxed after a long, comfortable sleep makes you feel. Even the thought of it is comforting. The advantages that come with a peaceful and sound sleep at night are the same for your dog; it keeps them refreshed and active. It also promotes their well-being.
To achieve this, getting a proper bed is the first thing to do.
However, choosing the right dog bed may not be as straightforward as it seems. Depending on your dog's age, size, disposition, and most times even its preference, you may need a specific type of bed.
There are several types of dog beds, like designer dog beds; even campers can find beds made purposely for dogs in the backcountry.
Choosing The Right Dog Bed
Ensure you understand your dog by considering its age, weight, and sleep patterns or style. Also, consider the bed's density, texture, and washability, among many others.
These considerations will aid your purchasing decision, allowing you to avoid getting an inappropriate dog bed, especially if you're shopping for camping dog beds. Your dog will suffer more harm than good if you get the wrong type of bed. Here are our top picks of dog beds.
Best For Large Dogs
To put it simply, a big dog will need a big bed. But it will also need extra room to relax and spread out properly without having certain parts of its body extending to the ground. This is why the Touchdog Archicheckered Designer Plaid Oval Dog Bed is the best option.
Apart from affording your dog a comfortable place to rest, these beds often come with bolstered edges that help retain heat. It is an extra-large dog bed that can fit the largest of dogs. It even has enough room for a few pups. This sofa-style dog bed allows all your pets to snuggle together comfortably.
Best For Small Dogs
Small dogs in general, including toy breeds, need an option that makes them feel secure and one with sides or overlaps them, so they feel less anxious. The Touchdog' Concept-Bark' Water-Resistant Premium Oval Dog Bed is best for small dogs. Your petite dog will love its durability, softness, and cuddly nature.
It is made from a durable and water-resistant blend of Nylon and Poly for a luxurious feel. Its plush cushioned interior is also ideal for lighter dogs who desire a softer feel. Plus, this dog bed is machine washable as well as releasable and zips out.
This product features a waterproof backing to protect moist surfaces and front embroidered sleeve accents for designer flair. Additionally, it is an excellent choice for both indoor and outdoor use.
Best Design
A dog bed's aesthetics may be essential to you if you plan to place it in areas that will be visible to guests, such as your living room or bedroom. The Touchdog Lazy Bones Rabbit-Spotted Designer Couch Dog Bed is both appealing to the eye and well designed for your dog's needs.
A range of sizes are available for this bed, and it is also very thoughtfully designed. You can wash the cover in the washer, and there is an orthopedic insert to keep your dog comfortable. There is no issue matching your furniture and personal style with various designs, colors, and shapes.
Best Budget
At $24, The Pet Life Reversible 'Eco-Paw' Pet Bed Mats feature a comfortable soft fleece for comfort and warmth on one side and polyester-cotton fabrics on the reverse. Embedded inside is a polyester filling made from recyclable materials.
The dog bed comes in two sizes and six colors, so you can pick one that fits your dog's crate or the room you intend to use it in. You can use the reversible dog bed in a crate or as a standalone bed. In addition to being eco-friendly, these dog beds are machine washable. Whether indoors or outdoors, it won't disappoint you since it can endure different conditions in both environments.
Despite the affordability that this bed offers you, it is still made with plush materials, allowing your dog to get comfy and linger in it for a long while.
Best Camping beds
Assuming you intend to frequently venture into the wild for camping or even occasionally, you probably won't mind keeping your dog as safe and well relaxed as you want to keep yourself. Dog Helios ® 'Switch-Back' 2-in-1 dog beds are foldable, washable, and easy to store. When your dog enjoys rolling around in mud and dirt all day, these factors are details you can't easily ignore.
The materials used in making this bed makes it breathable and prevent the dog smell from clinging to their bed while keeping them warm. Apart from your ability to use and store them on an airplane, since these beds are designed for travel, you will be able to take your pet on any trip with you.
A 360-degree surround zipper allows you to transform this dog bed from a rectangular to a rounded shape. Included with this product is a rounded pillow cushion that you can use as a rounded bed. It also has a perfect carrying case for hiking, camping, traveling, and storing the product.
Best orthopedic
An orthopedic mattress has been scientifically proven to be beneficial for both man and dog. When dogs use this bed, they become less achy and stiff in just under a month, have increased mobility, and sleep better.
It is perfect for dogs with joint pain or orthopedic issues. It is very durable and won't flatten regardless of the weight of the dog. In addition, the cushion can stand up to a lot of weight. As a result, it is also perfect for large dogs. Here the Pet Life ® 'Neutral Carpentry'  dog bed edges out as the best.
Best Overall Dog Bed
For a dog bed to qualify as being all-round, it needs to have all the basics covered. A good quality bed comes with the following properties: comfort, sizeable, washable, pest resistant, and durable enough to endure pup chewing.
Here, the Touchdog ® 'Performance-Max' Sporty Reflective Water-Resistant Dog Bed emerges on top. The chew-tough edges and high-quality polyester interior of this bed's surface prevent bacteria from multiplying. Its make-up includes a water-resistant front and a convenient handlebar for easy carry.
So which bed do you think suits your dog best? Let us know in the comments section below.