Raincoats for Dogs: Which Breeds Benefit From Them?
Raincoats for Dogs: Which Breeds Benefit From Them?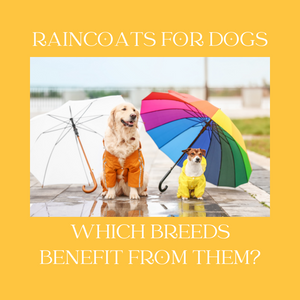 Image source: Pexels https://www.pexels.com/photo/dogs-sitting-on-the-bench-8499257/
All pet parents are aware of the importance of keeping our furry friends safe and secure. Autumnal rain and colder weather don't only affect us, but our pets as well.  
With puddles, mud, fog, and heavy rainfall coming together with September in the northern hemisphere, dog owners must equip their pets for different weather conditions. 
While some dogs are afraid of the rain and refuse to go on walks during the rainy weather, others enjoy exploring the puddles and running through the rain. Nevertheless, none of them benefit from getting wet and muddy, which is why you need some additional equipment to keep your nervous dogs secure and adventurous ones clean. 
To help you make better decisions for your pet's safety, we came up with a list of the top raincoats for dogs, as well as which breeds can benefit from them.
The best raincoats for dogs
Finding the best raincoat for your furry friend requires a bit of time and consideration. Depending on the place you stay, what kind of a dog breed you have, and how comfortable your dog is with pet clothes, you can choose the best fit from our collection of dog raincoats. 
Pet Life 'Reflecta-Sport' Multi-Adjustable Reflective Weather-Proof Dog Raincoat with Removable Hood
If you're searching for a basic, affordable, and effective raincoat to protect your furry companion, there's no need to look further. This waterproof dog raincoat jacket will protect your pet even from the heaviest rainfalls. Thanks to its removable hood, you can alter the level of protection you need for your dog depending on the weather conditions. 
Available in smaller to medium sizes, this model is ideal for smaller dog breeds, such as pugs, French bulldogs, most terriers, and mutt dogs. 
Dog Helios 'Torrential Shield' Adjustable and Waterproof Dog Raincoat Poncho
This ultra-lightweight dog raincoat will make each walk an adventure. Thanks to its lightweight and comfortable material, your dogs won't feel a difference with this raincoat on. Furthermore, since the raincoat is waterproof, it's ideal for quick city walks when you just want to keep your dog dry and clean. 
Since it's so easy on pets, this model is recommended for dogs that don't like wearing heavy apparel pieces that obstruct their movement. Therefore, it's ideal for light rainfalls and transitional weather. Available in 5 sizes, this coat can fit any dog breed, including a pomeranian and a Cane Corso.
Dog Helios 'Vortex' Full Bodied Waterproof Windbreaker Dog Jacket
Are you looking for dog raincoats made for active dogs that enjoy playing in the rain and jumping in the puddles? This full-bodied dog jacket is what you need. Crafted from waterproof materials, your dog will remain dry and clean throughout an entire day of running, jumping, and rolling activities. At the same time, the raincoat will last you a long time, thanks to its high-quality production. 
Light enough for autumn and thick enough for winter, this piece of dog apparel will ensure your fur baby stays warm and dry even during the harshest winter months while remaining comfortable to wear. Ideal for active dog breeds. Labradors, Shepherds, and Huskies will love this raincoat. 
Touchdog 'Cloudburst' Reversible Fashion Waterproof Dog Raincoat
Finding a trendy raincoat can be challenging if you pay attention to how your dog looks when in public and want to shop dog raincoats with fashionable designs and color palettes. Nevertheless, with this waterproof raincoat, you can now blend comfort and style. 
Featuring trendy color combinations and a fashionable design, you can get two different raincoats in one. Available in multiple sizes, any dog breed will look great in this luxurious piece of apparel. However, poodles made a special impression on us. 
Pet Life 'Thunder Paw' Ultimate Waterproof Collapsible Multi-Adjustable Travel Dog Raincoat
A perfect example of large dog raincoats that are compact and easy to bring with you is this collapsible travel dog raincoat. Thin, breathable, and yet waterproof material is ideal for unexpected showers in the transitions between seasons. 
Although raincoats for large breeds tend to be bulky, that's not the case with this model. Featuring a handy pouch at the back, you can easily fold this raincoat into its designated pouch and carry it with you easily. Perfect for city strolls, travels, or any other adventures, you won't regret purchasing this piece of apparel for your large breed dog. 
Other useful accessories
In addition to raincoats, you can use other apparel and accessory items to ensure your pets stay dry and clean during the wet season. 
Boots
It's crucial to protect the paws of our furry friends. With colder weather and heavy rainfalls, your dogs always end up with wet, dirty, and muddy paws. With the appropriate pair of waterproof dog boots, you can ensure their little feet stay warm, cozy, clean, and dry during your outdoor adventures. 
Mats
When you have to go indoors after a muddy and wet walk, this is a nightmare for every dog owner. Furniture, walls, and floors all get covered in water and dirt, so having a designated mat could save you from spending half of your day cleaning after your pet. Once they learn to use a rug to dry themselves, you'll never avoid walking your pets, even during the heaviest rainfalls. 
Leashes
Adventurous and active dogs that love rain find it simply impossible to stay still and resist exploring every puddle. So, you may struggle with locating your dog during rains and foggy weather, which is when a leash can come in handy. That way, you'll know your dog is next to you, so you'll safely arrive at your destination. 
The bottom line
All in all, many dog owners avoid taking their pets outside when the weather isn't the best. However, regular care and daily walks are what every dog needs, which is why pet owners need to find alternative solutions to make this happen. 
Thanks to waterproof materials and valuable creations, now you can enjoy autumn walks with your furry friend. By investing in a dog raincoat, you can take your best friend out for a walk even in the harshest weather conditions while keeping it warm, dry, clean, and safe.