Raincoats For Dogs on Rainy Walks
Raincoats For Dogs on Rainy Walks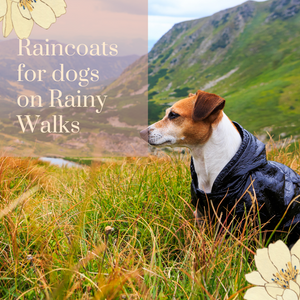 All dog owners can relate - you prepare for your morning walk, your pampered pooch is eagerly waiting by the door, ready to explore and let off some steam before a post-walkie, morning snooze fest. But, as you open the front door, you're greeted by a downpour - your pup, who was previously excited for their walk, cowers away, or perhaps you do as the fear of wet fur and muddy paws overwhelms your brain.
Why

 

get

 

a raincoat for your dog?
As the darker days set in and the hours of sunshine and flowers tuck themselves away for the year- wet, windy, and slightly less pleasant walks are inevitable. Many pooches, like us humans, aren't exactly big fans of long, wet, and cold walks so, perhaps this year you should invest in a good raincoat for your dog. They'll be thanking you, and you'll be thanking yourself too when all you have to do is throw off the raincoat and leave them to dry until tomorrow.
Wave goodbye to muddy, wet fur and unwanted post-walkies bathing dilemmas. Of course, like us humans, only the best gear will make your wet walks truly better and even slightly enjoyable! There are many different coat types for your dogs, and a little research will be necessary to ensure you find the best fit for your pampered pooch. From large dog raincoats to one for little four-legged sausages, there's a perfect dog raincoat for every pup!
Our guide is a great place to start to find the best raincoat, and in no time, your dog will be the talk of the wet and rainy dog walks with their sleek, stylish and practical jacket!  
This article will show you our top eight choices to keep your pet warm and dry in a few different types of weather conditions. Whether big or small, old or young, there's a perfect raincoat out there somewhere for your dog, and we are here to help you find it!
Dog Helios' Vortex' Full Bodied Waterproof Windbreaker Dog Jacket 
The Dog Helios Vortex offers a raincoat that can endure even the heaviest of downpours. Not only does the jacket provide perfect top coverage, but it also comes with a belly protector so, do not fear when your pup runs headfirst into a puddle - this raincoat has your back covered and your pet's tum too! 
The raincoat even comes with some extra features. It is fully adjustable around the waist and chest, it has reflective trim, and the sleeves feature a hook and loop closure to prevent cold air from affecting your pooch. Hence, it's a definite addition to your collection of dog raincoats. 
Touchdog Split-Vent Designer Waterproof Dog Raincoat 

Perhaps your pet is a fashionista just like you - this raincoat is the one for your dog! Made in cute colors and with a stylish hood just like a traditional raincoat, this will keep your pup dry, warm, and looking trendy.
With a self-adjusting pull-string around the waist, you can rest assured that not only will your pet remain dry but safe, secure, and comfortable too! When you shop for dog raincoats - remember safety and comfort are essential too!
Pet Life ® Active 'Aero-Pawlse' Quick-Dry and 4-Way-Stretch Yoga Fitness Dog T-Shirt Tank Top 
This jacket is the perfect option if you are searching for a raincoat that will shield your pup from some minor drizzle and keep them toasty during the colder months.  
The raincoat is lined with UV protection and comes in a variety of different sizes, so no matter your pup's size, this jacket will keep them nice and toasty and ward off any mildly wet weather conditions.
Touchdog ® Waggin Swag Ultra-Plush Insulated and Reversible Dog Coat 
 What's better than one dog raincoat? One dog raincoat that is reversible and makes two dog raincoats, of course! The Waggin Swag does just that - providing a wet weather option and a dry one too.
Keep your pooch warm and stylish with a Touchdog ® Waggin Swag Ultra-Plush Insulated and Reversible Dog Coat offering two styles in one.
Touchdog ® Lightening-Shield 2-in-1 Dual-Removable-Layered Waterproof Dog Jacket 
One for the color lovers! Do you ever find yourself on a field dog walk with your tiny dog and have a moment of panic when you can't instantly spot them when they've submerged themselves in the grass as tall as them? Then this one's for you!
Bright in color, reflective, and waterproof, this jacket will keep your pup dry and your mind at ease as you watch them dash around having fun.
Dog Helios ® 'Torrential Shield' Waterproof and Adjustable Full Body Dog Raincoat 
If bright colors aren't for you and you prefer a little more discretion in your dog raincoats, this light jacket provides a fantastic option for you and your pup.
Coming in various pastel shades, waterproof, and easy to put on and take off, a Torrential Shield raincoat is a no-fuss, practical option.  
Dog Helios ® Hurricane-Waded Plush 3M Reflective Insulated Winter Dog Coat 
This raincoat will have your dog looking like they just stepped out of Top gun! This stylish and sleek raincoat is not only waterproof, but its design means it keeps your pup warm, and it is easy to take on and off.
The Dog Helios includes a Fleece lining that fits snuggly on your dog's body for extra warmth and comfort. There is a dual-Velcro enclosure, so putting the jacket on and taking it off is easy. The Helios also features a leash slit hole by the neck area and a 3M reflective lining making your pup extra visible on nighttime walks.
Dog Helios' Arctic Blast' Full Bodied Winter Dog Coat w/ Blackshark Tech 
An all-rounder, fit for any weather conditions from rain, wind, and snow, this jacket has your pooch covered. Fleece-lined and stylish, this jacket is a perfect option if you are looking for a multi-season fit.
Lined with Blackshark technology, this coat is sure to keep your pup warm in even the coldest of conditions. The coat even comes with a removable hood, so if it's raining, you can pop that on and keep your puppy's head nice and dry.
The bottom line
We all know that dogs are often the apple of every owner's eye. Make their wet, windy, or snowy dog walks just as enjoyable as their summer jaunts with the perfect dog raincoat for them. Do some research, measure your pup, and find the perfect coat for your pampered pet. They'll be thanking you when they're nice and toasty, as will your house when a wet, shaking dog is a dry, fresh pup upon their return!