Presidential Dogs
Presidential Dogs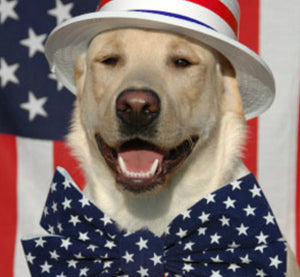 Presidential Dogs
Of all the pets, dogs have been the most common animals to have graced the White House. Over the last 220 years, many presidents have had dogs as pets- the reason; dogs are affectionate creatures and friends for life. Here is a rundown of the some of the famous pet dogs who were lucky to reside at the White House:
President George Washington (1789 – 1797) had several foxhounds as his pets but three of his favorites were Vulcan, Sweetlips, and Scentwell. The reason why he preferred this breed was because he loved to hunt. Washington first imported his hounds from England and then received a pair from the Marquis de Lafayette. Washington loved these dogs dearly and then joined forces with other dog lovers and created a breed of the American hound. The American fox hound is an intelligent dog, agile and has a good nose. During his tenure at the White House, Washington had close to 2 dozen dogs. When not attending to government duties, he was always visiting the kennels and ensuring his pets were kept well.
President Abraham Lincoln (1861-1865) had a mixed breed dog called Fido. Before Abe even became president, he was always known to have Fido at his side. Sadly, when Lincoln was elected as president, Fido did have a difficult time adjusting. Thus, President Lincoln sent Fido to live with a friend with special instructions to be nice and never yell at the dog. After Lincoln's assassination, no one knows whatever happened to the poor dog.
President Teddy Roosevelt (1901-1909) had many pets during his life and tenure at the White House including a Saint Bernard, a Pekingese, a Chesapeake Bay retriever but his affection was for a  Bull Terrier named Pete. The Bull Terrier was a handful because he had a penchant for biting staff and visitors at the White Horse. However, Roosevelt said the dog was just playing and being affectionate. One day Pete is reported to have chased the French ambassador and this incident meant that he had to reside out of the White House. When Roosevelt's tenure expired, Pete went back with his master to the country home.
President Franklin Roosevelt (1933-1945) was a genuine dog lover and had at least 8 dogs but his favorite was a Scottish terrier named Fala. Fala was so popular that he regularly received enormous mail from the American public and required a personal secretary. Fala was treated royally at the White House. He often slept at the foot of the president's bed and had a bone served with every breakfast meal. Fala remained a loyal friend till the end and even attended the President's funeral. Today there is a statue of FDR next to Gala at the Franklin Delano Roosevelt Memorial in DC. FDR also had a Great Dane who was named President, which often led to great confusion when both he and the dog were present in the Oval Office.
President Calvin Coolidge (1923-1929) had close to 2 dozen pets at the White House including birds, cats, a raccoon, bobcat, and many dogs. During his time at the White House, he has a shetland sheepdog named Calamity Jane, three border collies, and a terrier called Peter Pan. But the president was most fond of a white collie called Rob Roy.  The white collie was like a family member and accompanied both the President and First Lady everywhere they went. Rob Roy sat close to the president in the Oval office and would wait for him at night before he would go to sleep.
President JF Kennedy (1961-63) owned several dogs including an Irish wolfhound named Wolf, a welsh terrier called Charlie, a german shepherd called Clipper and an English Cocker Spaniel called Shannon. However, the favorite was a mixed breed called Pushinka. This dog was a global celebrity for one key reason; her mother was the first canine to fly into space. Pushinka was offered as a gift to Jackie Kennde by Soviet leader Nikita Khrushchev. Some Americans believed that Pushinka was a spy dog, but it was false. JFK kept Pushinka even though he had allergies to the animal fur. The exchange of gifts like Pushinka between the Russians and American during the early 6os helped lower the political tension between the two nations.
President Richard Nixon (1969-1974) owned several dogs that included a poodle named Vicky, a Cocker Spaniel named Checkers, a Yorkshire Terrier named Pasha, and an Irish Setter named King Timahoe. Unfortunately, Nixon led a hectic life in the White House and had little time to play with the dogs. The First Lady was primarily in charge of the pets and treated them regally.
President Gerald Ford (1974-1977) had an affectionate golden retriever named Liberty, who spent a lot of them in the Oval Office. The dog loved company and was affectionate towards everyone.
President Ronal Reagan (1981-1989) had a Bouvier des Flanders called Lucky. The dog was a gift to the Reagans from his mother, Edith Luckett Davis. Because Lucky was a big dog and required a lot of exercise, it was kept at the California Ranch instead of the White House, where he could exercise without any restraints. Reagan also had several other dogs at his ranch including a Belgian sheepdog, a golden terrier Siberian husky, and an Irish setter. 
President George Bush (1989-1993) had an English springer spaniel called Millie. First lady Barbara Bush even narrated a book, 'Millie's book' which describes the daily life of the president from the dog's viewpoint. Millie was loved by most Americans as he was gentle and affectionate. In 2004, the Millie Bush Bark Park was opened in Houston, Texas. Today, the Bark Park still remains open and has a pond for dogs to swim, a leash-free area to run, doggy showers and several fake fire hydrants. 
President Bill Clinton (1993-2001) had a chocolate lab named buddy. Buddy was named after the President's late great uncle, Henry Buddy Grisham, who was a dog trainer. At the same time, the Clintons also had a cat named Socks and the rivalry between the two animals became part of White House legend. First lady, Hilary Clinton, even wrote a book entitled, 'Dear Socks, Dear Buddy: Kids' Letters to the First Pets.' The book revealed all the nice letters the two pets received from all over the country.
President Barack Obama (2009-1017) had a Portuguese water dog named Bo. He had made a promise to his daughters Sasha and Malia that if he became president, he would get them a dog. Bo was an instant hit and became the subject of four books. Like many other presidential dogs, Bo traveled the globe with the first family on trips and became acquainted with many world leaders. Michele Obama did bring Bo to several TV shows where he was an instant hit. In 2013, Bo was joined by his sister Sunny. Today, both dogs are often seen with the Obamas during their walks and trips.
President Trump is the only recent president who does not have a dog. He states that he does love animals but because of his lifestyle, he simply does not have time to attend to animals. Perhaps he should get a goldfish.
Final point: Every human should get a dog at least once in their lifetime. Dogs are loyal and affectionate creatures and no matter how they are treated they will die for the owner. Dogs can teach many a human about love.