Pet Obesity | How To Reduce Your Pets Weight
Pet Obesity | How To Reduce Your Pets Weight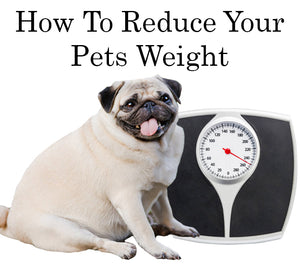 Pet Obesity
Have you picked up your cat recently thinking how to reduce your pets weight? 60% of cats and 56% of dogs in the U.S. are classified as overweight or obese. The Association for Pet Obesity Prevention has some great info graphics breaking down what can be done to help your pets shed the weight. We are going to break down what can be done to help your dog and cat be in a health weight class.
Before you start your pet on a diet you need to make sure that they are overweight. It is recommended when you got to the veterinarian (at least once a year) they will tell you when your pet is overweight. Here are some signs that your dog is overweight
Can't Feel Their Spine & Ribs:
When you are unable to feel the spine and ribs your dog can be overweight. The fat deposits over those areas are a clear sign that your pet is getting chunky. You should be able to see their ribs slightly, if you are noticing that the ribs are pronounced make sure that they are eating and check with a vet to make sure your pet is healthy. There are some dogs for instance gray hounds that have naturally slimmer bodies. Doing the research for your dog's suitable weight range should be done before starting them on a diet.
Their Stomach Is Sagging:
This one is easier to notice if you look at your dog from the side you will notice that the stomach should tuck in. When you notice that your pooch has a belly, or its belly is horizontal its time to put your dog on a diet. It is always highly recommended to speak with a veterinarian before starting your dog or cat on a diet.
No Waistline:
If you look at your fuzzy buddy from the top down, you will notice a slight curve from their rib cage down to their hips. If they look like a potato, chances are they are overweight.
Now that we know how to check our pets to gauge if they are overweight, we are going to look into some ways how they can lose weight.
Reducing Food
Reducing your pet's intake of calories by 25% can have an incredible impact to their health. Studies tested two groups of dogs one that was fed 25% fewer calories & the other normally. Only 4% of the dogs in the normal calorie group made it to age 13. However, 50% of the lower calorie group of dogs hit the age of 13. The group study clearly shows that your pet has a larger chance of living longer when you reduce their caloric intake.
There are plenty ways to reduce their food intake. If you notice that there is still food in their dog bowl after they are done eating, you are feeding them too much. This is the first step to reducing their food intake make sure that there is no excess food in their food bowl through out the day.
Another way of reducing how much food they eat is to have an automatic feeder or give them multiple smaller portions throughout the day. An automatic feeder can do this for you rather than you needing to put a small amount of dog food in the bowl every few hours.
Avoid treats
Treats are great especially for obedience training. If your dog is overweight, you shouldn't give them dog treats. those added calories over the course of years can end up hurting your dog in the long run. Treats should only be used on occasions and not a supplement for their daily nutritional needs.
Increasing Exercise
Increasing your pets exercise regimen is not only beneficial for your pet it can also help you shed a few pounds as well. Here are a few ideas for exercising with your pet. Going to the park for a long walk, going to the beach, & swimming pools are great exercises that can help your dog shed the weight.
Changing To Dietetic Food:
Theirs have dietetic food for both cats and dogs if reducing your pet's food intake and exercise isn't giving your dog the optimal health range it might be time to switch to prescription dog or cat food. Before starting this, you need to talk to a vet they will be able to advise you on what steps you should be taking now and in the future.
Medication:
If all three increasing exercise, lowering calories, prescription dog or cat food isn't working there might be a medical issue with your pet. At this point and time, you should prioritize going to a veterinarian as there might be something seriously wrong with your pet. If something is wrong a vet will be able to assist you to rein in your pet's obesity problem.
Hazards of Pets Being Obese:
Excess weight can cause a variety of issues like hip dysplasia, arthritis, heart conditions, tumors, etc. Having your pet's health being checked up by a vet yearly can help avoid all these issues. Instead of treating an issue when it happens preventing the problem before it happens is the best option.
Have any interesting news or articles we are glad to hear it feel free to contact us or comment!