Managing Dogs with Bundles of Energy
Managing Dogs with Bundles of Energy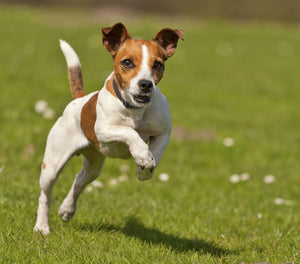 3 Tips for Managing Dogs with Bundles of Energy
If you're the proud owner of a dog with no shortage of energy you will know what a joy it can be to be around them. There's no easier way to bring a smile to your face than to see your four-legged friend happily run about. Their excitement is truly contagious and it no doubt helps to bring about many special moments together. 
That being said, it can also be incredibly challenging. It's simply not practical to continually reel your dog into line for their health and safety. Calming them down shouldn't be an exhausting and frustrating process for you either. So what steps should you take to manage your dog with bundles of energy? We've highlighted 5 simple tips that will help you get a handle on the situation. 
Go on a Hike
If you're looking for an activity that is sure to expend lots of energy, there are few better than a hike. Hiking is not only a great way to get both of your hearts beating, it's also an excellent excuse to spend some quality time together. "Taking your dog on a hike is one of the best ways to safely manage their energy levels," says Angela Stringfellow from Adventure Digest. "If you've never been on a hike before, don't be intimidated. Start off with a simpler trail and be sure to pack the right gear to ensure you're not caught out."
If you're unsure of what gear to take on a hike, the good news is that you will likely already have many of the items at home. The American Hiking Society recommends dog owners bring along a number of items including water, dog food, a collapsible bowl, and plastic bags for your dog's poop or a small spade. 
You'll also need to attach a hardy collar and leash to your dog and ensure they have an identification tag or are microchipped. Lastly, depending on the nature of the hike and weather conditions, you may need additional clothing for your dog such as booties and an insulating jacket.
Encourage Play
Another effective way to manage your dog's energy levels is to encourage them to engage in plenty of play. If you're bored of your go-to games, why not try out a few new ones? There are tons of games to experiment with. You just need to have a couple up your sleeve whenever your dog needs some cooling off. Rover has compiled a helpful list of 6 great games and activities for high-energy dogs. Their ideas include going for a bike ride together and using your surroundings to create fun urban agility challenges for your dog. 
There are also many different types of dog toys you can incorporate into your play sessions that will help your pooch to burn off excess energy and stimulate their mind. For example, you can use waterproof floatation toys to have some fun in the pool or throw around a frisbee in the park. Even a regular ball will provide hours of entertainment for you both. Whether you want to stick to the basics or think outside the box is up to you. Just make sure you give your dog enough opportunity to put their bundles of energy to good use. 
Set Up a Wireless Dog Fence
Keeping your dog safe can be a handful at the best of times, let alone when your dog is incredibly energetic. This is a big concern for dog owners whose dogs have a penchant for running away. Some dog owners even resort to keeping their dog indoors due to their fear that their dog will run away at the first chance they get. Fortunately, there is another innovative solution: a wireless dog fence.
The best wireless dog fences are designed to allow your dog to enjoy the outdoors while keeping your worries about their safety at bay. These dog fences create an invisible boundary that your dog cannot go beyond based on the limitations you set on the device. 
There are two main types of wireless dog fences; portable and in-ground or hybrid fences. Both will ensure your dog doesn't just run off as soon as you turn your back. You'll also be happy to learn that despite being technologically advanced, they are in fact very easy to set up and maintain as well.