Best Chew Proof Dog Beds 2019/2020
Best Chew Proof Dog Beds 2019/2020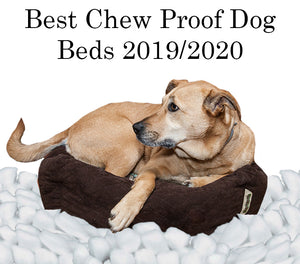 If you have a dog who has torn the stuffing out of their beds on multiple occasions you realized that they can't control their urge to tear out the stuffing. While this article is covering chew proof dog beds these can also work for dogs who dig and shred their beds.
Chew proof dog beds should be the standard in the pet industry but sadly it isn't. Traditional pet beds aren't reinforced with chewers in mind. Since most dog's scratch and chew their beds its more important than ever to have an indestructible dog bed.
From teething puppies to rambunctious teens and everything in between here are our best chew proof dog beds.
The Pet Life Neutral Carpentry Dog Bed is large dog bed with chew-tough edges that are everlasting. The carpentry center and rubberized anti-skid bottom is great for those dogs who love to run into their beds. It is also one of our cheapest dog beds available.
Pros
Cheap
Durable edges
Large surface area
Rubberized bottom for anti skid and waterproofing
Cons
Bottom rubberized surface can tear if flipped over
Not meant for dogs who dig
The Touchdog Sporty Vintage Dog Bed is made of a Nylon blend which is a material perfect for strong chewers. This bed has a removable pillow for easy cleaning and a handle for easy transportation. Plus, its fashionable vintage design gives it a leg up against its competition.
Pros
Multiple colors
Can fit large sized dogs
Can be use indoors and outdoors
Tough Nylon material for aggressive chewers
Cons
The Dog Helios Aero Inflatable Dog Bed is tear proof, abrasive proof, and easy to clean. This bed is unique since it is a large dog beds, but it deflates into a compact rectangle for easy storage. This can be use indoors and outdoors and will attach to most outdoor backpacks.
Pros
Tear-proof
Abrasive-proof
Great for indoor and outdoor use
Large surface area for bigger dogs
Cons
Doesn't retain heat
Not as soft as a conventional cotton-based dog bed
Curios to know more about dog beds continue reading below.
Why Do Dogs Chew Their Beds?
There are a plethora of reasons why your dog will start chewing on their bedding. Each life stage has a different reason to why they will chew on their beds. Puppies and older dogs will chew their beds for different reasons which is why we broke this down by life stages.
Puppy Chewers: If your puppy is chewing on their bed they are most likely teething. This serves an important purpose in their developmental stages. This is a part of exploration and keeping their teeth healthy. To stop your puppy from chewing their beds try adding in additional playtime this way they are encouraged to chew on their toys rather than their beds.
Mid-Sized Chewers: If you dog has gotten to this stage which is older than two years old, they might be doing it out of boredom. If they aren't having enough playtime or they are left along for long hours during the day they are seeking attention. If they chew their bed regardless if it is good or bad attention, they are seeking anything that they can get.
Adult Chewer: At this stage your dog should be around 5 years old and if they are still chewing their beds it is normally due to anxiety. Most dogs grow out of their chewing phases by two years old. With stress and anxiety your dog might seek out their bed looking to relieve that feeling.
If your dog is chewing on their blankets, paws, shoes, etc. We have an article about why does my dog chew on everything that covers the reasons behind why your dog chews and what you can do about it.
What Makes a Bed Chew Proof?
Reinforced Materials
Increased Weight Limit
Abrasion-Resistant
Elevated Beds
The fabric, materials, stitching, and height all contribute to make the ultimate chew proof dog bed.
Reinforced Materials: The reinforced materials and stitching make them much sturdier than a traditional bed and reinforcing the stitching also makes it less prone to tears and rips.
Increased Weight Limit: With a larger dog increasing the size of the dog bed that can hold their weight should be done. This is to prevent your dog from digging and ripping their beds to give them additional space
Abrasion-Resistant: Having an abrasion resistant dog bed will almost guarantee that your dog won't be able to chew through their beds. These come in a wide variety of materials that are abrasion proof however canvas and cordura is often used for durable dog beds.  
Elevated Dog Beds: These are beds that are raised and sits off the ground. It is a lot harder to get a hold of these beds to rip and tear them. Also, these have a bonus as support for orthopedic dogs.
What Materials Are Used In Dog Beds?
Recycled Materials: The recycled materials are used for the poly-fill or known as stuffing inside the dog beds. This cheap yet abundant material is commonly used in traditional dog beds. This is the most common stuffing found on the floor when your dog rips up their bed.
Cotton: This is the most commonly used material in most dog beds. It is hypoallergenic and it provides some of the best insulating qualities in comparison to other alternatives. Cotton is soft and stretchy making it an easy to work with material.
Polyester: This is a man made material that is more durable than cotton and dries quickly. Polyester is a great material for a dog who loves to chew. This material last longer than cotton and helps keep the shape without wrinkling the materials.
Nylon: This material is stronger than polyester making it more durable and it has increased the weather resistance. Nylon will be found in beds that can be use for indoors and outdoors. This material is used in raincoats for its anti-wrinkle capability and its wick away nature.
Memory Foam: Some dog beds have this feature for its weight displacement technology. This give it an overall edge on cotton or poly fill stuffing. However, this also tends to increase the cost.
Faux Fur: Faux fur is used in designer dog beds. While these beds aren't the best choice when choosing a dog bed for chewers it is a commonly used material, so we had to include it.
What Are The Types of Dog Beds Available?
Orthopedic Dog Beds
These beds are designed for older dogs who suffer from arthritis or any orthopedic problem. Orthopedic beds are usually made with a high-quality memory foam that provides extra support for your dog.  
Donut Dog Beds
Donut dog beds are shaped like a donut which is great for dogs who like to sleep in fetal position. These beds have raised edges which gives your dog a raise spot to place their heads on. Because of the smaller size this is a great space saving option as well
Rounded Dog Beds
These while like the donut bed don't have the raised edge. These beds also differ as they usually have a higher elevation than the donut bed. These however shouldn't be used with older dogs as they might have issues getting on the bed comfortably.
Rectangle Dog Beds
These large dog beds are great for dogs who like to spread out when they sleep. They are often used in dog crates and kennels and is one of the most common shapes available. The only downside is that they take up more space in the home than any other bed on the list.  
Square Dog Beds
Square dog beds are very similar to rectangle ones but at half the size it is a real space saver and much easier to transport. These beds are also more designer friendly making them have more unique designs and styles than they classic rectangle bed
Heated/Cooled Dog Beds
Heated and cooled beds while aren't necessarily needed they are used for the pampered pup or dogs in need of therapeutic features. However, with a heated bed you need to follow the manufacturer's instructions to avoid safety hazards.
Travel Dog Beds
If you enjoy hiking and traveling with your dog these beds can easily bed rolled up and stored away. They are made to be lightweight and durable since traveling wear down your beds overtime.
Choosing the right bed is a challenge and now you are equipped with the knowledge of how to choose the perfect dog bed.
Thank You For Your Support
With your continued support we recently became one of the top 50 dog and pet bloggers at Feedspot. We just wanted to thank all of you for the support as we continue to provide the pet community with quality news articles about their pets.