How To Clean My Dogs Teeth
How To Clean My Dogs Teeth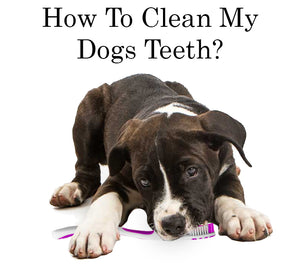 When it comes to cleaning your dog's teeth there are a lot of options and misinformation out there. There are different dog toothpastes, dog teeth cleaning supplements, & teeth cleaning dog toys so what are the best ways to clean your dog's teeth. It important to note that we aren't veterinarians any suggestions we make should be consulted with your dog's vet.
Teeth Cleaning Dog Toys
There are a lot of dog toys that claim to be good for your dog. Teeth cleaning dog toys are everywhere so what toys should you be wary of and what dog toys should you be on the look out for. For the most part any dog toys with bristles is the best choice. Those tiny bristles can get into every tooth while your dog is chewing on them.   
Another dog toy that you should be on the lookout for is anything your dog can sink their teeth into like rope dog toys. These might not be as effective as the bristle ones, but they still work great. The bristle dog toys are like a toothbrush and the strings on the rope toys are like floss. Having a set of dog toys that can promote the health of your dogs teeth is the best option.These aren't a supplement to brushing your dogs teeth however and that should be done regularly.
There are a few bad eggs when it comes to teeth cleaning dog toys. Overly hard dog toys can chip and break your dogs teeth. If you can't bend, flex, or break the dog toy with your hands you shouldn't be giving it to your dog. There are some exceptions to this rule like everything else, but this is a standard that we go by and if you have any questions asking your veterinarian is the best route for answers.
Teeth Cleaning Dog Treats
These chewy dog treats are similar to teeth cleaning dog toys. However, these teeth cleaning dog treats are completely edible. There are some pro and cons comparing the two but both work wonders in the oral health of your dog's teeth. You should look for dogs treats and chews that clean your dogs teeth anything dog treats that have grooves and bumps with a light abrasive texture will clean your dog's teeth thoroughly.
Dog treats you should avoid are overly hard dog chews and most recently there has been a recall on pig ears due to a salmonella outbreak in over 13 states.  
Brushing Your Dogs Teeth
If you have a new puppy brushing your dog teeth should be started after 6 months for your puppy to have all their adult teeth. After which you should be brushing your dogs teeth every few days. This will prevent plaque from forming on your dogs teeth and gums which can lead to a variety of diseases and oral infections.
Brushing your dog's teeth is a challenge and there are some dog owners that don't brush their dogs teeth at all. Brushing your dog's teeth can prevent additional vet bills from teeth extraction and professional teeth cleaning. Without brushing your dog's teeth, you can pay from the hundreds to thousands depending on the veterinarian to clean and take care of your dog's teeth. Which can be circumvented with a dog tooth brush.
Dog Dental Supplements
Dog dental supplements can help break down plaque buildup on your dogs teeth however seeing a vet when you notice tartar build up on your dogs teeth should be done. The supplements can help control the build up of plaque and tartar which can help promote healthy teeth and gums. These dog supplements should be used in conjunction with normal dog teeth brushing habits.
Professional Teeth Cleaning For Dogs
I take care of my dog's teeth but on the recent trip to the vet my pug needed a teeth cleaning. There are a few things to make sure of when you are getting your dog's teeth cleaned professionally. Look for dog teeth cleaning without anesthesia if you have an older dog. The best option and safest option for both your pet and vet is to clean your dogs teeth with anesthesia. This is the best way for your vet to clean every tooth safely. There are a few risks involving anesthesia on your dog but if you are going to a reputable veterinarian you shouldn't have any issues.  
Recap
Choose dog toys and treats that have a light abrasive, bumps, and bristles to gently clean in between your dog's teeth. Brushing your dog's teeth should be done every few days maximum one week. Dog dental supplements can aid in the fight against plague and tartar buildup. Professional Cleaning should be done once to twice a year by a reputable veterinarian.