Halloween Costumes For Your Dog
Halloween Costumes For Your Dog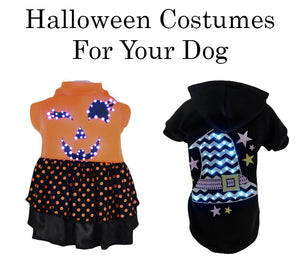 Halloween is one of the best days of the year so why don't you spend it with your dog as well. With many size options to choose from small to extra large costumes for puppies and older dogs. This Halloween let your dog brighten up the night with our led Halloween costumes.
The Pet Life LED Halloween Dress Costume features a small switch which controls the lights on the back of the dress. This cute and adorable Halloween costume will make your pup stand out in style and light up the night. It also features Velcro straps for convenient on and off access.
The Pet Life LED Magical Hat Hooded Costume features the same switch and LED lights this time in a dog hoodie instead of a dress. This hoodie also comes with a convenient leash slit to take your dog trick or treating with you. Let your pup shine bright this Halloween.
The Pet Life LED Happy Halloween Snowman Costume is another dog hoodie which will keep your dog warm during Halloween night. Its purple has Halloween printed on one side and the pumpkin snowmen light up on the other side. It also features Velcro straps for easy on off access.
Lastly we have the Pet Life LED Halloween Party Costume like the other it is also a dog sweater which will keep your dog nice and toasty. This one features the word Halloween printed on the upper back area while the word party underneath glows with LED lights. This is one of our favorite costumes to match any Halloween party.
You can check our measurement guide to figure out which size is perfect for your dog.
Check Your Dogs Measurements
Sizing is important when it comes to pet apparel & with Halloween around the corner making sure to the size right the first time is needed. Our costumes come in standard sizing using the back measurement in inches to gauge the perfect size for your pup.
| | |
| --- | --- |
| Dog Size | Size of Costume: Back Measurement In Inches |
| X-Small Dogs | 8" |
| Small Dogs | 10-12" |
| Medium Dogs | 14-16" |
| Large Dogs | 18-20" |
| X-Large Dogs | 22-24" |
| XXL Dogs | 26-28" |