Guide To Buying The Best Dog Indoor Playpens
Guide To Buying The Best Dog Indoor Playpens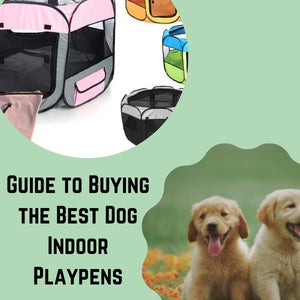 Getting your pet the playpen they need is something you ought to prioritize. Besides ensuring the pet is well-fed and properly vaccinated or checked by the vet regularly, it is essential to ensure that they enjoy an active lifestyle. Taking your dog for walks and playdates is good, but it may not be enough, especially if it is super playful.
It may be necessary to create an indoor playpen to ensure that the dog does not damage your property or mess up the entire house as it jumps and runs from one section to another. A designated play section or area within the house is always a great idea. You can always know where your pet is and, at a safe time, have peace knowing that it is not destroying any of your essential items as it plays. So, how does one select the right playpen, and are there any brands that come highly recommended? Keep reading to uncover more.
What to Consider when Choosing a Dog Pen?
Generally, a dog Playpen gives your puppy or mature dog a safe place to play. However, it matters which pen you go for because they come in different shapes and sizes. Not all playpens are suitable for the dog you have at home. Here are a few things you may need to consider when choosing the playpen.
The Material Used
There are different materials used to make a dog playpen. Some of the most common materials include metal, plastic, and mesh. Meta is ideal for large, strong dogs that love to push and chew on things. It may be expensive, but it is also very durable and strong hence a worthy investment. They are also versatile to use since they give room to add more. Once you get the right Pet Playpen, add different products & interlink to accommodate the dog as it grows.
With metal pens, the investment is guaranteed since it does not go out of style or functionality. You can constantly adjust the size as the dog grows.
On the other hand, we have affordable plastic pens, considering they are mid-point priced. Like metal pens, they are excellent for indoor and outdoor use. Many people seeking indoor pens will go for plastic since it does not cause any scratches on the floors. However, you need to be careful when choosing plastic for dogs fond of chewing items. It is also unsafe for puppies and dogs with teething issues since they will chew on it.
If you are looking for a temporary solution for your dog, consider getting the mesh playpens. These are the least expensive and also the least durable. They are suitable for old dogs who just want to relax and chill. Puppies and mid-aged active dogs may not survive in mesh playpens because they will be hurt as they bump on the mesh. You do not want to cause any injuries to the pet.
Size Matters
When choosing a playpen for dogs, go for a size that suits the dog. Not all dogs have similar dimensions. A pen can be too small or too large for a dog. If possible, invest in an adjustable pen to change the pen's size as the dog grows. This will save you a lot of time and avoid reinvesting in the same thing every few months, especially if your dog grows fast. When securing a pen-based on size, make sure that the pen allows the dog to stand, sit, lie down, and stay comfortably in its favorite position. What's more, it should be large enough to accommodate the size of your pet.
Now that you know what matters when choosing playpens for dogs, your focus should be on finding a pen that makes financial and functional sense for you. The following are a few examples that will be worth your investment. You can be sure that you will be getting value for money with these pens.
Pet Life ® Zippered Folding Collapsible Lightweight Pet Dog Crate
This is a lightweight crate for your dog and is perfect for indoor use. It is excellent for small dogs and is made of a nylon cover that is scratch resistant. The mesh used in making the crate is of excellent quality, making the crate suitable for indoor and outdoor use. You can also feel comfortable moving around with it since it is portable and lightweight. Your dog will enjoy having a great time in its own space.
Pet Life "Interlude" Folding Travel Pet Tent
This is a perfect dog crate with thermal controls. It's ideal for cold weather, and the dog or cat feels uncomfortable staying anywhere else. You can have the pets relax in this crate. It is safe and light in weight, making it perfect for when you have to travel. The convenience it offers is unmatched as you don't have to bring out several blankets just to ensure your cat is comfortable.
Pet Life ® Rectangular Mesh Wire-Folding Travel Lightweight Pet Dog Crate
This is a rectangular collapsible tent for your dog. The mesh canvas makes it light in weight and perfect for your small-sized dog. It has a double-sided mesh view and a nylon casing, making it easy to maintain. It works perfectly for indoor and outdoor settings, allowing your pet to enjoy some privacy as it plays and enjoys itself.
Pet Life 'Hush Puppy' Cooling Smart Pet House
If your dog has been great recently, you can go all out and get this fantastic smart pet house. The house is electronically powered and has excellent temperature control for heating and cooling. At the power of a button, your dog can have the time of its life. Make sure it counts.
Petlife has a variety of pen houses for dogs and cats. You can find one that suits your dog's needs at an affordable rate. All you have to do is check their website for more examples.
Final Thoughts
Getting your dog a playpen is a great idea. It is one of the easiest ways to ensure that your dog has a great time without destroying anything in your house. It could also come in handy when traveling, especially for the small portable ones. The good news is that there are different types of playpens for all dog sizes. Choose one whose material and size suit your needs ideally.