Grumpy Cat Dies At Age 7
Grumpy Cat Dies At Age 7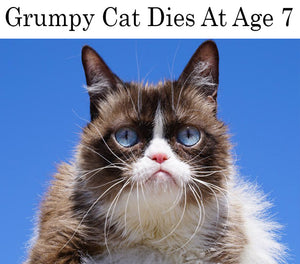 Grumpy Cat the cat who scowled into our hearts has died. Early Friday Morning on May 17th her family announced she passed away. She was seven years old.
Her owners said that she had medical issues from a urinary tract infection.
You can see the official post here
Grumpy Cat was born in 2012 her actual name was Tardar Sauce. Her grumpy face gained popularity quickly after a reddit post in 2012. Her owners stated that grumpy cats face and short stature are due to feline dwarfism.
Grumpy cat officially became cultural icon in a short time doing promotions for Cheerios, Friskies, Grumpy Cat Grumppuccino, and even a book in 2016 called "The Little Grumpy Cat That Wouldn't." Fans couldn't get enough of the phenomenal sensation that was Grumpy Cat, quickly buying calendars, mugs and anything that had her face on it.  
Today is a sad day for the meme community and pet lovers. Grumpy Cat will surely be missed but her legacy will continue with the love of her fans and the ever-growing community that surrounded her. Thank you for all of the laughs!