Get Your Pooch Ready For The Monsoon With These 5 Raincoats
Get Your Pooch Ready For The Monsoon With These 5 Raincoats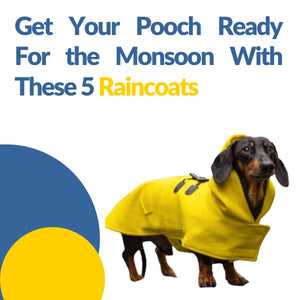 Ensuring the proper care of your beloved dog during the monsoons may be difficult. With torrential rainfall and excessive humidity, it's more necessary than ever to devote careful attention to your pet dog's sanitation. In addition, infections and allergies are more likely to affect your pet, causing discomfort. We've compiled a list of some of the most popular monsoon needs for dogs to help you pamper your pet throughout the rainy season. 
Look at a list of monsoon basics for dogs to make your life as a dog parent a little simpler. Then, purchase a product that matches your requirements and enjoy pleasant walks and playtime with your pet. 
What is a Dog Raincoat?

 
Dog raincoats, like raincoats for humans, are generally composed of water-resistant or waterproof material that helps keep dogs dry in rainy weather. Some come with hoods, while others are just designed to keep your dog's body safe. 
Dog raincoats come in various designs and features, including several closures and functions. Some models include a simple poncho shape that goes around a dog's neck but lacks sleeves to cover the dog's limbs. Others are secured with a vest or harness. These, too, protect a dog's back and torso while leaving the legs free. Dog raincoats with sleeves are also available, providing full-coverage protection. 
This collection of dog raincoats, on the other hand, may prove more troublesome to wear for your dog, and they may not enjoy the restrictions of sleeves when walking. 
Reasons Dogs Need Raincoats

 
It's vital to note that some dog breeds, primarily those having thick double coats such as Newfoundlands and Labrador Retrievers, don't need wet wear outfits. Nevertheless, there exists more than one reason why you might need to shop dog raincoats for your pet. 
Keep Your Canine Dry

 
Raincoats keep your dog dry on wet walks, although it sounds obvious the benefits are pretty many. This is particularly useful if your dog lacks a thick, protecting coat. For example, Boston Terriers and French Bulldogs might greatly benefit from the additional protection. Even if your dog has a double coat, you want to avoid the possibility of returning home with the stench of a wet dog or a soggy mess. 
For Cleanliness

And

Dog Hygiene

 
Dirt often gets kicked up and splattered on dogs' coats as they play and run around through puddles or walk in the rain. During such walks, a dog raincoat becomes vital in helping keep your dog's coat clean. 
To Provide Warmth

 
Cooler temperatures are associated with rainy weather. However, a raincoat may give a protective layer of warmth to a stroll with your pet in the rain when it's freezing outdoors. Many small and large dog raincoats have insulation to keep dogs dry and toasty while out on walks. 
Improve Visibility Outdoors

 
Because visibility is sometimes reduced during rainstorms, some motorists may find it difficult to notice your dog while on the road. On the other hand, dog raincoats are frequently available in bright colors designed with reflective elements, allowing your dog to be spotted by passing motorists. These traits have the potential to save your dog's life. Therefore, you should not overlook them. 
Top 5 Dog Raincoats

For

The

Monsoon

 
Dog Helios Adjustable Raincoat

 
The Dog Helios Waterproof and Adjustable Full Body Dog coat are hundred percent waterproof and ultralight. This coat is designed to survive the most severe weather conditions, including windy and wet environments. The outer cover is Nano-Stitched and carefully developed for maximum breathability. For additional night visibility or emergency protection, the outer shell is sewn with specifically reflective thread and reflective tape around the top and sides. Additionally, this raincoat has adjustable and customizable water stoppage jaw strings via the hood and over the waist for an adequately fitted jacket while avoiding water seepage. 
This raincoat also has specially constructed elastic banding across the entire length of the torso and on each sleeve for a more consistent and adaptable fit that adapts to the body while allowing for more development while keeping water out. A waterproof zipper can be located below the belly button for enhanced water protection and easy on and off access. When connecting a leash to a collar or harness, the top has Dual Waterproof Leash Zippers to keep water out. Get Outside with Helios the Dog! There are a variety of sizes and colors at your disposal. 
Helios Extreme Soft-shell Raincoat

 
Winter fleece dog jackets are available from Dog Helios, and a classic example is the Dog Helios Extreme Soft-shell Performance Raincoat. It is both warm and comfy all around. For a complete warming system, these soft-shell dog jackets are outer-lined with a Water-Resistant brushed-like soft-shell and reversed with Polar Fleece, and also Inner-lined with exclusively designed Blackshark Insulation Technology - a thin inner layer that is warm, lightweight, Warm, impermeable, and Snow-Resistant — With Dual Adjustable Jaw-strings that's adjustable in four separate regions, it has a Neck Rise that reaches to sections of the face, covering most of the vital extremities.
Also, these soft-shell dog coats include elastic webbing along the length of the jacket to keep the cold out, as well as reflective tubing and printing for increased visibility at night. Winter fleece dog jackets come in a variety of colors and sizes. 
Pet Life

Reflecta

-Sport Raincoat

 
The sleeves, hood, and tail-area of the Pet Life ® Reflecta-Sport Windbreaker Dog Raincoat Jacket are all adjustable in three sections. But it's not only the hood on this dog coat that you can remove and adjust. This dog jacket also has a reflective strip down the back for enhanced safety when walking your dog at night. Meanwhile, the inner lining is lightweight fleece, which makes it great for all seasons.  
In addition, the backside also has a leash-slit holder, and the belly has Velcro for easy on and off. You purchase these excellent raincoats for your canine today at an affordable price and in different sizes and colors.  
Touchdog

Reversible Raincoat

 
For those who love to please the eyes, a trendy designer print runs through the midst of the back of the Cloudburst' Reversible Fashion Waterproof Raincoat. As you might have guessed, this is just any dog weather jacket. With highlighted designer stitching across the body, it has an Exo-shell that's waterproof. The hooded pulls and back strings may require adjusting for a proper customized fit. 
Also, it comes with Belly-snap enclosures for handy On and Off access and the Touchdog embroidered seal of perfection on the reverse. These fashionable waterproof dog raincoats are for sale in various colors and sizes.  
Ultimate Folding Waterproof Raincoat

 
Waterproof Polyester and Super-Lightweight Nylon form part of the complete make-up of the Ultimate Folding Thunder-Paw Waterproof Dog Raincoat. When opened, the hood and tail-end sections of this Dog Raincoat may be adjusted, and it entirely folds into a little zippered bag that can readily serve as a compartmental zipped Dog Backpack pouch. Zippered belly Velcro closures make it simple to put on and take off. All pet travelers will find it convenient no matter the destination or dog breed. Like the others in this list, you get to choose between various colors and sizes. 
Measuring Your Dog
Not every dog has an outer coat to withstand snow and rain, and most dogs will require some protection while traveling through dirt and cold weather. Consider this from a more practical standpoint: while taking lengthy automobile drives to beautiful places, it's helpful to have a little cover to keep your pooch clean and comfy while in the car. 
Don't forget to accurately measure your dog before selecting the best dog rain suit. 
Three measures are required: 
Although no two raincoats are the same, they should all have one thing in common: they should be waterproof. Plus, they should feel natural on your dog and make them forget they're even wearing a coat. Also, depending on your location, puppy raincoats may be a must-have, but don't neglect to upgrade them as your puppy grows bigger. In addition, an ill-fitting coat can limit your dog's movement and enjoyment of his daily walks and, in the long run, may cause chaffing or soreness. 
The manufacturer's size guide is reasonably practical, and there's a very slim chance you'll buy the wrong raincoat size if you measure correctly. Just keep in mind that each manufacturer has its sizing chart. 
After the measurements have been completed, it is time to go through the top dog raincoats available by looking at some essential features.  
Key Factors to Ponder Before Choosing a Dog Raincoat

 
Dog raincoats come in a variety of prices, styles, and materials. If you plan on using one frequently, invest in a coat that can withstand several walks in rainy weather and is simple to use and clean. 
When purchasing a dog raincoat, keep the following points in mind: 
Safety Closures

 
Ensure your dog's raincoat's fastening mechanisms are secure and that the coat stays in place. Closures that are too flimsy might cause the coat to slip off or move, defeating the primary purpose of wearing it in the first place. The last thing you'll want to do on a rainy stroll is to stop and adjust your coat, so look for something that fastens securely and stays in place.  
Reflective Components

 
As formerly mentioned, dog raincoats may let your dog stand out when out on a stroll. Select a raincoat with reflective panels, patches, or stitching. In low-light, wet situations, this will assure your dog's safety. 
Harness Support

 
Although not all raincoats include a harness opening, most dog owners these days carry a harness for their dogs, especially if they frequently go on long hikes in the woods. So, while it may seem odd, read the beginning of the dog jacket before you buy. You don't want the rain jacket to leak or be limited to a collared version. 
Lining Materials

 
If you reside in a warm or tropical climate, you may not need or prefer a dog raincoat lined with insulation. If you live in colder weather, though, lining a raincoat can easily keep your dog comfortable and warm. The most frequent fabrics for these linings are wool, fleece, or a synthetic alternative. In addition, the ability to remove the liner might be an additional benefit, allowing for easier cleaning and usage throughout the various seasons. 
Full Body Protection
Despite the popularity of these kinds of dog jackets, they are just a tad more challenging to put on but provide more overall coverage. While no rain jacket can guarantee that your dog will always be clean, it can help keep the muck and snow away. It's preferable for those of us who live in harsher weather instead of tropical places.
Leash Availability

 



Pick a good dog raincoat that enables you to link your dog's leash to his collar or harness with ease and security. This may sound insignificant. However, if the jacket makes connecting a leash for walks difficult, you'll be frustrated and unlikely to utilize it. 

Waterproof vs. Warmth vs. Lightweight

 



When purchasing a raincoat, consider why your dog requires one. If your dog is tiny and easily frightened, it may prefer a protective barrier from the outside world rather than warmth, in which case an anti-anxiety dog coat should be your first choice. You may have to compromise certain waterproof features for a lovely warm, comfortable lining if you have short hair and a slender frame, like a whippet. A lightweight and breathable coat is also essential if you have a more giant dog, such as a Boxer or a Great Dane.
Conclusion
Walking your dogs is every pet owner's responsibility that you need to perform regularly. They're necessary for both physical and mental stimulation. So even if the weather is awful, you should neglect to take your dog for a walk. Fortunately, investing in a dog raincoat will keep your pup comfortable and dry during rainy outings outside. Even more than that, they look stylish and adorable. Seasons are changing, as they should be.
The good news is that you're in the right place if you're looking for a new coat. You won't find the quality of jackets in stock anywhere else. We offer coats and jackets to fit every weather, terrain, or occasion, from Pet Life to Helios and many other prominent brands.