Fourth of July | Are Pets Scared Of Fireworks?
Fourth of July | Are Pets Scared Of Fireworks?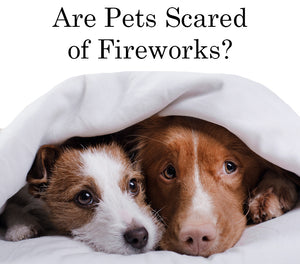 Fourth of July | Are Pets Scared Of Fireworks?
Every Fourth of July pet owners keep their dogs inside because they are scare of fireworks. Most pets are afraid of fireworks & making sure that they don't run away is a priority. Some dogs are worse than others but here are a few tips to keep your furry friend calm during the firework show.
Turn on the TV or Radio
If there are loud sounds might as well drown them out with television. If you are going to see the fire works this July 4th and leaving your pets at home having the radio on can keep them calm while you are away. The televisions is also a great way to keep them calm. Dogs can have a hard time discerning where the sound originated and if the television is on during the firework display, they will think its just the TV.
Swaddle Them
Dogs feel more at ease when they are swaddled either by a blanket or dog sweater and it is a great way to prevent anxiety for your dog. There have been studies showing the benefits of anxiety wraps putting them on for a period of 20-30 minutes and leaving them off for the same amount of time.
Give Them Treats
Food comes first when it comes to my dogs so why wouldn't it be the same on the Fourth of July? If you aren't going out to watch the fireworks you might as well spend the time with loved ones. This can be a good time to spend some extra time with your dog. Giving your dog treats during a firework show can help relax them and focus their attention on something else reducing their anxiety.
Preventing Escapes
This is a large problem that happens every year you will see the news warning you about locking up your pets comes July Fourth. If you are going to bring your dog outside, make sure that they are on a dog leash and harness. Dogs can get scared enough by the loud sounds given off by fireworks that they will run away. It is also just as important that the doggy doors stay shut while the fireworks are going off. Taking the precautions will prevent your pooch from disappearing while you aren't at home.
Now you know a few tricks to calm down your pets when they are afraid of fireworks.