Flying With Your Pet? Here Are The Rules
Flying With Your Pet? Here Are The Rules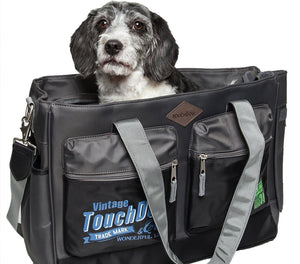 Flying With Your Pet? Here Are The Rules
If you are going to be flying with your pets here are some of the changes to the rules. Each airline is different so you should check with your airline about the rules when traveling with your furry companion.
Airlines wont accept your dog as a carry on unless they are in an airline approved dog carrier.This is to prevent accidents from happening while your dog is store underneath your seat in the cabin area. On most flights you will not be able to take your pet out during the flight which is why its important to have one that is airline approved.
In the last few months there have been several disturbances for both pets and service animals that have been allowed on flights. Because of this, airlines have been banning certain breeds of dogs within the cabin and even banning some dogs altogether. Snubbed dogs like pugs are bull dogs are banned from flying on certain airlines. Since these types of dogs have trouble breathing normally the added stress on a flight can kill your dog after which you would blame the airlines for your pet's death.
There are also more strict regulations regarding exotic animals as support animals. There have been cases where people have brought peacocks, pigs, and snakes on an airplane stating that they are service animals. More people every year are bringing their pets along with them for the journey either to a new home across the state or even to a new country. With this influx of travel new rules and regulations need to be put in place.
What You Need To Consider When Flying With a Pet
Cost
The cost of flying your pet on most airlines is $125 each way. The cost of having a service animal with you is free of charge. There are also cases of people flying with emotional support animals this is considered a different category than a service animal. When it comes to emotional support animals or comfort animals the airline needs at minimum 48 hours' notice, a note from your medical or healthcare professional, and certificates from your vet that your pets' vaccinations are up to date. Not all airlines do this, but they added these rules to make sure that people weren't just trying to avoid paying the fee for their emotional support animals.
Large Pets
If you own a large pet, you can incur additional cost to you. Airlines treat large dogs and pets as cargo which will be put in the back of the plane. This service can be expensive because they judge it by the weight and size of the animal. Another issue with this is the temperatures in the back of the plane which aren't climate controlled. On a hot day of 85 degrees plus most airlines wont even allow you bring your pet with you because of the risk.
What Airlines Are Doing?
American airlines have started making compartments for your pets inside the cabin area. The cost of the service is $125 but you would be paying that anyway to bring your pet with you unless it is a service animal. More airlines are looking into creating compartments for your pets since there are a lot more people trying to fly with their pets.
Have any interesting news or articles we are glad to hear it.