Best Dog Apparel For Winter
Best Dog Apparel For Winter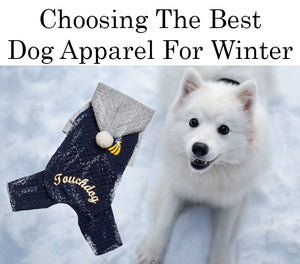 When it comes to choosing the best dog apparel for winter knowing what you need for your dog should be given consideration. While dog jackets are needed for small dogs and short haired breeds they aren't needed for dogs with thick coats of fur yet the can benefit by using a pair of dog boots. Here is our list of the top 5 best dog apparel & products for winter.
Dog jackets are the first thing that comes into our minds when we are talking about winter apparel for dogs. They are the perfect accessory to keep your dog extra cozy all winter long. These jackets come in a wide variety of colors, designs and protection levels. From raincoats to dog parkas and everything in between. Knowing the size and breed of your dog makes it a lot easier to figure out if your dog can benefit from using a dog jacket. All small dogs benefit from using a winter jacket in cold climates since they aren't built for the extreme cold. With their small size if it snows their bellies can touch the snow making it even colder for your dog. Medium sized dogs for the most part can also benefit using a dog coat and jacket since it gives them extra time to play outside before it gets too cold for them. Larger breeds might not necessarily need one if they have thick winter coats. If your dog is a larger breed with a short coat like a Dalmatian, they will receive the same benefits similar to medium and smaller breeds.
Dog shoes and Dog boots are great for the winter. These shoes can help protect your dog from frostbite and tracking mud, dirt and snow in your home. Dog snowshoes can also help your dog gain traction on both wet and icy terrain with their rubberized soles it can help prevent your dog from slipping on the ice avoiding serious injuries. While dog jackets can only be use in the late fall and winter months dog shoes can be use all year around. Since they are such a versatile and important part of dog apparel listing them just under dog jackets seemed like the right choice.
Dog Sweaters and Dog Hoodies are the perfect in between for dogs that might not need a jacket. These are great for dogs who want a little bit more flexibility than a standard dog parka while keeping their core body temperatures up. What better way to bring in the Christmas spirit than with our holiday dog sweaters that light up the night. Each Christmas dog sweater comes with LED lighting bringing in the Christmas cheer without the jeer into your lives this holiday season. If the standard dog sweater doesn't suit your dogs style a dog hoodie might be the perfect fit. These hoodies are perfect for the fall and winter weather keeping your fur baby nice a toasty.   
Dog pajamas are the cute and cuddly dog winter accessory you were looking for. Dog pajamas are great for senior dogs who have trouble regulating their body temperatures. They are also one of the cutest dog accessories a dog can have. Let your dog join in on the fun during your slumber party and cozy up to you in their pajamas.
Having a dog bed is a must have during winter. Dog beds provide your dog with warmth and comfort they need when it gets cold outside. This is especially true if they don't have a pair of dog shoes where they will need a place to warm up their paws. During the winter months you might notice that your dog will tuck their feet underneath their body to warm their paws. Having a dog bed makes this position comfortable for your dog to sleep in without the need of adding additional covers for your dog.