Do Dogs Need Sunblock?
Do Dogs Need Sunblock?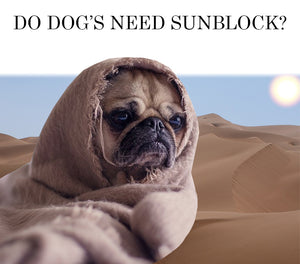 When we go out on sunny days we put on sunblock or sunscreen but do dogs need sunblock? The short answer is yes, they do! I'll be honest I didn't think to put on sunscreen on my dogs until a few days ago when I saw someone putting sunblock on their dog. I originally thought that their hair would naturally protect them from being sunburned, however this wasn't true.
What Kind Of Sunscreen Do Dogs Use?
The best option is to go with one formulated for your pet dog or cat. If you can't purchase the sunblock for your dog in time you can use a broad-spectrum sunblock for babies. If you are going to use this, you need to be conscience of what is in the sunscreen. The following ingredients are toxic to dog's zinc oxide & para-aminobenzoic acid (PABA) these are toxic if ingested. It is also recommended to buy a fragrance-free sunblock to prevent your dog from licking the sunscreen.
How To Apply The Sunscreen?
If you couldn't purchase the specially formulated dog sunblock and are using an alternative instead make sure to apply to a small area first and monitor your dog's reaction. You should be using a lotion or cream-based sunblock you shouldn't be using any spray oil or low SPF sunscreen it should be at least SPF15 or higher. If your dog doesn't lick the sunblock great! you can now apply the sunscreen to the rest your pup. It is also recommended that you be careful of your dog's eyes and make sure the sunblock soaks in which will take several minutes. If you are afraid to put sunblock on your dogs face, we offer a few different stylish UV Adjustable Dog Hats.
Breeds Most Likely To Get Sunburned?
White dogs with short hair coats are the most likely to get scorched in the sun. This isn't an excuse to not put on sunblock if your dog is a black with long hair. The best way for your pet to avoid sunburn all together is to keep them inside from the hours of 10 am to 4 pm. If you want to avoid putting sunscreen all over your dog multiple times a day we also offer dog clothes that can save time and money.
Have any interesting news or articles we are glad to hear it feel free to contact us or comment!