Cat Grooming Tools: 5 Great Choices For Your Frisky Feline
Cat Grooming Tools: 5 Great Choices For Your Frisky Feline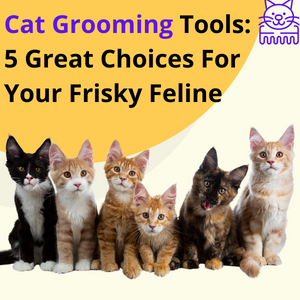 Cats are known for grooming themselves. The average cat is such a master at self-grooming that they will spend about 30 to 50 percent of their waking hours doing it. However, that doesn't mean you're exempted from cat grooming obligations. According to the medical director of VCA Cat Hospital of Philadelphia, short and long-haired cats gain a lot from frequent combing or brushing that helps rid their body of stray hair and dispense natural skin oils throughout the coat.
You might be asking, "What cat grooming accessories do I need, and how do I choose the best ones?" So, with such a diverse array of cat grooming tools and supplies available, choosing the ones your feline will love can become a headache. This post covers the essentials of cat grooming tools that every cat parent needs to keep their frisky feline feeling and looking great.
Pet Life 2-in-1 Grooming Comb

And

Deshedder
Given its 2-in-1 nature, the Pet Life 'LYNX' Travel Connecting Pet Comb and Deshedder device have two exterior shells that come together to form a deshedder blade, making it ideal for journeys. The deshedder blade comprises stainless steel, and its purpose is the removal of shedded or loose hairs from your cat's topcoat. On the other hand, it is made of flexible TPU material and built so that it can groom and smoothen cat hair while loosening knots in the undercoat at the same time.
In addition, it's compact and small, fitting easily inside most purses and pockets. The material that forms the brush's outer shell is quality plastic having a pinched grip for improved accuracy and control. Overall, these cat combs cater to short and long hair breeds with the smaller comb ideal for short-hair cats, while breeds with longer hair will benefit from the larger comb.
Pet Life Electronic Dryer

And

Pin Brush
The Pet Life 'Aero-Groom' 2-in-1 Electronic Pin Brush & Dryer has a silent, high-performance dryer coupled with a pin brush. This duo was collectively built to dry hair and brush it to produce a flawless grooming experience similar to the professional one. It is the perfect alternative for anyone who wants to shop cat brushes that are high-end. The cushion on the pin is delicate and easy on your cat's follicles.
The dryer comes with a dual dry-heating intensity configuration and an automated overheating safety prevention mechanism for increased safety. It also features a 6.6 feet long power cord that plugs into an adapter or any wall outlet. You'll find this tool's design modern and sleek with a curved handle that's simple to use.
Pet Life 5-in-1 Interchangeable Comb
Few interchangeable grooming tools come with a 5-in-1 design that features a dematter, brittlebush, silicone massage comb, deshedder, and pin brush. Together, these accessories make this interchangeable cat deshedder the ideal all-in-one grooming tool. The pin, bristle, and silicone massage brushes lock into the front of the gadget, while the dematter and deshedder open like a razor at the rear. This tool can help you remove tangles and mats, lather and massage your cat during baths, and smoothen both inner and outer coats after bathing.
With such a 5-piece grooming package, you can groom every cat breed available, irrespective of the hair type. For extra grip control, convenience and precision, it comes with a TPR rubber-like easy-grip contoured into the likeness of your hand, and you can shop this today in a variety of colors.
Pet Life Hand Inserted Microfiber Towel
The Pet Life ® 'Bryer' 2-in-1 Microfiber Grooming Towel and Brush are some of the rare pet towels you can buy that have a brush sewn onto its microfiber body. This addition makes it the perfect pick for people who want to brush their cat's hair right after drying or bathing. The pin brush is made of flexible and soft bristles that go easy on the hair and enable you to eliminate knots or tangles while efficiently grooming the undercoat and topcoat. Also, it's just the right length for most cat breeds.
Furthermore, your cat will find the towel super comfortable due to the ultra-soft microfiber material that helps get your feline dry rapidly by absorbing copious amounts of water in no time. Finally, it also features dual-pocket insertable hand sleeves on the opposite side.
Pet Life Nail Clipper

And

Filer
The Pet Life 'Clip N' File' Pet Nail Clipper is unique in its own right due to an in-built concealed nail filer that you can slide out from the bottom anytime you need to use it. This makes it ideal for cutting and shaping your cat's nails to look excellent. The nail clipper is perfect for both small and large cat breeds alike, and it comes with a safety lock design that covers and protects the blades when this grooming tool isn't in use.So, you don't have to worry about it, cutting anyone in the family-like small children. It has a grip handle designed for maximum control and precision, like other high-quality grooming tools.
Bonus: Pet Life Undercoat Rake
Last but certainly not the least is the Pet Life ® 'Gyrater' Swivel Travel Undercoat Pet Rake. This tool is equipped with a customizable built-in rotating handle hinge that moves and locks into your favorite handle position simply by pressing a button. In addition, the comb has a contoured inner grip made with a TPR material for extra comfort when combing. You can also choose between palm and knuckle grip positions at the handle.
The overall design of this undercoat rake is to minimize the stress on your wrists and hands when in use. Hence, the stainless-steel dematting blades have a compact design and a sophisticated handle.
Conclusion
It's advisable to visit a professional if your cat is matted and requires shaving. This is because cats' skin gets cut easily, so it's better to leave these grooming duties for professionals. If your feline isn't a big fan of grooming, you don't need to worry. A professional will know how to deal with it and take care of the essentials. Also, you don't want to test a cat's limits since you're at risk of getting hurt. With these top five cat grooming tools, your cat should be in a better position to enjoy grooming sessions at home. If you have any questions, please tell us in the comments below.