Can You Ride A Bike With Your Dog?
Can You Ride A Bike With Your Dog?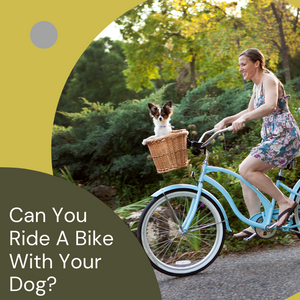 To put it simply, Yes. You can. 
Case closed? No, of course not. There's a more important question, which is 'how'? How can your furry friend enjoy the thrill of a bike ride with you? That answer isn't as straightforward as you would think. It depends on several factors, including your dog's breed and disposition. 
It may be fatal for your dog and even you if you do not critically consider certain variables before strapping your furry friend into a bike dog carrier.
Why Ride With a Dog?
Most people who have dogs as their pet are probably used to taking them for walks out in the park or side of the street, going for a run or jog together, walking on the beach, and even swimming.  
These are exciting activities, but you may be looking to add to the fun as you explore more options. A bike ride with your dog may be just what you need. It can be a memorable experience for your dog as well as yourself. 
Dogs can become well-behaved and easily adjust to their surroundings the more they are on bike rides with you. If your dog has an endless supply of energy, and even walks and jogs aren't enough to wear it down, maybe riding it in a dog carrier is the right choice for you both. 
By riding with you, your dog can burn as much energy as it would by walking but in half the time. In addition, your legs won't be sore or strained as they would with long walks.
Dog Biking Prerequisites
Image by Thanks for your Like • donations welcome from Pixabay
Like many dog-related activities, you need to understand what it entails. Knowing the ins and outs of this will prevent you from making some avoidable mistakes and protect you as well as your dog. 
Here is an overview of how you can prepare for a bike ride with your dog:
1. 
Size & Disposition Of Your Dog
What is the size of your dog? Activity level, experience, temperament, and general disposition? Because every dog is unique, only you can honestly answer these questions based on the knowledge you have of your dog. With regards to its nature, here are a few things to note.
The first thing to consider is the size and aggressiveness of your dog. Larger, more active dogs usually enjoy running alongside the bike. There are specialized leashes that you can attach to your bike, or you can even hold. The leashes are designed to act as shock absorbers, reducing the force of an unexpected tug.
If your dog is large yet not so energetic, consider using trailers to help you both enjoy the ride.
For older, smaller, less energetic, or even nervous dogs, it may be best for them to ride with you rather than run alongside you. You can purchase different varieties of dog carriers depending on your pet's size and your bike type. Be sure to verify that your dog is restrained correctly and cannot exit the carrier during the ride.
2. 
Prep Your Bike
You need to prep your bike to ensure that it is in good condition to handle the total of your and your dog's weight. The tires need to be inflated properly, and the brakes should also be in excellent condition. Lights and reflectors must also be in good working order.
Consider your bike's capability if you plan on transporting your pet in a bike dog carrier or if you will have it run alongside you. If your bike has mechanical issues, you should not attempt to maintain it yourself.
When you don't plan to bring a backpack, make sure your bike can attach water holders and other equipment you'll need.
3. 
Attachments
Photo by Anthony Fomin on Unsplash
When on bike rides, you can either have your dog run alongside you, tucked in a dog carrier, transport it in a trailer, or sidecar attached to your bike. Numerous products exist just to enable you to bike with your dog. The responsibility lies on you to choose the perfect fit and style for yourself and your dog.
It may be disastrous to put a Great Dane in a bike dog carrier, just as it is to tie a Pug to a bike and start cycling away. Ensure that a suitable attachment is used for particular dog breeds. Furthermore, allow your dog plenty of time to get accustomed to your bike dog carrier or special leash before setting out on a ride.
It is easy to go biking with your dog when you use either folding dog carriers or a fashion dog carrier, but it's only meant for smaller dogs. Using a special leash is the best way to handle dogs over 30 pounds. For bigger dogs and multiple dogs, a bike trailer is a great choice.
While there are several trailer options, those designed specifically for dogs are the best because there is usually a built-in harness system to prevent your dog from jumping out. Just pay your local pet store a visit if you require advice or have any doubts.
4. Prep Yourself
Image by PublicDomainPictures from Pixabay
Almost everything depends on you for all outdoor dog activities that require your supervision. Dogs form habits based on the kind of experience they have regarding an incident. A negative experience may lead your dog to hate bike riding, so you should proceed with caution.
You will gain experience through practice. The more experienced you become, the safer your bike rides will be with your dog. For the first few rides, go short distances and at a slower pace and gradually increase it as your dog's tolerance increases.
Remember to get used to all the gear and attachments that you will need. Never leave the bike with your dog still attached to it. But, in case you must stop, don't step away from your bike. Take the dog out of its carrier, or make sure to detach its leash from the bike if you decide to walk away. 
It is only appropriate to leave your dog still attached to the bike if you have secured the bike to a pole or any grounded object.
Conclusion
At this point, you should have no doubts that you can ride a bike with your dog. Whether you intend to try it soon or in the distant future, that's totally up to you. Just be sure to closely consider the above points, and be careful enough to leave none out. 
As the last step, you should have your dog examined by a veterinarian to ensure it can handle such strenuous activity.