Can You Give Dogs Melatonin? Benefits & Side Effects
Can You Give Dogs Melatonin? Benefits & Side Effects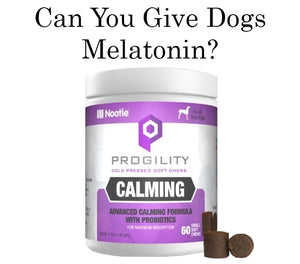 There has been a lot of questions floating around the pet community if it is safe to give their dogs melatonin. While there are a lot of benefits to melatonin there are some side effects as well.
What is Melatonin?
Melatonin is a hormone that is produced in mammals, birds, reptiles, and amphibians. Since dogs and humans are both mammals it has a similar effect.
The most common use for melatonin is as a sleep aid. Since it is a natural hormone, consumers find it safer than conventional sleep aids.
This hormone is primarily produced in the pineal gland in the brain during the night. Melatonin prepares the body to enter sleep mode which helps you fall asleep.
However, concerns have been arising due to the lack of research for its long-term effects.
Concerns have also been raised about the wide range of effects it can have on the body.
Does My Dog Need Melatonin?
Most dog owners will tend to seek out melatonin for their pets to deal with anxiety and sleep deprivation, but it can also be used to help with Cushing's disease and Alopecia.
If your dog is experiencing any of these issues talking to your vet should be your priority before reaching for an over the counter medicine.
After talking with your veterinarian about the different prescription options available melatonin should be among them when dealing with anxiety and insomnia.
This is usually the first option a vet will take while running blood work to find the root cause of the issue.
If your dog is known to have separation anxiety, terrified of baths, long road trips, melatonin can be used to relieve their anxiousness.  
Since melatonin is used as a sleep aid if your dog wakes up easily during the night or has issues falling asleep using melatonin when used properly is a big help.
Where Do I Get Melatonin For My Dog?
You are able to purchase melatonin over the counter here in the United States however some are formulated with xylitol which can be very toxic for dogs.
If you decide to move forward with this route you will need to know the proper dosage of melatonin for your dog.
1 mg for dogs weighing less than 10 lbs

5 for dogs weighing between 10 to 25 lbs

3 mg for dogs weighing between 26 to 100 lbs

3 to 6 mg for dogs weighing over 100 lbs
We have calming dog treats if you are looking to skip the hassle.
Following the instructions on the back will be the only thing you need to worry about.
Side Effects of Melatonin?
There aren't many side effects when melatonin is administered correctly and with the proper dosage.
Still there are a few side effects that you should be on the look out for. If you notice any of these side effects report to your vet aptly.
Itching

Confusion

Upset Stomach
If you are giving your dog any other medications before you introduce melatonin a quick call to your vet can answer all your questions.
Since other medications can interfere and interact poorly with melatonin their medical conditions may worsen.
Dogs who are diabetic shouldn't be taking melatonin as it can cause insulin resistant in diabetic animals.