Buying a Dog Collar
Buying a Dog Collar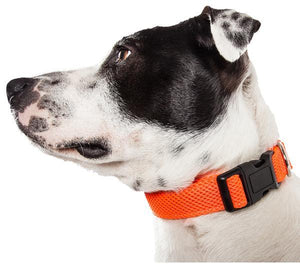 Buying a Dog Collar
One of the things that all dogs need, irrespective of age, size or breed, are dog collars. The two most basic functions of a dog collar are that they 1) allow the owner to place a leash and 2) insert a tag in case the dog gets lost. Today, there are many types, colors, fabrics, designs, and styles of dog collars on the market and for the owner, selecting the right collar can be confusing. A dog collar that does not properly fit the neck is not only a nuisance but it can jeopardize the safety of the dog and other people.
Here we provide you with tips on how to buy a dog collar- read on.
Sizing the dog's neck: Before you walk into any pet store to buy a dog collar, you should know the size of your dog's neck. This can easily be done with the use of a flexible measuring tape or even a shoestring. Circle the neck with the tape from just behind the ears and the collar bone. Then add 2 inches (5 centimeters) to this measurement and you will have the dog's neck size for the collar.
The fit: When you place the dog's collar, it should have just enough room to allow two finger breadths between the collar and the dog's neck. The neck collar should be tight enough so that it will not easily slide over the dog's head and at the same time it should not be too tight or it may strangle or choke the dog.
Know the dog's need:. After measuring the size of the dog's neck, it is important to know what the dog's needs are in daily life. For example, some small dogs only need a dog collar so that the owner can put on a leash when going outdoors. Then there are other dogs that need a durable and unbreakable dog collar so that they do not run off and bite other people/animals 
Types of Dog Collars
The standard dog collar: The majority of dog collars on the market are made of leather, nylon or durable plastic; these collars are easy to put on and remove. They can be simple or they can be aesthetic looking. In almost all cases, the collar is fastened with a metal or plastic buckle. In general, a standard dog collar is recommended for dogs that can be off-leash, who do not constantly pull while walking or you need something to identify the dog. 
Training collars: There are several types of training collars but for the most part these collars are not recommended as they can seriously harm the animal. The training collar should only be used by a professional, These training collars are often used on aggressive and stubborn dogs. There are also hybrid training collars that are less harmful to the dog and more comfortable. These collars are made of half metal and half nylon; and when the dog pulls, the collar partially tightens around the neck. This can reduce the risk of damage to the dog's neck and internal organs.
Some of the newer training collars are available in fabrics other than metal. They are recommended for dogs with long hair to prevent the chain from pulling out any fur from the neck area.
LED collars: There are several types of LED dog collars on the market. They are recommended for dog owners who walk the dog early in the morning or late in the evening. The LED collars will emit a lot of flashing light which will make others aware of the dog. 
Reflective collars: Along the same lines as the LED collar, some dog collars are made of reflective material which makes the dog visible to other people and motor vehicle drivers.
Waterproof collars: For dogs that live in wet climates or love the water, a waterproof collar is highly recommended. The material should be soft and comfortable so that the collar can be worn all the time, even while the dog is performing water activities. In addition, the collar should be made of a fabric that dries quickly and is easy to clean so that bacteria and debris do not build up. 
Choosing the material of the dog collar
Dog collars are made of several types of material and each has its pros and cons.
Neoprene is a synthetic rubber material that is often reinforced with nylon for extra stretch, strength and durability. It is a durable collar and ideal for dogs that encounter wet weather. Neoprene also dries very quickly after contact with water. The downside to neoprene is that the collar is more expensive than other fabrics and the collar is also bulkier. However, neoprene collars tend to be associated with fewer allergic problems compared to other fabrics.
Metal or chain collars also known as choke chains are only supposed to be used for training purposes. More important the dog with this collar should never be left unattended because strangulation is a major risk. Overall, for most dog owners, this collar is best avoided.
Nylon dog collars are very common and come in many sizes, designs, colors, and qualities. These collars have multipurpose uses including attaching IDs, hooking the leash and walking the dog. Nylon collars are the cheapest and easy to maintain.  The downside is that nylon collars are not durable and if not cleaned regularly can develop an odor. In addition, allergic reactions are not uncommon with nylon.
Leather collars not only have good aesthetics they are also functional and durable. However, leather collars are also more expensive than nylon. It is important to read the labels when buying leather collars because there are many hybrid leather collars that do not contain real leather. These hybrid leather collars are not as durable as real leather. Leather collars come in a rolled and flat design. For dogs with thick fur, the rolled leather collar is recommended to avoid the formation of fur clumps. Besides the cost, leather dog collars need regular maintenance, otherwise they will develop an odor. Some of the leather dyes may also leak into the animal's skin.
Faux leather, also known as pleather, is an inexpensive imitation material used to make cheap dog collars. Unfortunately, these collars do not last long and should be avoided. Some people use faux leather collars when attending a dog show because the collars do have good aesthetics. Finally, the dye from the faux leather collar can also leach on the dog's skin.
Biothane collars like neoprene are recommended for dogs living in a wet environment or love the water. Biothane collars are made of polyester webbing and are safe for the animal. These collars are flexible, easy to put on and dry quickly after contact with water. Biothane collars are durable but are not recommended for dogs who play rough or chew. The biothane collars are easy to clean and maintain.
Accessories 
All dog collars need to be fastened and the choices are a metal or plastic buckle. Plastic buckles are not a good choice as they do not last long and tend to become brittle and develop cracks, especially when exposed to extremes of temperature. Metal buckles are more durable, secure and sturdy. These buckles are recommended for larger dogs and dogs who love to chew.
Do not go for colored collars. It is important to know that dog collars that come with colors may look very aesthetic but the problem is that the color may leach onto the dog's skin. This is a common problem with faux leather and nylon collars. For dogs who have sensitive skin, thin skin or allergies, always select a collar with no color.
Finally, when buying a dog collar, try to match it to the dog leash 
Caution
Homemade collars: With the prevalence of social media and sites like youtube, many DIY projects for pets are gaining popularity. However, dog owners should use precautions when making dog collars at home. The first thing is to consider the dog's safety; if you do not have the right material, the dog collar may break and the dog may bite someone. Or the material may cause allergy to the dog. The use of fabrics like ropes, leather belts, t-shirts, ribbons, yarn, and piece of old rags can be dangerous as this can sometimes lead to injury to the dog and even strangulation. If you love your dog, then spend a few extra dollars and buy the real deal from a reputable pet store.
Adornments: Besides an ID, many accessories can be placed on the dog collar. Some of these accessories include reflector buttons, city tags, and charms. The best advice is to limit the number of accessories on the collar. Not only do these accessories make the collar heavy, but the material may also injure the dog's ears, neck or even eyes. Worse, another dog may chew on these accessories and even swallow them. The golden rule of thumb is that anything other than an ID should be avoided on the dog's collar as it can stress the animal. If you do, however, place something on the dog's collar, always remove it when the dog is left unattended.
Once your dog is at home, take the collar off. Leaving the dog collar on all the time can cause damage to the skin and fur.
Maintenance
All dog collars need regular clean up since the collar can collect fur, debris and other junk. If this is not removed, the fabric can break down. In addition, the broken down collar can irritate the dog's neck
Dog collar for a puppy. 
When buying a dog collar for a puppy always keep in mind that puppies do grow rapidly and therefore you will have to pay attention to the size of the collar. Most collars today are adjustable, however, ultimately you will need another collar when the pup is a fully grown adult.
What do dog collars cost?
Dog collars can cost anywhere from $10 to $30.There are readily available in retail and online stores.