Black Friday Deals 2019
Black Friday Deals 2019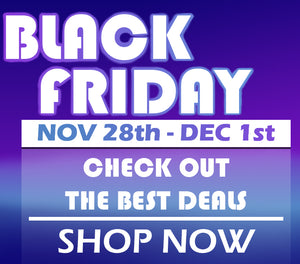 This Black Friday we are breaking down the best deals we have on our website. All of our prices are too low to show make sure you add to cart to see final price. From dog beds to toys and everything in between here are the best Black Friday deals this season.
Current Black Friday Promotions!
30% OFF Dog & Cat Technology
35% OFF Dog & Cat Beds
35% OFF Carriers & Crates
40% OFF Dog & Cat Toys
45% OFF All Apparel & Accessories
50% OFF Collars Harnesses & Leashes
Cat & Dog Technology
There is nothing better than having the best tech when it comes to your dog or cat. Having automatic feeders and monitors to keep your pets happy and healthy is something to look forward to this season. With automatic doors and GPS trackers make sure your pets are secure and safe this holiday season. We are offering 30% off all dog and cat tech products this Black Friday it is our best deal on tech this season. Here are some of our favorite dog and cat tech products.
We all must feed and change the water in our pet bowls, but with smart technology you don't have to do it daily. With the Petkit Eversweet water feeder it features a filtration system cleaning and storing clean water. This also will remove any contaminates from the water with our carbon filters. With the built-in smart functions, it will automatically turn off when not in use saving energy while your dog keeps hydrated.
When you are away from home keep an eye on your pets with our Petkit Mate smart pet monitor. Each monitor enables users to speak, listen and play interactively with your pet. With the build in night vision mode you can see what your pets are doing during the night. Have complete control over your monitor though the smart phone app letting you know what your pet is always doing.
If you are the type of person who puts too much food in your dogs bowl the Petkit Element smart storage feeder is the perfect smart product for you. With this feeder you don't need to bend down and fill up your dog or cats bowl multiple times daily. Since this bowl also doubles as a storage contain you can schedule your pet's meals for the next few days by carrying 6 liters of dry food which is almost 12 pounds of food which can be stored. Never forget to feed your dog again with a smart dog feeder.
Cat & Dog Beds
Make sure your pet is warm and comfy this holiday season. Our pet beds are made with your dogs and cats in mind having a variety of styles and shapes to fit every pet's needs. Before choosing a bed make sure to figure out how your dog and cat sleeps. If they sleep spread out a rectangular bed works best if they sleep curled up a round dog or cat bed would work best for them. This season we are offering 35% OFF our dog and cat beds which our best sale on beds this year so far. Here are some of our personal favorites.
Sometime all you need is a basic dog mat. These are great when your dog needs extra comfort I their carriers or when your cat is looking for some extra comfort in their crate. The Pet Life Eco-Paw reversible pet bed is the best basic dog bed we offer since it is machine washable and recyclable you don't have to worry about it getting dirty or effecting the environment.
If you are looking to keep your dog or cat nice and warm this winter the Pet Life Hush Puppy heated pet bed is what you are looking for. This bed comes with both a heating and cooling system built in to keep your pet at the optimal temperatures. This bed is powered by the push of a button cycling the air to cool the interior or turning on the heating nodes to heat the bed inside the memory foam cushion. These are great for older dogs who have trouble keeping their core body temperature steady.
When it comes to finding the perfect bed for your cat the Touchcat Molten Lava cat bed is one of the best options on the market. It gives your cat two ways to escape if need be while creating a comfy environment with felt and thick wool fabric to keep them comfy during the winter. This bed also comes with a teaser toy to keep your cat interested.
Carriers & Crates
To keep your pets safe this season having a dog carrier and crate is essential. If you will be traveling with your pets a carrier is needed especially in airports. Our airline approved carriers take the guess work out when flying with your pet. Crates are great when holiday guests come over giving your pet a place where they can seclude themselves when nervous and anxious. This can also help protect your guest if they are afraid of animals in general. We are offering 35% OFF all carriers and crates which includes both dog and cat crates & carriers.
When looking for a carrier that you can travel on an airplane with our Pet Life Final Destination airline approved carrier is safest way to travel with your pet. With its collapsible design it makes traveling a breeze and it should also be mentioned that this carrier is a wheel dog carrier. This makes it easier to roll your pet through the airport rather than carrying them. It also comes in a variety of colors to suit your style.
If you are going to be traveling by car this holiday season, make sure you have a carrier that can keep your pets secured. The Pet Life Ultra Lock travel dog carrier keeps your dog buckled in keeping them securely in place. This carrier also comes with a built-in leash or harness holder to prevent your dog from escaping the carrier. This carrier is also collapsible so when not in use it takes up a fraction of the space.
If you are looking for a dog crate instead of a carrier since they give more space look no further. The Pet Life Capacious Dog Crate has all the additional space your dog will need. Since the sides fold out it give your dog or cat almost double the space of a conventional dog crate and carrier. These carriers are designer for those pets who a larger and need more space to move around inside of them. They can also be used when traveling with multiple small dogs.
Dog & Cat Toys
When your pets are locked up inside because of the weather that doesn't mean that they can't play. Our dog & cat toys are the perfect gift for your pet this holiday season. Since your pets still need to exercise even when they are indoors, toys are a great way to keep them moving. This can also help dogs and cats who are anxious around new people. Give your dogs and cats a taste of the holiday cheer, with toys and joys for every good boy. Our toys are now 40% OFF get your favorite now before they fly off the shelves.
When choosing a dog toy, it needs to be durable and suitable for all dogs regardless of their life stage. The Touchdog Crabby monster plush dog toy is the perfect companion for dogs large and small. It can easily become one of your dog's favorites with its crab like hands giving your dog more surface area to chew on than standard plush toys.
Cats need just as much playtime as dogs. Make sure your cat is getting enough exercise with the Touchcat Tail Feather Cat Teaser. These teasers will make your cat jump and play with joy. Each wand has an elongated inner glitter transparent wand keeping your cat's interest while they swat at the feathers.
If one toy isn't enough for you, we have a dog toy gift set filled with 8 different types of toys to suit your pups needs. This is a great gift if you don't know what kind of dog toy your dog likes. This can also be a great gift for dog owners who have aggressive chewers.  
Apparel & Accessories
Our apparel and accessories are 45% OFF that is the highest discount we have offered this year. The list includes dog jacket, dog sweaters, hoodies, shoes and more. Thousands of dog apparel and cat accessories are on sale now. Don't miss out on your chance to save this holiday season. Here are out favorite products in our apparel and accessories.
Since winter is rapidly approaching your dog will need a dog jacket. Our Pet Life classic metallic dog parka comes with a removable hood and is designed to keep your dog warm this winter. These jackets are a great gift for small and short hair dog breeds that aren't bred to withstand the cold climate. Make sure your dog stays warm this winter with a dog jacket.
Continuing with the winter theme if you want to keep your dog's neck warm as well dog scarves are a great way to keep their necks warm in the winter. While a dog jacket cover most of the neck it isn't completely sealed which can cause some air to get inside your dog's jacket. Prevent this with a dog scarf today.
One of the most needed dog accessories this season is a pair of dog boots. These are a great gift for dog owners who want to protect their dog's feet from the cold, dirt and salt that is found on the street. With its rubberized soles it can prevent your dog from slipping and frostbite during the winter months. With a pair of dog boots you can make sure that your dog is protected and kept warm this winter.
Collars, Harnesses & Leashes
Every dog needs a collar and a leash. This Black Friday take off 50% on both our dog and cat collars, leashes and harnesses. Whether your dog is big or small make sure your dog is protected with a new leash and harness.
Every dog needs a dog collar and leash so having one that matches just makes sense. The Touchdog Caliber dog collar and leash combination comes with a matching dog collar and leash. With a variety of designs to match your dog and personal style. Picking the right pet leash hasn't been easier at Pet Life.
While you can use a collar to walk your dog why would you. Instead of walking your dog with a collar why not use a cute dog harness backpack. These backpacks come in a variety of different types of animals and shapes and are a great gift this holiday season. Walk your dog in style with one of our cute dog backpacks.
If you already have a collar or harness and are looking for a durable pet leash the Dog Helios neo indestructible dog leash is what you are looking for. This leash is made with a tough and durable nylon material that is made for comfort. If it is strength you are looking for in a dog leash this is the right product for you.