Best ways to travel with your pet
Best ways to travel with your pet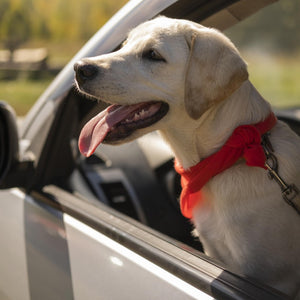 Embarking on a journey with your pet is akin to setting out with your best friend. But, like any adventure companion, they come with their own set of needs. Making sure they are comfortable, safe, and happy requires a bit of pre-travel preparation. Equipping yourself with the right tools is key to ensuring both you and your pet have a stress-free experience. Let's explore the must-have items for your pet's travel kit:
Sturdy Carrier/CrateA good travel starts with a secure, comfortable space for your pet. Your pet's crate should be well-ventilated, spacious enough for them to turn around, and sturdy to ensure their safety. Familiarize your pet with their crate before the trip to reduce anxiety.
Hydration is Key
Travel can be dehydrating. Make your pet has easy access to water. This collapsible bowl is a perfect compact solution that can fit into your bag, ready to offer water or food to your pet wherever you are.
Food and Treats
Sticking to a familiar diet can help reduce the chances of digestive issues while traveling. Pack sufficient food and treats for the duration of your journey and maybe a little extra just in case.
Clean Up Supplies
Nature calls when it does, and being prepared is essential. Always have waste bags on hand to ensure you can clean up after your pet promptly, maintaining cleanliness wherever you go.
Be Prepared for Emergencies
Whether it's a minor scratch or an upset tummy, having a pet-specific First-Aid Kit can be a lifesaver. Familiarize yourself with the contents and know how to use them.
Entertainment and Comfort
A long trip can be tiring and boring for your pet. Keeping them engaged with familiar toys and comfort items can provide the familiarity of home and keep them relaxed.