10 Best Pet Gifts For 2019 – Holiday Dog & Cat Gifts
10 Best Pet Gifts For 2019 – Holiday Dog & Cat Gifts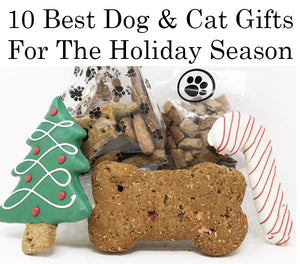 With the holiday season in full effect you will need to find the perfect gift for your dog. Even if you don't own a dog, we have gifts for dog lovers and cat lovers on our list as well. Here are our top 10 gifts for your pets for the 2019 holiday season.
They say the way to a man's heart is through his stomach and the same thing can be said for your dog. This holiday season Pet Life is introducing our new gourmet line of treats for the holidays. It includes Christmas dog treats and Thanksgiving dog treats, so your dog won't be left behind this season with delectable favorites including turkey and liver flavored dog treats. These treats are dressed up for the holiday making it a great gift for dog moms or a significant other who has a dog. Each treat is individually packaged extending the shelf life and are made the same day they ship. Give your dog a taste of the best with our new holiday treats for dogs.
Another one of our new products that we are introducing is dog scarves and cat scarves. These are great for dogs and cats who don't like to be put in a jacket or coat. These scarves offer multiple layering around the neck making your dog and cat feel nice and toasty on those cold winter nights. Since each one is knitted with heavy cotton like materials it will keep your dog and cat warm no matter their neck size.
With winter approaching sooner our new selection of dog jackets are here at the perfect time. If you notice that your dog shivers when they walk it might be best to have a dog jacket for them. These are also made in full body versions of the jacket giving it extra warmth while protecting your dog from both the rain and snow. If you are looking to keep your dog warm when they are outside this is a great gift for new dog owners along with the perfect early birthday gift for your dog as well. 
If dog jackets are too warm for your dog a dog sweater is the next best option. While they aren't as warm as a dog jacket this can be a good thing for dogs with thick coats of fur. Dog sweaters can come in their hoodie variant protecting your dog's ears from the bitter cold. These sweaters are easier to put on than a dog jacket and are great gifts for dachshund dog lovers and dog dads. 
Dog shoes are one of the best gifts you can get your dog and their dog loving parent. These shoes can help keep the dirt, snow and salt from entering their house while protecting their dog's feet. With dog boots you can make sure your dog is able to get a grip on snow and ice with its rubberized sole and it can prevent puncture wounds from sticks that can be hidden in the snow. Dog boots are the best gift for Bulldogs and other small dog breeds since it can protect their fragile paws and paw pads.
Chances are you will need to change your dog's summer bed for a winter one. With our new 2019 dog beds make sure your dog is comfortable and warm during the cold winter nights. One of our most interesting beds for winter is our electronic heating smart dog bed. It can heat and cool your dog to their optimal temperatures with a push of a button. If you're looking for a cute gift for the dog lover in your life our character dog mats will give your dog and extra-large bed and buddy to match.
Since your dog and cat are going to be inside because of the cold weather dog toys and cat toys are essential keeping your pets exercising and happy. Dog and cat toys are often overlooked in the winter months, but they give your pets the exercise which will keep the extra winter weight from piling on. This will help keep your dog and cat busy while giving your pet the attention that they need.
Your dog is transitioning into their winter coats right about now. This means that they are shedding their light summer coats for their heavier winter ones. Having the right dog grooming supplies can help keep their shed off your furniture, carpets and clothing. By brushing your dog's coat and washing them with the proper dog shampoos that take care of their shedding quickly.
When traveling with your dog during the holiday season you need to make sure that they are safe. When traveling you will need to have a dog carrier that can keep them warm but also keep them from moving throughout the car. Dog carriers can prevent any unwanted accidents that can ruin your vacation and holiday time. Since these carriers are made to give your dog the ultimate protection it will give you peace of mind when traveling with your favorite furry companion. 
Our new 
dog collars
 and harnesses for the holiday season is a great gift that can be under $10. These are great accessories for that extra special pup in your life. With a Christmas dog collars and holiday season dog leashes let your dog share in the holiday spirit with our great selection of dog gifts this holiday season.