The 5 Best Dog Winter Coats For 2019/2020
The 5 Best Dog Winter Coats For 2019/2020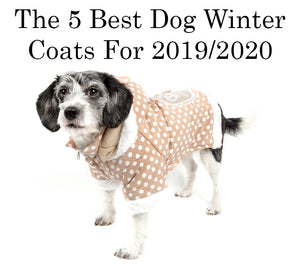 Now that we are entering the fall season your dog might need a winter coat. As it starts to get colder outside older dogs, short hair breeds, and small breeds are susceptible to cold weather. These jackets can keep your dog warm and some can keep them protected from the rain.
We have taken the time to carefully review each dog jacket we offer to figure out the best ones that work for you. We look at our selection of waterproof coats, raincoats, and dog parkas to see which offered the best protection and style since both are important.
Before we get into choosing a jacket you need to know if your dog needs one.
Does My Dog Need a Jacket?
While all dogs can benefit from wearing a dog jacket there are a few breeds that don't necessarily need one. The St. Bernard, Alaskan Malamute, and Siberian Husky are all breeds that are well equipped to handle the snow and cold weather.
This doesn't mean that they aren't susceptible to frostbite and hypothermia. If you're going to be outside with your dog during harsh weather a jacket might be required. Smaller dogs like the French Bulldog and Yorkshire Terrier should have a jacket since their bellies can touch the snow.
Now that we know why you need a jacket here are our quick picks for the best dog winter coats.
Best Winter Dog Coat
The Dog Helios Weather King Ultimate Dog Jacket is the clear winner for its size options from extra small to extra-large. Since the materials are breathable you can use this jacket as a raincoat. While it is slightly more expensive than other winter coats it covers a wide majority weather situations rather than just one.
Best Small Dog Coat
The Pet Life Classic Metallic Dog Parka is the best jacket we offer for small dogs. It has 6 different color options to fit your style while offering supreme coverage for your dog. This jacket is meant to keep your dog warm during the winter, but it can be used during the fall months as well.
Curious how they will fit your dog take a look at our video.
Best Raincoat
The Dog Helios Torrential Shield Raincoat is one of the best options on the market. It has multiple sizing options for most dogs and its lightweight that it won't overheat dogs with a lot of fur. Plus its adjustable for a snug fit to prevent your dog getting wet.
Best Cheap Dog Coat
The Pet Life Black Boxer Dog Jacket is simple easy to put on and cheap. While it doesn't have all the frills it gets the job done and will keep your pup warm in the winter. The classic plaid design goes with almost anything and a jacket that's under $25 is a good deal.
Best Dog Hoodie
While we don't usually count dog hoodies as a jacket it is a good alternative. The Pet Life Bow-Couture Dog Sweater walks the fine line of being a dog coat and a hoodie. This hoodie is for the pampered pup and will keep your dog warm on those windy days.
If you are looking for a coat for large dogs we have an article here best large dog coats.
Continue reading for more information on features, FAQs, and jacket options.
How To Measure a Dog For a Jacket?
This is one of the most frequently asked questions when it comes to dog jackets. Manufacturers often display the measurements on their products, but the sizes can vary from each individual manufacturer.
 There are three measurements you will need to take to find the perfect fit for your dog
Measure from the base of neck to base of tail. (We refer to this as back measurement)
Measure around your dog's neck in front of their legs (neck measurement)
Measure the rib cage just behind your dog's front legs (chest measurement)
 Write down the measurements for future use. Also make sure to add an extra half an inch since their weight will fluctuate in the winter.
What Are The Different Types of Dog Jackets?
Fleece: Some jackets are lined with fleece on the inside to increase warmth and it is considered a breathable material in comparison to wool and cotton. The best part about fleece is that it wicks away moisture better than traditional wool or cotton while keeping your dog warm.
Reversible: These are great when you are trying to change the color of the jacket. Another plus with reversible jackets is that it gives the other side of the material a chance to breath and air out any dog odor that might be trapped.  
Waterproof: These make for the best raincoats and they are also great for the snow. Since these are waterproof cleaning is easier than others that aren't waterproof.
Puffer Jacket: These jackets can sometimes be restricting especially on dogs with a lot of fur. These are great for short hair and small dogs that needs a little extra material to keep them warm.
Harness Hole: Not all jackets come with a harness hole which makes you place their harness outside their jacket. If you have a harness look for a jacket that has a harness hole where you are able place a jacket over their harness rather than the other way around.
Insulated: Most dog jackets are insulated except for raincoats (for the most part). These types of jackets come with some sort of insulating material wool, cotton, or other fabrics.  
Reflective: These are important especially when you are walking your dog at night. Cars will have trouble seeing your dog and can potentially run them over. Reflective dog jackets take care of that making them noticeable to oncoming traffic.
Fur Jacket: These are just meant to keep your dog looking good while keeping them warm. While they offer little to no protection from the rain these are great for people who live the city life.
What Are The Dangers of Not Having a Dog Coat?
Dog coats are known to increase the time you can be outside with your dog. However, hypothermia is dangerous and even with a dog jacket your dog can be susceptible to danger.
Hypothermia Dangers
Hypothermia is dangerous for any pet, so we included some early signs that you need to bring your dog inside asap. While dog jackets can help keep your dog outside for longer periods of time you shouldn't ignore these signs if they do happen. If you noticed that your dog has any of these problems are some immediate care steps.
Sign of Early Hypothermia: According to the American Kennel Club there are a few signs you need to look out for when it comes to Hypothermia in dogs.
Shivering
Cold ears and feet
Rapid breathing
Increased urination
Hair standing on ends
Warm Blankets with a clothes dryer or hair dryer
Wrap your dog in the warm blankets
Put them on a heating pad turned on low.
Monitor their temperature
If their temperature is under 98°F seek immediate veterinarian help
Once their temperature is over 100°F remove the blankets and heating pad (avoid overheating your dog)
Check every 15-30 minutes until they are behaving normally
If your dog is acting strange in any way, we highly advise you contact your vet. While the internet is a great resource for information your vet will understand the situation better than any article. 
How Cold Is Too Cold For My Dog?
This is largely dependent on breed and your vet can advise you on how long your dog should be out during the winter. Older dogs can be more sensitive to the cold so this should be considered as well.
Once is starts hitting -6°C which is 20°F this is dangerous weather and caution is advised when taking your dog out in this weather. -12°C which is 10°F is potentially life-threatening cold conditions which you should avoid all prolonged outdoor activities. If it is too cold for you it generally is too cold for your dog.