Best Dog Treats And Chews For Your Dog's Dental Health: Know Everything!
Best Dog Treats And Chews For Your Dog's Dental Health: Know Everything!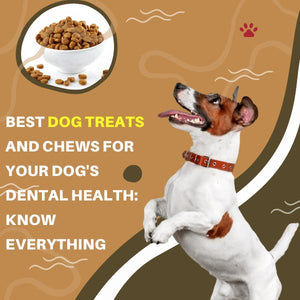 Your dog's dental health is crucial. Taking your pet to the doctor for a proper dental treatment once a year and brushing their gums at least twice a week at home is vital. During cleanings and brushings, however, the measures you take might be just as crucial in keeping your pet's mouth hygienic. Dental treats are a terrific (and entertaining) way to ensure dental hygiene for your pet.
Do the best dog dental sticks help clean teeth without any fuss? How do these treats work?
Dog dental nibbles are treats for your dog to help prevent plaque and tartar accumulation on their teeth. They function like chewing pulp to aid in preventing tooth disease.
There are numerous dental treats and snacks on the market, but only some are truly worthy. You can even find vegan dog dental chews if your fur baby is on a diet restriction. Since each dog has specific requirements, choosing a dental treat can be difficult. Here are the finest recommendations of the best dog dental sticks for your furry friend:
Greenies Dental Chews:
According to studies, over 80% of dogs will have some dental illness, mainly gum disease, by the age of two or three. Plaque is a sticky material formed when food particles and saliva combine.
It accumulates on the teeth and is impenetrable to the human eye, making it difficult for dog owners to detect. If left unchecked for an extended period, plaque hardens into tartar, which a veterinarian can only eliminate.
Greenies for dogs come in various sizes, ranging from 3 oz to 54 oz, and are recommended for dogs weighing from 25 to 50 pounds.
The dental dog chews have a bone-like form on one end and a toothbrush-like shape. They feature a unique texture that attacks plaque and tartar down to the gums while refreshing their breath. The chews are made from natural, easily digestible components and are rich in many nutrients.
Merrick Fresh Kisses

:
Merrick is a well-known, respectable brand that is somewhat more expensive than other alternatives. Merrick Fresh Kisses are part of a line of dog coaching treats and meals that have received excellent reviews.
The double brush design on these dental chews is distinctive. A brush is present on either end of the goodie, pointing in opposite directions. This implies that the bristles rotate in a twisting manner as your dog chews, effectively cleaning both the upper and bottom sets of teeth.
No matter which flavor you pick, Merrick Fresh Kisses are crafted with all-natural components that are healthful, flavorful, and filled with benefits for your dog's mouth and general health.
Furthermore, they are one of the few treats that are gluten- and potato-free, making them ideal for dogs with food sensitivity.
Himalayan Dog Chew:
Everything about these snacks would appeal to you. They are free of preservatives or chemicals and are made with healthy ingredients. These treats are produced ethically and adhere to the same fair-trade rules that you require from your food.
They last longer than other chews. Ideally, they will last hours, if not days, if you choose the correct size reward for your dog (depending on the aggression of chewing).
Although big dogs can devour these chews in a matter of hours, a medium-sized dog would consume the most considerable size of this snack in days. You can even put leftovers to good use by microwaving tiny pieces of this chew to make another nice treat for the pets. Overall, it'll be a terrific purchase for your pets.
Emerald Pet

Twizzies

:
Twizzies are another chewing snacks that make dogs go crazy. Even though these dental dog chews are entirely digestible, you should continually monitor your dogs while giving them these snacks.
Ensure they don't bite off large portions, and if they get very eager, divert them and put the food away until the following day or two.
Twizzies are available in three sizes: 6 inches, 9 inches, and 12 inches. Give the Emerald Pet treats sparingly and not too frequently if you want to keep them exceptional for your pets.
Crumps'

Natura

ls Plaq

ue Bust

er:
Plaque Busters Dental Chews from Crumps' Naturals maintain healthy teeth and gums while also giving your furries long-lasting, delicious chewing enjoyment. These tasty chew sticks include just four all-natural ingredients that work together to keep your dog's teeth clean and gums healthy.
Simple, natural components come together to provide a robust tooth-scrubbing solution that your dog will enjoy. They're also ideal for dogs on restricted-ingredient diets since they're free of additives, pesticides, and artificial colors. Add Crumps' Naturals Plaque Busters Oral Chews to your dog's dental care routine for plaque reduction.
How To Keep Your Dog's

Teeth Healt

hy?
Dogs' oral hygiene is as vital as human oral healthcare. Poor dental hygiene may cause major health problems, including damage to your pet's kidneys, liver, and cardiovascular system.
Exercising excellent oral treatment at home will provide more benefits for your furry friend; your dog will live a satisfied, wholesome, and longer life. Cleaning your canine companion's teeth is surprisingly easy even on a strict timeline.
Even the busiest dog parents may easily include these techniques into their weekly routines, ensuring that your four-legged friend's pearly whites shine for years to come. There are some methods to guarantee that your dog's dental hygiene is impeccable. Here are two things you must check for in your pet regularly:
Examine your dog's breath
Take a whiff of your dog's breath. Your dog's breath will never smell peppermint fresh, and that's just natural. Suppose your dog's breath is particularly nasty, and they seem to be having a lack of appetite, nausea, or excessive drinking/urinating. In that case, it's time to take them to the vet to be evaluated for infections.
Examine Teeth and Gums:
Do a periodic check of your dog's gums and teeth while brushing the teeth, or even once per week. Ensure there are no symptoms of swelling, bleeding, or discoloration, and your puppy's gums should be pinkish, not white, red, or brownish.
In Conclusion
The finest dental treats for dogs can help maintain your dog's teeth and oral hygiene, as well as freshening their breath. The products given above should assist you in your quest, but you should always contact your veterinarian before introducing anything to your dog's meals!