Best Dog Accessories To Make Your Furry Friend Look Stylish
Best Dog Accessories To Make Your Furry Friend Look Stylish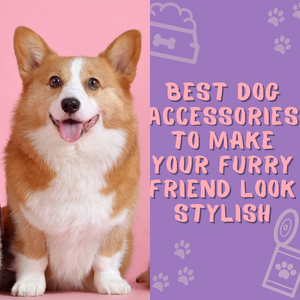 Do you enjoy treating your furry pal to different delights? Then it's your lucky day because today, you'll learn about the best collection of dog accessories that will add some extra luxury to a pet's life.
Even though many cat lovers would disagree, they are also the most loyal pets you can get. Even so, your furry companion has a right to look trendy and enjoy the best accessories money can buy. After all, pampering your pets with affection and luxury is a thing that comes naturally to many dog parents. However, finding top-quality dog clothes and accessories that do not break the bank can be challenging.
That's why this list comprises the best dog accessories that every dog needs to be the happiest pet on the block.
Let's get started.
PetLife Mud-Trax Shoes
The Pet Life ® 'Mud-Trax' Ankle Supporting and Performance Dog Shoes is an all-year-round accessory that you can incorporate into your dog's style. These shoes are designed with breathability and flexibility in mind. They are made with polyester and cotton mix making them extremely lightweight. Each pair is engineered to enable a full range of motion when worn, meaning your dog should feel minimal or no restrictions when moving around. They are the kind of shoes you can rock in summer since they are breathable, and they'll also warm up the feet and ankles during winter, get them today in a variety of sizes and colors.
TouchDog

Designer Dog Bandana
The Touchdog ®'Head-Popper' Fashion Designer Printed Velcro dog bandanas are made with Touch-Grade Nylon with stitches reinforced to increase durability. This bandana is crafted to create a fashion statement with its playful and detailed multi-colored design. As such, your dog may not only rock it around the neck, but you can fit it on the head too. Thanks to the accentuated stitching and velcro enclosures positioned at the rear for easy on and off access, you don't have to worry about spending valuable time adjusting it on your pet's head each time. But even better, it's machine washable, and you can buy it in a variety of colors and sizes.
PetLife

UV Protectant Dog Hat
With a trendy spotted bow-string that encircles the entire hat to tie it gracefully, these dog hats have 360-degree brim make-up. It also comes with an adjustable drawstring under the neckline that changes and comfortably secures the hat on your dog's head. Also, to improve comfortability, the dog sun protection cap has ear openings on both sides. It protects your fur baby from UV rays and, at the same time, makes it look stylish. It shields the delicate eyes and head from scorching and direct sun rays. This accessory is machine washable, water-resistant, and comes in multiple colors and sizes.
Dog Helios Premium Grip Dog Boots
Made from two breathable nylon materials that are also mixed, brushed, flexible, durable, water-resistant, and reflective stitching embedded in the toe region, the Dog Helios' Traverse' Premium Grip High-Ankle Outdoor Dog Boots are just perfect. It also has rubberized micro-grips under the sole to provide premium traction in the snow or slippery surfaces that will also serve just as well when trekking while protecting the paws from scorching asphalt. What's more, these boots are ideal for dogs that require high-ankle support, older dogs, and dogs recovering from surgery. Plus, they are as durable as any dog boots can get, and you can buy in more than one color or size.
Touchdog

Heavy Knitted Dog Scarf
The Touchdog Heavy Knitted Designer Fashion Winter Dog Scarf provides several layers around your dog's neck that comfortably warms the neck so well that you don't have to worry about your dog catching a cold. This way, your dog is left feeling toasty and pleasant during the cold days and nights of winter. Plus, this designer dog scarf is super-trendy, stylish, ultra-soft, and thickly knitted for maximum convenience and warmth. Like other dog accessories on this list, it's also made in various colors.
Dog Helios 3-IN-1 Convertible Backpack
This Dog Helios accessory, like the name implies, is a convertible backpack, leash, and harness, all in one. It looks super cool and it is also one-of-a-kind having a harness with a chest compression that fully ejects from out of the backpack, allowing you to remove it whenever necessary. Also, the entire product and its zippers are waterproof, thanks to a unique DUPONT outer shell. In addition, its outline is built with a reflective-tubed lining and stitching to make for easy sightings that improve outdoor safety for your pet, especially during late-night strolls.Dog Helios Reflective Life Jacket Vest
The Dog Helios' Tidal Guard' Multi-Point Strategically-Stitched Reflective Pet Dog Life Jacket Vest is body apparel designed to provide optimal flotation protection while allowing for the best mobility and safety. The 600D Oxford Nylon Exo-Shell is tear-resistant, durable, and reflectively stitched for improved visibility and security at night. In addition, the life vest has a fused body complete with Triple Dual-side Extended Buoyancy Points for an extended range of motion and added flotation protection. Once your dog has this vest, swimming exercises are less likely to freeze or strain the muscles.
PetLife

Travel Fashion Backpack
Let's not forget your furry friends need a place to keep some treats and essentials while you're out and about. That's where the Pet Life Everest Backpack excels. It has straps made with actual seat belt material and a DUPONT Heavy Duty Buckle to support dogs of different weights and sizes. The backpack also securely adjusts proportionally at the belly. It has a water-resistant lining along with a zipper to keep liquids out. The outer layer comprises high-quality, breathable mesh fabric that softly embraces your pet's body. In addition, it has reflective stripes, which include some of the crucial safety features designed for this backpack.
Conclusion
Hopefully, this review of the top eight best dog accessories pointed you in the right direction for your furry pal's next shopping spree. Whether you want to dress up your pet as a pirate a princess, you'll find these accessories can get you started. But what you need to remember is that price isn't always a hallmark of quality. Therefore, not everything available on the market will last long or be worth the money. Thus, you're better off trusting a reputable brand for your pet accessories.