7 Best Dog Coats & Sweaters for Pit Bulls
7 Best Dog Coats & Sweaters for Pit Bulls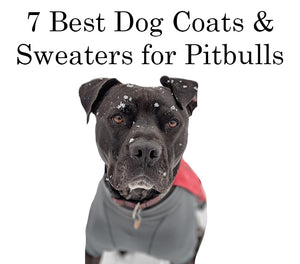 Pit bulls aren't suited for the cold weather which is why they benefit from dog sweaters and jackets for dogs. There are 3 main reasons why winter clothes for Pitbull's are important.
They have short fur coats
They lack an undercoat
They have little to no body fat
For dog owners who live in colder climates should think twice about owning a Pit bull. Now that the seasons are starting to change you should start thinking about a dog sweater for the fall and a winter jacket for your Pit bull.
There are some difficulties with finding winter clothes for Pitbull's since they have stocky muscular builds.The chest on a Pit bull is larger than the average sized dog in that weight class. Since they are also an active breed, they need a durable outdoor sweater and jacket for their playful nature.
Why Does My Dog Need A Jacket or A sweater?
Specifically, Pit bulls are on the top of the list of dogs who need a jacket & sweater. These dogs weren't bred for cold climates and are more prone to frostbite and hypothermia because of that.
While we view jackets and dog sweaters as a cute and fashionable accessory they are needed for specific breeds like the Pit bulls, Chihuahuas, & Toy Poodles.
Dog with short legs like Basset Hounds can also benefit from coats since their bellies can come in contact with snow according to Dr. Kelly Ballantyne a board-certified veterinary behaviorist and leader of Insight Animal Behavior Services.
If you are interested in a few breeds that don't require a jacket the Keeshond, Newfoundland, Alaskan Malamute, and Saint Bernard have thick coats which are meant for the cold weather.
While these dogs love the cold, they shouldn't be left outside during blizzards or during harsh weather. Here are some winter weather tips for pets when taking them outside.
The cold isn't the only reason a jacket should be used. When it is raining having a raincoat for your Pit bull will keep them dry which saves you the effort of cleaning up after they walk into the house.
Now that you figured out how important it is for your Pit bull to have a dog coat and sweater the next step taking their measurements.
How To Measure Your Pit bull For A Jacket & Sweater?
Since all different manufacturers have different sizing charts the most efficient way to get the correct sizing is to measure your dog. This will prevent any accidents in ordering the wrong sized jacket or sweater for your pup.
The most important measurement for your Pit bull is the chest area. Since their chests are larger than most other breeds you need to measure this area correctly. The largest section of your Pit bulls chest should be right behind their front legs at the base of their shoulder blades. Use a measuring tape and wrap it comfortably around your dog's chest.
The neck area is the second most important measurement Pit bulls are known to have large necks which makes it hard to find the perfect fit your dog. Start at the base of their neck and while using the measuring tape wrap around the neck in front of their front legs.  
Lastly you will need to get their back measurement which is the length of the base of the neck to the base of the tail. Once that is done write down all the measurements for future use. Since your dog's weight may fluctuate between seasons make sure to add and extra half an inch for the neck and chest measurements if ordering during the off season.
If you are still unsure how to measure your dog here is a quick guide showing how to take measurements.
Now it's time for the fun part which is choosing the right style!
What Style Dog Jackets & Sweaters Are Out There?
There are a bunch of different styles to choose from and we have over 25 different style jackets for large dogs so picking the right one is up to your personal preference.
While we do have a nice selection of dog jackets for large dogs the full body dog coats and the ones that are labeled with Blackshark technology are the best ones available for Pit bulls.
Since these are more rugged, they will be a perfect match for the adventurous Pit bull. We are also missing one last factor for the perfect Pit bull coat, the price.
What's Your Budget?
This while it isn't the most important factor for your dog, it's the most important for you. Our jackets range from $25 - $75 depending on the materials used.
If we are outside your budget that's ok, we have deals on dog apparel and dog jackets right now that can save you 20%.
Now that you come this far let's look at our best dog jackets for your Pit bull.
7 Best Coats & Sweater For Pit bulls
The Touchdog Tartan Plaided Dog Jacket & Mat will fit your Pit bull since the average size chest of one is between 27-32 inches.
It features a wool treated exo-shell and Velcro straps for the belly and chest are for quick removal and adjustments. This being a more opened style jacket you don't have worry too much about the exact dimensions which makes this a more forgiving jacket.
What makes this jacket special is that it comes with a dog mat that matches the coat. This will keep your pit warm during the fall.
Perfect For My Pit
This jacket has great style and its perfect for the upcoming fall season. It is a unique jacket that comes with a matching dog mat as well. It's easy to put on and take off making it easier to put on your Pit bull  
Not For My Pit
If want a jacket for the winter this isn't for you. This jacket is mainly for the fall season and lacks waterproofing which is bad for the rain and snow. If you also don't want a dog mat with your dog coat there are cheaper alternatives on our list.
When it comes to performance the Dog Helios Hurricane Dog Jacket is the best choice. It is a full body jacket made to withstand hurricane like conditions.
The individual Velcro straps for each leg are completely adjustable with drawstrings for the waist area for the perfect fit. It also comes with a dual zippered leash slit at the neck which is waterproof to keep your Pit bulls neck dry.
This jacket is also light weight and has reflective tubing and taping for increased visibility at night.
Perfect For My Pit
If you are sporty and outdoorsy this jacket is for you. This jacket can keep up in the rain and slow with the addition of it being windproof. This jacket is suited for the dog with an active lifestyle that isn't afraid to get down and dirty.
Not For My Pit
This jacket is meant to be a well-rounded jacket offering protection from all the elements. While this jacket can protect your dog in most scenarios, it isn't a raincoat. If you are looking for a raincoat rather than something to keep your dog warm the coat on our list is for you.
Finding a raincoat for your Pit bull is something that should offer the most protection from the rain and the Dog Helios Torrential Shield Raincoat does just that.
This jacket is 100% waterproof and with its ultra-lightweight materials conform to the body without your dog feeling restricted.
This jacket also comes with elastic banding around the jacket for a more customized fit which is perfect for a Pit bull.
The best part about this jacket is that it comes with a hood. That even dogs that don't like getting wet can enjoy the rain.  
Perfect For My Pit
If you were looking for a raincoat for your Pit bull, you can stop looking. This jacket is perfect for the dog that doesn't want to get wet in the rain. It also features reflective taping which makes your dog visible even during torrential downpours.  
Not For My Pit
This jacket is mean to keep the rain out its not meant to keep your dog warm. This is a lightweight raincoat that is meant to do one thing keep your dog dry. If you are looking for a jacket for the winter or a snow jacket for your Pit bull the next one on our list is for you.
The Dog Helios Thunder Crackle Dog Jacket is the best choice for keeping your Pit bull warm. With its plush design and it being a fully body dog jacket it will keep your pit warm all winter is easy.
This jacket was made for snow protection and heat retention. It has adjustable drawstrings for the legs to keep out the snow and wind. The Blackshark technology also removes excess heat preventing your dog from overheating.
Most of our jackets in this size category aren't plush protected since larger dogs don't usually need this feature. However, we kept the Pit bull in mind when designing this jacket to keep them warm all winter long.
Perfect For My Pit
Older dogs and ones that don't have an undercoat can benefit the most from this jacket. Don't let the cold stop your dog from playing in the snow. If you want to keep your Pit bull happy and warm during the winter this jacket it for them.
Not For My Pit
This is a full body dog jacket which will have some slight movement restrictions. This is understandable since it is a plush jacket. If you are planning to run with your dog in the snow you are looking for a jacket that is less restricting. Our next jacket is perfect for them if running during the winter is needed.
The Dog Helios Octane Dog Jacket is perfect for keeping your dog's body temperature stable while giving them the freedom to run with no restrictions.
It features the same Blackshark technology that will keep you dog warm during the winter as our premium jackets at a reduced cost.
Since we used less material for this dog jacket it costs less than the others using the same materials. It is windproof, waterproof coated, and tear resistant even for the playful Pit bull.
If your dog wants to play in the snow this is a great jacket for them. This jacket is meant to keep your dog's core body temperature steady while not restricting their movements.  
Perfect For My Pit
Keeping the mobility while staying warm was the reason we made this jacket. While most don't take their dogs to a park on snow days you can without worry. This jacket can keep up with hyperactive dogs and its durability is meant to last.
Not For My Pit
If you're looking for something more fashionable a dog sweater might be the better option. While dog jackets are great for the rain and snow, dog sweaters are more useful during chilly days and nights.
The Touchdog Hampton Beach Sweater is our best dog hoodie available. Its trendy comes in a variety of colors and is sand blast treated for an even softer feel.
Protection from the wind is needed for a dog sweater so we elongated the sleeves and featured a ribbed turtleneck inside for additional wind protection.
This sweater also features a bridge pocket and a leash slit by the neck. The best part is that this sweater is machine washable making it easier to clean.
This jacket is meant to keep your dog's warm and fashionable with quality materials.
Perfect For My Pit
This sweater is meant for you if fashion and warmth are on your mind. If you are looking for a sweater to keep your dog warm, we can't think of a better one.
Not For My Pit
While this sweater does feature a hood, it shouldn't be use in the rain and snow otherwise there isn't anything negatives about this sweater.
The Touchdog Quilt Hooded Sweater is the perfect snuggle companion for your Pit bull. Since it is a full body sweater it also acts as a pair of dog pajamas.
This is one of our softest dog sweaters being made of a quilted cotton and polyester blend. For the extra cuteness factor, we added a little pompom on the hood.
This is the best sweater for indoor and outdoor use. You won't want to take their sweater off but when you do its machine washable.
Perfect For My Pit
This sweater is great for its style and to keep your Pit bull cozy during the fall and winter. There is an added leash slit so you won't have to take off their sweater to go for a walk.
Not For My Pit
Like all our other sweaters these aren't to be used in the rain. Also, while you can walk outside with this sweater it isn't as durable for outside use as the one previously mentioned one.