Best Camping Gear For Dogs
Best Camping Gear For Dogs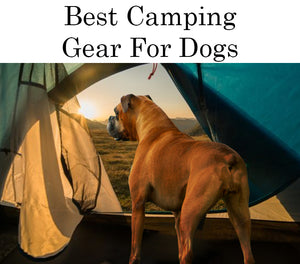 During the spring and Summer months is the best time for camping. Anytime we would like to go on a weekend we have to think about our dogs. Camping is a great weekend getaway where you can bring your canine companion along for the journey. Before you let your dog jump in the car there are a few things you should consider. This guide will provide you with the knowledge of the best dog gear for camping.
Will Your Dog Enjoy Camping?
This is something you need to think about before your dog comes with you on a camping trip. Throwing your dog into your car for a long camping trip can cause some issues here are somethings to think about before going camping with your dog.
Does your dog bark at night?
Does your dog have medical problems?
Does your dog get nervous around new people?
Does your dog wander?
These are only a few of the questions you should be asking. If you answered yes to any of these questions you might want to rethink if your dog would enjoy a camping trip. When you go camping keeping your dogs barking to a minimum is required. You aren't the only ones trying to get away for the weekend so respecting your fellow campers is a must. If your dog gets too excited over wildlife and likes to wander finding a different activity for the weekend would be a better option.
Best Dog Camping Gear
Camping Dog Tent
While you can sleep with your dog in your tent having a camping tent for dogs can give you and your dog the privacy you need. Let's face it your dog will get dirty while camping and your dog tracking mud into your tent isn't a good idea. Our small light weight and easily portable camping dog tent is waterproof, washable, and sturdy. Our travel camping bed also comes with a front mesh window entrance making it well ventilated and easily covered.
Camping Dog Bed
Choosing the right dog bed for camping can be a difficult task. Your dog will get dirty during the trip and having a camping bed for your dog that is washable and durable is a must. The quality of the camping bed should be top notch while also being easily packed and comfortable. For the summer having a light weight and colorful camping bed for your dog should be fashionable and functional. We also offer an inflatable camping dog bed this can help if your dog suffers from arthritis or similar issues that can cause pain when sleeping.
Dog Shoes
We offer a variety of dog shoes for every situation which we have listed in our blog. For camping and hiking with your dog we recommend our high ankle support shoes. These dog shoes are meant to withstand any terrain and the high ankle support shoes can offer protection for dogs with weak ankles. The design of these shoes is simple and machine washable perfect for a dirty dog. 
Dog Life Vest
We have two fabulous life vests for dogs. If you are going camping near a lake having a life jacket for your dog is essential. While some dog breeds are natural swimmers other dogs like snubbed nosed can have difficulty swimming. Even good swimmers can grow tired and have difficulty treading water. If your dog accompanies you on a boat having a flotation device suited for your dog can keep your dog safe. Our life jackets come with bright reflective colors which makes it easier to spot them in the water.
Dog Raincoat
While you might not be expecting it to rain during your camping trip being prepared is always a good thing. Since most short hair dogs lack an undercoat which would protect them from the cold rain our dog raincoats provides extra protection for them. Large dogs can benefit from wearing a rain jacket when its windy and cold outside. The best raincoats for dog are waterproof, breathable, and keeps your pet warm. We also offer full bodied dog jackets for extra protection from the rain.
Dog Backpack
When it comes to the best dog backpack for camping you are looking for multi-functional one. Our dog backpack comes with a leash, harness, and a detachable backpack. When you are going for a short stroll while camping having a backpack on would be useless which is why we made it detachable. Your dog will be able to hold all the essentials a dog bowl, waste bags, water, and food within the pouch even on long hikes. Another plus about having a doggie backpack is that you don't have to carry all of your dogs necessities he can do it on his own.
Dog Hats
The best dog hats for camping are ones that offer a visor to keep the sun out of your dog's eyes. Since these dog caps have a visor the shade provides them with UV protection. Dogs with small noses like a French bulldog have the added benefit that our dog hat can prevent their nose from being burned. With a wide variety of colors and styles finding your dog on the trail would be easy. Stylish dog hats have both form and function protecting your dog while looking fashionable.
Dog Cooling Collar
During your camping trip usually, there isn't air conditioning so how can you cool down your pup. Place our dog cooling wrap in your cooler after which put the cooling collar on your dogs neck. Our dog cooling collars can fit around some small dogs waists if need be. Our cooling collar is a one size fits all and the fleece material will prevent freezer burn on your dogs neck. This is a perfect accessory when your dog needs to cool down.
Dog Car Safety
When preparing for a camping trip most people forget about the drive to the camping grounds. Making sure your dog is safe during the drive to the camping ground are top priority. We have a wide variety of dog car safety products the first one is a harness that can clip to any car seat which is also extendable to giving your dog enough room to move around the backseat. The second product is a carrier and a car seat when your dog moves around too much this is a good option to help keep them restrained. The third product prevents your dog from jumping into the front seat. A dog jumping from the back seat to the front is a danger which is why we recommend the dog safety barrier.
Dog Leash & Harness
Keeping your pup on a dog leash is required when taking your dog on a hike. When you are camping your dog isn't used to the surroundings and can easily be spooked. If that happens while your dog isn't on a leash you can lose your dog in the wilderness. Since there will be other people at the camping grounds some of them not as fond of dogs as you are might be afraid of dogs. Keeping your dog on a leash is required by most campsites anyway so bring one.
Travel Dog Bowls
Reusable travel dog bowls are one of the best dog camping accessories. Before I had one, I would often cup my hands and try to give my dog water or use a plastic cup. If you are a camper or hiker a collapsible pet bowl saves space, is convenient, and has a hook that can connect to a bag or belt loop. Our dog travel bowls can hold up to 50 Fl oz of water which equals 6 cups of water. Don't cup your hands anymore or use plastic cups use a travel dog bowl.
Dog Waste Bags
You might be in mother nature when you are camping but that doesn't mean you shouldn't pick up after your dog. Since there are others walking along the trails leaving your dogs waste on while others are hiking is inconsiderate. Going hiking and camping is all about traveling light and bringing along shopping bags or napkins to clean up after your dog takes up too much space. Our dog waste bags are biodegradable and small form factor having 15 bags per roll.