Are Dog Clothes trendier than they are functional?
Are Dog Clothes trendier than they are functional?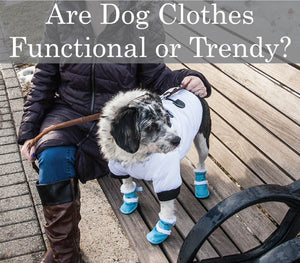 Are Dog Clothes trendier than they are functional?
This is a common question that is often debated among dog owners feeling pressured to buy dog clothes in this day and age where many dogs are known to suit up in something spectacular. Many items in your dogs wardrobe might be designed to look great in display of appreciation that's also fun and trendy and there are many types of clothes that serve a meaningful purpose meant to help protect their bodies and provide a fantastic function.
For instance there are Dresses, T-Shirts and other hotter weather climate articles of clothing that look great and don't provide much purpose outside of sun protection and there are dog coats and jackets that are designed to keep their bodies warm especially those with less hair and natural protection from the outdoor elements. Some owners just love having an element of fashion in what they're wearing but let's go through the different types of articles of clothing so we can properly assess what's functional and what's designed to look more trendy.
Dog Coats, Raincoats and Sweaters
As mentioned in the above paragraph, coats for dogs are designed to keep their bodies warm since hypothermia among other cold weather illnesses are known to be prevalent among dogs whom are likely to further discomfort in temperatures below freezing like humans. Jackets are available in multiple material options depending on the type of coverage you're looking for such as those with higher grades of insulation and those that are lighter in weight designed for the Fall and Spring seasons.
Dog Raincoats are another type of jacket that provide protection from all seasons depending on their lining and overall weight. Raincoats for dogs feature waterproof coating that might also be used on many dog coats, they're normally specially treated and some double as a windbreaker for further added wind protection. It's important to make sure that such feature proper bodily and head coverage to prevent water from touching their bodies. When rain seeps through their layer of fur and onto their skin it creates a higher level of cold-weathered discomfort when worn in the Fall or Winter therefore they're great.
Most raincoats and jackets also feature reflective tubing, embedded stitching or other forms of reflective coating designed to provide night protection.
Now let's talk about Dog Sweaters. Sweaters look great on every dog many feature intricate weaves and most feature turtle necks. These are commonly worn in the Fall season up until around the beginning of Spring. Sweaters are made from Polyester, Acrylic and Cotton among other fibers designed to keep core temperatures down, the same can be applied to dog hoodies. They're both comfortable and warm but in most cases might not be ideal for below freezing temperatures depending on the breed and the amount of their natural hair.
Verdict: These are more Functional than Trendy
Dog Dresses, Costumes, T-Shirts
Sometimes let's face it we just fall head over heels when our dog wears something that's both adorable and affectionate. Sometimes we express ourselves through our pets and sometimes we love certain messaging listed on their backs that make us smile. Dog Costumes are known to spread lot's of joy to our communities and families and put a smile to our faces especially during the festive months of Christmas and Halloween. There are also countless fun and printed T-shirts that while provide UV protection especially during the summer months just look fantastic on our dogs. Dog Dresses are also super cute when working or cooking about the kitchen, they're a fantastic getup when walking your dog down the isle or at weddings and also bring joy to people.
Verdict: These are more Trendy than functional
Active Wear:
Active wear is also known as Fitness Wear or Dog Yoga wear is a newly developed category created by Pet Life that is designed to protect their bodies while creating complete range of motion while providing UV protection with Quick Drying technology with added protection from both the heat and the cold.
Doggy yoga is not just a category but is also a lifestyle program provided by numerous yoga studios across the country who practice yoga with their dogs as more than just an art form but an increasing popular way to get themselves and their fido pals into shape.
Dog Fitness wear is comprised of specially sourced fabrics that are engineered to be elastic across their bodies for total range of motion that almost feels like a secondary skin. Many types of styles offer different types of protection. For instance our Full Body yoga tracksuits are designed to keep their bodies warmer during the Fall and Winter months with added properties that make it breathable and reactive materials that make it cooling during the hot summer months which is also important especially for those with skin issues in search for UV protection.
These are also great as they dry really quickly making it convenient to not have to toss in the dryer all the time and they're also stink-proof and wick-away bodily moisture such as sweat which helps cool the body quicker. Simply douse in cold water to further expedite the cooling nature of the specially designed fabric to quickly cool their bodies as dogs are known to suffer from heat stroke as humans do. They're also reflective and great for further added safety and offer something called strategic ventilation with specially designed breathable points where dogs are known to sweat the most.
This technology and this category is widely made available in the form of Tracksuits, Hoodies, T-Shirts, Tank Tops and Polo's with all types of grades of fabrics designed for various grades of flexibility, coverage and breath ability. 
Verdict: These are more Functional than Trendy