7 Budget-Friendly Dog Collars To Buy In 2021
7 Budget-Friendly Dog Collars To Buy In 2021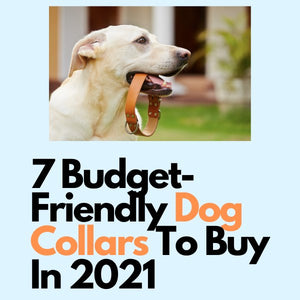 Owning a dog comes with many responsibilities, including ensuring that the dog is comfortable and happy. While having a good home for it and regularly feeding it are some things you could do to ensure that the dog is comfortable, it also needs to exercise. A widespread practice that ensures your pet gets all the exercise it needs would be walking the dog every evening.
However, it is essential to get your pet a suitable collar, leash, or harness to ensure that it is safe as you go for your evening walk or run. But what are some of the best options as far as dog collars and leashes are concerned? This article explores a few collar choices that will work without necessarily forcing you to spend too much money.
The 'Aero Mesh' Dual-Sided Breathable and Adjustable Thick Mesh Dog Collar
Price- $9.99 
When scouting for durable dog leashes, you certainly want something comfortable and long-lasting. However, since you want to keep your dog safe during walks, you also want to be sure that it is comfortable during these walks. The breathable mechanism in this aero mash collar is unique and offers premium-level comfort compared to the standard nylon collars sold in many stores. It is made of micro mesh fabric that allows for maximum breathability and ventilation.
You will also love that it is adjustable, allowing you room for flexibility when moving around. Besides that, the collar comes with a sturdy clip with a great mesh protective layer that prevents your dog's hair from being caught up when reinforcing the leash since pressure builds up. Overall, this collar is ideal for all dogs, large and small alike.
The level of comfort it guarantees will have your dog looking forward to everyday walks. What's more, it is easy to care for since it is water-resistant, can be machine washed, and comes in multiple colors and sizes; hence is easy to pair with a separately sold harness.
Pet Life 'Summer-Cooling' Ice Insertable and Adjustable Cooling Dog Neck Wrap
Price- $12.99
Collars are not created equally, and there is no better way to prove this than with the Summer-cooling neck wrap. You no longer have to leave your dog at home during morning and evening walks in summer when you can easily use this neck wrap to regulate its temperature even on the hottest days.
It comes in adjustable sizes to suit your dog's neck size. The mesh material makes it safe and breathable enough to offer your dog enough comfort. Consider buying one of these specifically for summer walks and runs.
Pet Life 'Neo-Breeze' Insertable and Adjustable Cooling Dog Neck Wrap
Price- $13.99
Summers can be difficult times to walk your dog because of the excess heat. However, your dog can quickly become irritable and even react in absurd ways when it misses its routine walk and exercise. In such cases, finding an amicable solution should be something of top priority. Fortunately, the Neo-breeze neck wrap is exactly what your dog needs. The fact that you can put it in the freezer for a while to get cold enough to help your dog even in the hottest scorching weather is a significant relief.
The exterior is made of soft cloth that protects the dog's neck from the direct ice effect. Since heat majorly escapes through the pet's neck, you can be sure that it will be most comfortable at this time. This is your perfect solution for controlling body temperature during summer.
Pet Life ® 'Aero Mesh' 2-In-1 Breathable and Adjustable Dual-Sided Mesh Dog Leash and Collar
Price- $16.99
This is one of the many dog leashes that comes as a set. It is sold as a collar and leash, with the emphasis being on the dog's comfort. This combo offers maximum ventilation around your dog's neck like the product before it, thanks to the mesh fabric that exerts minimum stress on your dog as it moves around.
You will love that the material is reinforced with better stitching to stand out and last longer. The leash will be your favorite feature, seeing that it comes with a stainless-steel swivel hook that allows easy pull in different directions. Your dog's safety is guaranteed with this type of harness. You will also find it very easy to maintain since it is easy to wash.
Touchdog Tough-Boutique' 2-in-1 Adjustable Fashion Dog Harness and Leash
Price- $26.99
As the name suggests, this is one of the fashionable adjustable harnesses and leashes you may want to have on your dog when trying to make a statement. Besides that, it qualifies as one of the best retractable dog leashes combos because of its aesthetic value and maximum adjustability that enhances the pet's comfort.
This harness has additional nylon straps and accented buckles for better security and durability. In addition, it comes with an embroidered stamp on the top side, making it a perfect fit for your classy dog.
Pet Life ® 'Ever-Craft' Boutique Series Adjustable Designer Leather Dog Harness
Price- $27.54
This harness easily falls under the category of luxurious dog harness and collars. It is a designer harness made of softer microfiber leather material, offering your dog the best comfort ever. The harness also includes a golden alloy leash with a unique ring and buckle that gives it a perfect designer fit.
It resembles a saddle-like design which is quite exquisite for a dog harness. You can never go wrong with the type of leather harness, especially if your goal is to have the dog stand out as you walk or run outdoors.
The Dog Helios ® 'Journey Wander' Chest Compressive Sporty Adjustable Dog Harness and Leash
Price-$29.99
This is a unique chest compressible adjustable sporty harness that your dog will love. It is comfortable and classy with a unique construction that allows the bottom and top to adjust according to the dog's chest size. The durable buckles and pull-out handles make it comfortable for the pet as the pressure is exerted on the sternum, making it easier to walk your dog.
The reflective embroidered leash and titanium swivel hook further enhance the leash's safety. You can rest easy that your dog is well protected whenever it uses this unit. What makes this an even greater outdoor gear for your dog is that it is available in all sizes.
Final Thoughts
Your dog deserves so much care and love. Fortunately, it is the small things we do that make a huge difference. Invest in a suitable collar and notice the difference.