6 Interactive Cat Toys For Smart Kitty
6 Interactive Cat Toys For Smart Kitty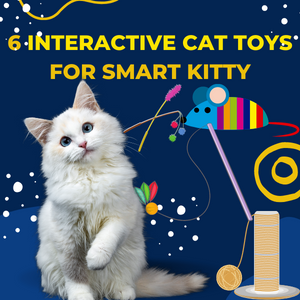 Cats are playful animals. It is hard to stop them from jumping around the place, poking their nose, or peeping into anything that looks play-worthy. Cats, in a nutshell, are a lazy breed but full of fun. While static toys are there in most pet homes, interactive cat toys are trending, getting even the laziest kitten moving for an active lifestyle.
A cat is a born hunter, always looking for wild stalking and catching prey. Indoor life can get to be mundane for the furry kitten. Interactive Cat Toys, especially indoor ones, are mentally and socially enriching for the feline companions. They are valuable in households with just one cat and strengthen the human-animal bond. They are also a great stress-reliever for the indoor-staying cat. Here are some details on this playful concept for cats and the six best interactive cat toys to engage your cat's mind and body.
Primer On Cat Toys
Most cat interactions involve an object. Interactive Cat Toys help indoor cats stay fit and reduce boredom. Tiny objects like puzzle toys, cat tunnels, or cat treats keep your playful cat entertained for hours while satisfying their natural hunting reflexes.
Kitties are fond of the thrill they get from teaser toys or any other item, like feathers or faux fur. There are noise-making interactive toys also for your furry kitten.
Most cats indulge in self-scratching behavior other than furniture. Consider shopping for cat puzzle toys or treat-dispensing toys for a mentally rewarding experience. It will enhance your cat's playtime with a fun-seeking mental workout. When you shop cat toys, think about how they will help focus your kitten's energy into mind-engaging pursuits and help them stay sharp and attentive without getting bored.
Pet Life 'Paw-Pleasant' Hanging Carpet Kitty Scratcher
Cats have an annoying scratching habit. Leave them to their devices, and they will undoubtedly paw-scratch any exciting item in the lounge, kitchen, or living room. The 'Paw Pleasant' cat scratcher has a hanging carpet made of sisal and jute, which you can hang around the door handle or suitable dangling place in your house.
This hanging carpet is large enough to be used as a cat scratching mat. It has a built-in cat teaser rope ball that encourages more stand-up movements when hung on the door for your kitten's exercise activity. It is one of the Best Cat Toys, perfect for maintaining paw health, and travel-friendly. Choose Brown/Yellow or Pink/Grey to help your kitten show its playful moves.
Pet Life '

Purresque

' Cat Scratcher Lounger

With

Catnip
Think of a toy that is easy for cat scratching or lounging and is a home décor item too. The 'Purresque' promotes mild to aggressive play in this designer cat-like interactive toy. The cat-like figure is superior to recycled cardboard and lasts longer than the standard cat scratcher. The enormous size can easily fit in multiple cats. This ultra-premium cat scratcher and lounger have non-toxic glue. It comes with an organic catnip device and is safe for cats to roll in, rub in, or eat. Get your cat in exercise mode and keep its paws healthy by buying this interactive plaything.
PETKIT 'Swipe' Interactive Cat Scratcher

And

Chaser Toy
Interactive Cat Toys get an extra dimension with 'Swipe' scratcher and chaser toys from PETKIT. This modern device targets your kitten's urge to scratch, play and smell simultaneously. The transparent sand-blast chamber has two balls (green and orange) inside, gliding effortlessly around the circular track. The green ball has catnip, whereas the orange ball has inner bells to create a fun and chasing synergistic environment. The middle interior of this cat toy has a rounded cardboard cat scratcher your playful cat can use for napping as well.
Pet Life 'Windmill' Spinning Cat Toy
This cat toy helps to improve your feline friend's cognitive skills. It has a rotating suction cup that grips hard surfaces like floors and spins around at your cat's paw swipe. This rotating cat toy has dual-side containers. One side has two catnip balls, and the other side has a LED lighting ball for a fun and engaging experience. The axle contains ridges for massaging cat gums and cleaning its teeth while removing plaque and tartar. The Windmill toy's suction cup has a pinch to-release flap to ease the removal of hard surfaces. Pick from three colors–yellow, green, and blue.
Pet Life 'Octagon Puzzle' Cat Scratcher Toy

And

House

With

Catnip
Cracking a puzzle is so much fun. It sharpens one's intellect and cognitive ability. Provide your home cat with a similar experience by shopping for an organic cat scratcher with a polygon shape. This collapsible puzzle made with durable recycled cardboard has non-toxic glue. The all-side cardboard is convenient for cat scratching. The Octagon is one of the Best Cat Toys suitable for exercising and healthy paws. It doubles up as a home for catnapping.
Pet Life 'Totty-Chew' Newborn Teething Cat Toy
Cats have teething problems like human infants. You can make your cat's teething phase manageable with 'Totty Chew'. This plush rubber squeaking toy is for newborn kittens, pups, and smaller-sized breeds. The soft cotton surface along the head and bottom makes a squeaky noise when chewed on. The toy's center has a tube-shaped rubberized chew stick with bumps and crevices for cat's gum massage and oral stimulation in the teething stages. Pick blue or pink for your doting cat.
Buying Tips
You will find countless puzzle toys, cat balls, scratchers, teasers, and plush toys for your furballs. Here are some points to keep in mind.
Inspect your toys before buying, as most cat toys have inbuilt components such as needles, beads, twigs, strings, which your cat may take in harming them.

Rotate your cat toys from time to time to keep your feline friend entertained.

Since cats need variety, keep shopping for an average of five toys as your cat gets older.

Check mandatory warnings on cat toys like "not used for children under a certain age' for your kid's safety.
Interactive toys help to sharpen your cat's cognitive abilities. Consider your kitten's age before shopping for a playful item. Since cats are energetic and outdoor-loving, appropriate hygiene tips for collective safety are implemented.