5 Purrfect Cat Beds For Your Kitty
5 Purrfect Cat Beds For Your Kitty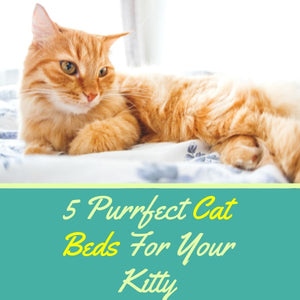 Although it may not appear to be an essential factor in feline care, selecting the ideal bed for your furry baby as a cat parent is vital. Cats naturally like making themselves at home wherever they're comfortable. What better area to do so than in a kitty bed?
Perhaps you already have some cat beds lying around, but they are either too small or too low. Your precious feline deserves so much better. There are many options on the market, making purchasing the right one seems like a task.
We know, and that's why we've made things easier for you by providing Premium Cat Beds. Of course, there are many things you should consider as you buy a kitty bed. The article below has all the information you need to buy the right kip for Figaro.
Manufacturers create cat beds for sale to fit all types of cats. These beds are comfortable, are made from all kinds of materials, and can last for a long depending on the producer.
Types of Cat Beds
There are several different cat beds and loungers, and all of them vary in design and construction. Some feature a particular material, such as velvet or chenille, while others focus on style and size. Your choice depends mainly on your kitty's preference and the space available.
Cotton Cat Bed: It's made from 100% cotton. These beds are usually filled with new materials, like

fiber

-like balls or fur. Some feature a combination of various fabrics to make the bed feel less flat and more comfortable.

Chenille Cat Bed: These

cat beds

are covered in soft chenille fabric. Usually featuring dark

colors

like blue, purple, or black, they complement a bedroom. Most kitties find chenille beds very comfy because of the soft material.

Wool Cat Bed: Naturally insulating, wool is an excellent material for kitty bedding. The thick fabric is perfect for keeping pets warm throughout the colder months. This bed is often waterproof.

Cat Beds

For

Small Spaces: If you live in a small space, these types of

cat beds

are ideal for giving your furry friend the privacy they need without taking up too much room. They work well with more petite kitties who like to curl up into tight spaces.

Gel Cat Bed: Gel beds are the newest form of cat bedding. They are made from gel material, so your pet will stay cool throughout summer and warm during winter. This type of bed is non-porous, so it's easy to clean if need be.
Round Cat Bed: The round type of kitty bed is circular, with no sharp corners to get in the way.

This makes it perfect for small spaces where your cat needs a lot of room to stretch out or curl

up.

Cat Caves: This type of bed is just a cave designed exclusively for your furry friend. Usually made from soft material, these are ideal for cats who love to relax in dark spaces. The downside is that they are designed to be relatively small, so don't expect it to fit two or more cats unless you have a tiny house!
Tower Cat Beds: Tower-style cat beds are made from soft plush material. They have a broad base, but the top part is thin.

These kitty beds are perfect for older cats who need an elevated place to comfortably rest their bodies throughout the hot summer mont

hs.

Kitty Perches: Finally, perches are ideal for cats who

like to rest on high surfaces. These comfy beds are per

fect for giving your furry friend a place they can call

their own. They arrive in all shapes and sizes, too.
Which are the Best Kitty Beds for Your Precious Furry?
Here are some of the cat kips that your feline will love despite how fussy they may be:
Pet Life 'Nestler' High-Grade Plush and Soft-Rounded Pet Bed
This cozy pet bed is perfect for your kitty. It has a plush upper surface for them to relax on, with an x-shaped cushion that secures their body in place. The bottom of the bed is made from non-skid material, so it won't move around when they hop up for a nap or at night. You can get it in different sizes and colors.
Touchdog' Lazy-Bones' Rabbit-Spotted Panoramic Cat Bed With Teaser Toy
If your feline loves to have something to play with when they are napping, they'll love this bed. The teaser toy acts as a feline magnet. It's easy to take off, so you can quickly switch it out for another one if they lose interest in it.
It comprises a Polyester-Cotton Outer shell rimmed with Sherpa edging by the entry and inner-lined with Fleece-Polyester.
Touchcat' Molten Lava' Triangular Fashion Designer Pet Kitty Cat Bed House Lounge Lounger w/Hanging Teaser Toy
If they like to perch on the top of furniture, this is the bed for them. It has a unique triangular design that works well in corners or against walls. The outer surface is soft and comfortable for your kitty to lay against, while the inside is lined with polyfill and smooth fleece material.
It also has an inbuilt stitched rope toy that's soft and enjoyable to play with. You can get it in white and black colors.
Touchcat' Exquisite-Plush' Premium Kitty Fashion Designer Pet Cat Bed Lounger Mat Lounge
If your kitty loves soft and plushy bedding, this is the perfect bed for them. It's made from premium faux fur material that feels smooth against their fur while keeping them comfortable at the same time. The inner lining is lined with T/C fabric, which keeps them warm in cold weather.
It has a water-resistant bottom and comes in small, medium, and large sizes. Plus, it's available in beige and brown colors, and you can use it indoors and outdoors.
Touchcat' Claw-ver Nest' Rounded Scratching Cat Bed w/Teaser Toy
If your cat loves scratching, they'll love this uniquely-shaped cat bed. It has a cylindrical outer design that they can comfortably fit in, and the material is covered with durable 100% Cotton twill for them to scratch their claws on when they get bored.
The teaser toy has a creative pom-pom appearance for interactive play. Its producers inner-line the inner cushion with High-grade Polyfill for unmatched comfort when your furry relaxes. Its cushion zips open easily and enables you to put the inner cushion directly into the wash.
Below we have answered some questions that pet owners often ask before investing in a kitty bed-
Should You Buy One for Luna?
It's best to observe her tendencies before running out and getting the latest bed. Verified animal consultant Amy Shojai advises that you should 'ask' her and see what she does naturally.
If she likes to sleep, then yes, you should. If you notice that your cat gets sleepy in the house during the day, it is the perfect time to buy them a bed. It can invite them much closer to home, meaning longer hours spent with you.
What's More Important: Size or Shape?
It depends on your furry friend. Cats are pretty versatile in their habits, so ensure that the cat bed you choose for them is of a reasonable size. You should pay attention to the material it's made from and whether or not it is waterproof.
Is It Necessary to Buy One with Catnip?
Catnip isn't an essential ingredient in cat beds. However, some do include it in their design. This is especially true of waterproof ones, where manufacturers like to add a bit more pizazz by including catnip to the mix. You must think about your furry friend's safety above all else when buying one for them.
Where Should You Put the Bed?
It's best to place the bed in a quiet area of your home. If possible, cat beds and loungers should be placed away from any food areas. Also, ensure that the chosen room is not near their litter box, as most cats will automatically avoid anything that smells like their bathroom!
How Regularly Should You Clean or Replace Figaro's Kip?
Regularly changing and cleaning your cat's bed is an essential part of good pet care. A good rule is to switch out the bedding once a week or whenever it begins to look dirty or worn out. Place it in the washer with some warm water and detergent to clean the material. You can also wash it by hand.
If you have a perishable material, such as wool bedding, use a cold water cycle when washing them to protect the texture. Kitties love the soft fabric, so it is recommended that you buy one or two extra beds so you can cleanse one while the other is drying.
What Other Items Should You Add?
Once you have an excellent selection of cat beds for sale around your home, you'll want to think about something that can provide a little extra comfort. Kitties love to curl up in plush blankets or cushions to sleep and relax in.
These are perfect for giving them a little boost when it comes to finding a comfortable spot to nap. You can also get your cat one of those fancy self-warming kitty beds. These are perfect for ensuring that your furry friend doesn't get too cold in the winter or too warm during summer.
What Are Some Tips

For

Buying One?
When buying a kitty bed, it's essential to consider your pet's age and if they have any injuries. Older cats, for example, may need beds with lower sides so they can quickly get in and out of their bed without much effort.
Also, make sure that the cat bed you purchase is at least two inches larger than your kitty when she's completely stretched out. This ensures that she has room to move around and get comfortable.
What Else Should You Think About?
Some other things to consider are as follows:
shape

depth and

material of the bed you're thinking about buying for your furry friend.
For example, if they like cuddling up against walls, you should try to find one with straight sides. They should also be wide enough for your kitty to fit her whole body onto the bed, but not too big that it becomes difficult for you to move around.
Try to avoid buying overly fluffy and very soft cat beds as well. While some cats like these beds, they can encourage cats to urinate on them. This is especially true for older cats with health conditions, such as urinary tract infections or kidney disease.
How to Make Your Furry Baby Get Used to Their Kitty Bed?
When you first bring home Premium Cat Beds, your cat may be hesitant to use them. Thankfully, some tricks can help them get used to their bed and hopefully enjoy using it for years to come.
Start by placing the bed in an area where they already like to sleep and play around. Put a familiar blanket or cushion on it to help them get used to the new bed.

Be sure that you leave it in its original packaging for a while before removing all of the plastic. The idea here is that your feline can come to check out their new bed and see if they like sleeping on it with all of its different feels and textures.

Once your kitty starts to take an interest in their new bed, it's time to remove the plastic.

After that, start placing your kitty's other

favorite

bedding materials on top of the bed. This may include a familiar blanket or cushion that they sleep on at home.

Once you notice them sleeping on the bed more often than not, you should feel confident removing the other bedding materials. Again, your cat should start recognizing that their new kitty bed is where they like to sleep!
Remember not to rush or force your cat to start using the bed as soon as you'd want. Allow it to take its time so the attraction can come naturally. You should go for an attractive bed with excellent features for the pull to be quicker.
Conclusion
Your cat deserves the best sleeping products available. That's why the alternatives above are available. The key is to get one that works for them and stick to it. Go for a bed within your price range and watch in satisfaction as your adorable furry lies curled up in it and purrs.