5 Points to Remember Before Choosing the Best Outdoor Boots for Your Dog
5 Points to Remember Before Choosing the Best Outdoor Boots for Your Dog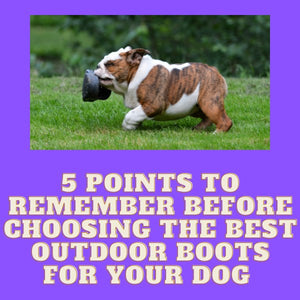 Dog boots are a necessity for all sorts of outdoor activities. Whether it's the hot ground, cold ground, or rough terrain that you're walking on with your pup, there are times when dog shoes are essential.
The thing about dog boot shopping is that many people don't think about what they need to look for before buying — leading to an ineffective purchase. If you want to buy some great-looking boots for your furry pal, read on.
Why You Should Buy Dog Boots for Your Dog?
There are varied reasons why you should buy shoes for your dog. This includes:
Warmth
Walking around on the cold ground can be dangerous for your dog's paws. If their feet get too cold, they might not be able to walk or even stand properly. This is particularly true when it's below freezing - which means that quality pet shoes are necessary for these conditions.
Comfort
No matter what season it is, shoes will help protect your pet's paws from rough terrain and keep them comfortable even if they're walking on the hot ground.
Protection
You should take dog shoes seriously if you plan on taking them to a place where the ground is particularly rough. If they step onto something sharp or get poked by an object, it can hurt their feet and even cause infection.
Style And Fashion
Not only are outdoor dog boots functional, but they are also fashionable. A great set of boots will make your pup look great while protecting their feet and keeping them comfortable during outdoor adventures.
How To Shop for the Best Dog Boots?
Before shopping for the best pet shoes, there are some things you need to remember. These are:
Is The Size Right?
You need to ensure that the boots you purchase will fit your pouch's paws. If the shoes are too tight, your dog may have difficulty walking and might even get injured. To measure your dog's feet, place their paws on a blank piece of paper.
Mark where their feet are on the paper and then measure this area. Compare it to a dog boot sizing chart so that you can pick out a pair of boots that will fit them perfectly. This will give you a good idea of what size they wear - which is especially important if it's their first-time wearing shoes.
What Type of Material Is Best?
There are different types of materials that dog boots can be made out of. They include:
Leather: Durable and water-resistant. Leather pet shoes will keep your puppy's paws safe during any weather conditions. However, the downside to these types of footwear is that they're not as flexible or breathable as other options on this list.
Plastic: Since plastic is waterproof, it makes for great outdoor shoes for dogs who spend time in wet environments where their feet might get soaked at some point. Also, unlike leather dog boots, these are much more flexible. Hence, they won't restrict mobility while walking around.
Fabric: While fabric boots are comfortable, they're not suitable for outdoor adventures. Since the material is made from cotton or nylon, it can wear down quickly and tear if your pup's feet get caught on anything sharp. However, these kinds of shoes are perfect for short and comfortable walks.
Fleece boots are perfect for keeping your dog's feet toasty in winters.
How Do You Put Them On?
While choosing the best dog boots, you also need to consider how they're put on. This includes:
Regular Dog Shoes: These types of footwear are placed over your puppy's paw, like human shoes, footwear and then secured with a Velcro strap that goes around the ankle.
Pull-Ons: Pull-on style dog boots have two pieces that come together at the top. They can slip onto their legs easily before being fastened in place by laces or straps. Also, unlike regular pet shoes, these don't feature any closure system for when you want them taken off again later on.
Dog Socks: Finally, socks are tied tightly around their ankles without covering too much skin. These are the best option for dogs who need to wear shoes because of medical conditions.
You must also note that not all types of boots work on all breeds of dogs. This is why you must take measurements before making any purchases online or in-store. If needed, check with your vet beforehand to figure out what type works best for your breed.
Where Are You Going?
The place you're taking your pup on an outdoor adventure might be important when it comes to choosing the best footwear for them. Some dogs are incredibly active, while others are sedentary.
So, their paws will get different types of footwear depending on what you plan on doing with them during this time together. This includes:
Long walks: If you take your dog on long walks where their paws will constantly touch the ground, it'll make sense to invest in some good-quality boots.
Short walks: If you're going on quick errands with them during the day that doesn't involve direct exposure to harsh conditions, regular shoes might work fine instead of investing in anything too expensive or over-the-top.
Dog park: If you're spending most of your time playing with them inside an enclosed space like a dog park, dog socks might be the best option since they won't restrict their movement.
Sledding or hiking: If you plan to take your pup out where it's snowy or off-road terrain is involved, snow dog boots are the best choice.
How Much Are You Willing to Spend?
As with most things, the price of dog boots will be different depending on what type you're looking to purchase.
If your pup needs something more specialized for medical purposes or if they have unusually tiny feet that need custom sizing, it's understandable that these are going to come at a higher cost than regular shoes.
However, it's still important to compare prices between different brands and styles before making any purchases. You don't want to end up with something that costs more than what you're willing to spend in the long term.
Conclusion
While there is no "best" pair of shoes for dogs, it's up to their owners' discretion regarding what might work best for their pet's needs. Whether you are shopping online or in stores, remember these tips so that you choose fantastic fashion dog shoes with high levels of durability and comfort built-in.